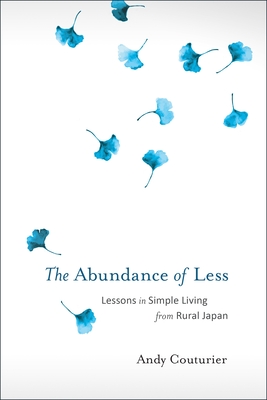 The Abundance of Less
Lessons in Simple Living from Rural Japan
Paperback

* Individual store prices may vary.
Other Editions of This Title:
Digital Audiobook (2/26/2018)
Description
An evocative study of life in rural Japan, this inspiring book for fans of Marie Kondo proves true wealth can be found by living sustainably among life's simple but profound luxuries
 
The Abundance of Less captures the texture of sustainable lives well lived in these ten profiles of ordinary—yet exceptional—men and women who left behind mainstream existences in urban Japan to live surrounded by the luxuries of nature, art, friends, delicious food, and an abundance of time. Drawing on traditional Eastern spiritual wisdom and culture, these pioneers describe the profound personal transformations they underwent as they escaped the stress, consumerism, busyness, and dependence on technology of modern life.
 
This intimate and evocative book tells of their fulfilling lives as artists, philosophers, and farmers who rely on themselves for happiness and sustenance. By inviting readers to enter into the essence of these individuals' days, Couturier shows us how we too can bring more meaning and richness to our own lives.
Praise For The Abundance of Less: Lessons in Simple Living from Rural Japan…
"We are in an overheated world—physically and spiritually. It is extremely powerful to read of people who have managed to escape that world, not by traveling to outer space but by heading toward reality. This is subversive in the best possible way."
 —Bill McKibben, author of Deep Economy
 
"Reading this magic book is like drinking from a fresh wellspring deep in the mountains: it slowly returns one to sanity. In an era when the allure of ten thousand digital screens eclipses the inner radiance of a stone lying among the reeds, how clarifying to encounter the eloquence and humility of these well-lived lives."
—David Abram, author of The Spell of the Sensuous
 
"Couturier catches everything that is essential and beautiful in Japan with a clarity, sincerity, and openness that move me to the core. It's been years since such a fresh and liberating voice has emerged to remind us of the true heart of a country that so many of us fail to see."
—Pico Iyer, author of The Lady and the Monk

"Andy Couturier has written some very articulate pieces on the counterculture in Japan."
—Gary Snyder, Pulitzer Prize–winning poet
 
"In this world where so many of us are rushing around, stressed and pressed for time, The Abundance of Less is a welcome reminder that there are other possibilities. Andy Couturier takes us along as he visits ten people who have created lives in the slow lane—lives that are rich in creativity, environmentally sustainable, and deeply meaningful."
—Ellen Bass, chancellor, Academy of American Poets and winner of the Lambda Literary Award
 
"While many desperately search for new 'economic models' to deflect the coming global collapse, some people just take to the hills and start living beautiful lives. The Abundance of Less is an exquisite, soulful report on ten people in Japan who stopped worrying about changing the world with technology, innovation and economic enterprise, and chose nature, simplicity, time and cooperation as their survival tools. This book is filled with inspiring lessons for these very difficult times."
—Jerry Mander, author of In the Absence of the Sacred and Four Arguments for the Elimination of Television
 
"I study The Abundance of Less because it's so much the way I intend to live. It's gratifying that Andy Couturier has drawn us such a clear picture of how to live in a spare and elegant way. He has done so through his encounters with people who know how to throw away the unnecessary, and not replace it with more junk."
—Jonathan Richman, musician, Stonemason
 
"Employing stories rather than statistics to illuminate the rewards of a life that embraces 'the abundance of less,' Andy Couturier writes with empathy and insight about Japanese people who integrate traditional elements of self-reliance into their daily lives. He also tells of the effect they have had on his own way of life in the U.S., and argues that consciously choosing not to take everything we could take, best preserves our world for the next generation.
—Ted Orland, author of Art and Fear

"Inspiring. As our leaders hurl us toward ruin, this timely antidote brims with wisdom, purpose, joy, and resistance."
—Mark Sundeen, author of The Unsettlers and The Man Who Quit Money


"[The Abundance of Less] will compel readers to consider how they might live more simply and increase their civic engagement."
—Tricycle: The Buddhist Review
North Atlantic Books, 9781623171322, 432pp.
Publication Date: August 1, 2017
About the Author
Andy Couturier spent four years studying sustainable living in rural Japan. There, he worked with local environmentalists, wrote for The Japan Times, and studied how Japanese aesthetics can help us develop new forms of writing. Couturier has also hitchhiked across the Sahara desert, been a researcher for Greenpeace, built his own house with hand tools, and taught intuitive writing for more than two decades. He is a student of many different Asian philosophical systems and is fluent in Japanese.