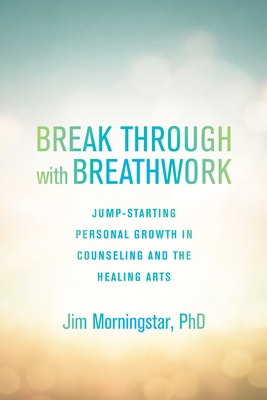 Break Through with Breathwork
Jump-Starting Personal Growth in Counseling and the Healing Arts
Paperback

* Individual store prices may vary.
Description
When working with trauma and chronic health issues, it can often seem like the healing process gets stuck or is producing only minimal progress. In this groundbreaking book, clinical psychologist Jim Morningstar, PhD, shows therapists, bodyworkers, and other health care professionals how to achieve remarkable breakthroughs with their clients using the power of Therapeutic Breathwork.  

Unlike more commonly known mindfulness breathwork techniques—which typically only involve slower-than-normal breathing—Therapeutic Breathwork is designed to also include faster-than-normal breathing (35–75 breaths per minute) to enervate the sympathetic nervous system. This is especially useful in helping to release blocks that arise while working through difficult emotional issues, including PTSD, addiction, depression, and anxiety. While traditional talk therapy can take many years, sometimes decades, to produce minimal relief, Therapeutic Breathwork can help facilitate astonishing breakthroughs within a single session. Morningstar explains how therapists can reinforce these breakthroughs with additional techniques for self-regulation, dramatically reducing recovery time and often resolving challenges that might never have been worked through in standard practice. Break Through with Breathwork is an accessible and thorough introduction to one of the most powerful tools in supporting health and wellbeing, reducing stress, and stimulating deep emotional and spiritual growth.
Praise For Break Through with Breathwork: Jump-Starting Personal Growth in Counseling and the Healing Arts…
"Jim Morningstar is a wise and visionary healer, who knows the ways of the body and the heart. His work opens from trauma to well-being, from past to radiant present."
—Jack Kornfield, Buddhist teacher and author of The Roots of Buddhist Psychology

"Throughout Break Through with Breathwork, Jim Morningstar presents actual case studies that add a wonderful human touch, as well as an explanation based on neuroscience for the changes that Dr. Morningstar has seen in clients during his experience as a breathwork practitioner. This book is one of the few books of its kind that demonstrates the safe and effective usage of faster than normal breathing in professional practice. Break Through with Breathwork should be read by anyone interested in evolving modern counseling techniques to keep pace with the growing need to help people face the challenges of life today. Both professionals and nonprofessionals alike will be struck by Jim Morningstar's clarity, involvement, and attention to detail, which is such an integral part of healing. A must-read! I highly recommend it."
—Shirley Telles, MBBS, MPhil, PhD (neurophysiology), DSc (yoga), and director of the Patanjali Research Foundation in Haridwar, India

"Jim Morningstar was one of the first therapists in America to understand and explore the connection between mind, body, breath, and emotions. His approach, called "Therapeutic Breathwork," has proven to be extremely effective in the field of trauma recovery, especially in cases where prescription medications and talk therapy have failed. His model of the six major breathing patterns and their link to basic body themes is truly unique and nothing short of brilliant. This chapter alone makes Break Through with Breathwork a must-read for every breathworker and all healthcare practitioners. And it offers invaluable support and genuine inspiration to all of us on the path of personal growth and spiritual development."
—Dan Brulé, author of Just Breathe: Master Breathwork for Success in Life, Love, Business and Beyond
 
"A pioneer in breathwork and energetics, Jim Morningstar inspires the respect and admiration of practitioners in the field. His work with integrative techniques and his insights have encouraged my personal and professional growth."
—Dr. Belisa Vranich, clinical psychologist and author of Breathe: The Simple, Revolutionary 14-Day Program to Improve Your Mental and Physical Health
 
"Jim Morningstar has written a heartfelt masterwork of breath-centered therapeutic support. He draws on an expansive knowledge of breath practices across cultures and throughout history, as well as many years of his own deep personal work and professional practice. The result is a valuable contribution to modern therapy and a revolutionary blueprint combining mind-body healing with the latest findings in brain research."
—Tav Sparks, author of The Power Within: Becoming, Being, and The Holotropic Paradigm; director of Grof Transpersonal Training
 
"A profound and comprehensive book based on Jim Morningstar's extensive experience as therapist and trainer, including new scientific research and informative models from biology and sociology, underlining the central role of conscious breathing in daily life and healing work. A must-read for therapists in any area of personal development and health care."
—Dr. Wilfried Ehrmann, international trainer in integrative breathwork; author of Manual of Breath Therapy and Coherent Breathing: Aligning Breath and Heart
 
"Dr. Jim Morningstar is one of the real pioneers in breathwork. In his new book he offers a good illustration of how Therapeutic Breathwork represents a new form of interactive healing that benefits both client and therapist. An essential contribution for the field of breathwork."
—Gunnel Minett, psychologist and author of Exhale: An Overview of Breathwork and How to Grow a Healthy Mind
 
"Jim Morningstar walks the talk and breathes the breath. He is a leading figure in
breathwork today. If you aspire to use breathwork in counseling, this breakthrough book is your resource."
—Dr. Joy Manné, author of Soul Therapy and Family Constellations
 
"Jim has created a wonderful guide to help empower practitioners to add breathwork to their toolbox. This type of breathing breaks through old, no longer useful patterns while helping the practitioner and client create a healthy, new, vibrant way of life. Jim instills the confidence and knowledge to begin this great life adventure of breathwork personally and professionally."
—Lauren Cafritz, breath facilitator, lecturer, and teacher
 
"In the coming years we are going to see a greater focus on the use of breathing to bring about healing in counseling and clinical mental health practice. Jim's extensive personal and professional experience of breathwork places him in an ideal position to introduce breathwork to those new to these practices. And for the more experienced practitioner, this book provides plenty of stimulus for further personal integration and professional growth."
—Lloyd Lalande, PhD, clinical breathwork researcher and trainer
North Atlantic Books, 9781623171612, 224pp.
Publication Date: October 3, 2017
About the Author
JIM MORNINGSTAR, PhD, is a pioneer in the integration of psychotherapy with mind-body techniques such as breathwork and bio-spiritual energetics. A licensed clinical psychologist since 1973, Morningstar is the originator of Therapeutic Breathwork and the founder of Transformations, a school of Integrative Psychology, as well as InWellness, which teaches organizations how to implement whole-person wellness programs for their employees. He is also the co-director of the Global Professional Breathwork Alliance (breathworkalliance.com), setting ethical and training standards for the field of dyadic breathwork. He teaches workshops and training seminars internationally.
or
Not Currently Available for Direct Purchase