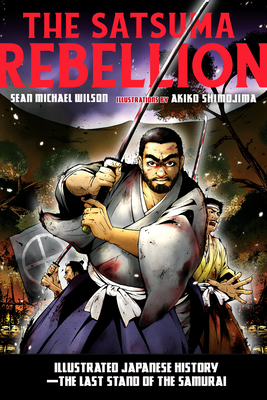 The Satsuma Rebellion
Illustrated Japanese History - The Last Stand of the Samurai
Paperback

* Individual store prices may vary.
Description
A gripping graphic novel describing the uprising of 1877, when the old style samurai were crushed in a bloody conflict with the imperial army that ended samurai power in Japan

Award-winning comic book writer Sean Michael Wilson and acclaimed manga artist Akiko Shimojima team up to tell the riveting story that changed the face of modern Japan. Depicting thrilling scenes of battles, gunships, castle sieges, and the samurais' heroic last stand, this book portrays the bloody uprising of 1877, when Satsuma rebels, led by the infamous Saigo Takamori, fought enforced modernization by the Meiji Japanese government. Their crushing defeat by the imperial army ended their power once and for all and ushered in an era of modern technology and western military methods. Wilson's thrilling narrative and Shimojima's striking images convey both the drama of these events and the importance of the historical moment. Historically accurate and with an easy-to-read format, The Satsuma Rebellion is Volume 2 in the Illustrated Japanese History series that began with Black Ships.
Praise For The Satsuma Rebellion: Illustrated Japanese History - The Last Stand of the Samurai…
"Sean Michael Wilson has authored a unique line of manga-style books on Japanese themes. This latest edition, The Satsuma Rebellion, with artist Akiko Shimojima, portrays the real last stand of the samurai and the central figure—Saigo Takamori, the subject of NHK television's year-long historical drama in 2018—with style and accuracy." 
—Davide Calzetti, Japanese historical researcher
North Atlantic Books, 9781623171674, 112pp.
Publication Date: April 3, 2018
About the Author
SEAN MICHAEL WILSON is a Harvey- and Eisner-award-nominated comic book writer who has authored more than a dozen graphic novels and manga comics, including Black Ships, Secrets of the Ninja (Bronze award winner, 10th Annual Japan International Manga Awards), and adaptations of The Book of Five Rings and The 47 Ronin. He is also the editor of the critically acclaimed anthology AX: A Collection of Alternative Manga (one of Publishers Weekly's "Best Ten Books of 2010"). Originally from Scotland, he now lives in Japan.

AKIKO SHIMOJIMA is a comic and manga artist from Tokyo, Japan. A teacher of digital comics art at a school in Tokyo, she is the illustrator of The 47 Ronin and Black Ships and has contributed work to many other publications.
or
Not Currently Available for Direct Purchase