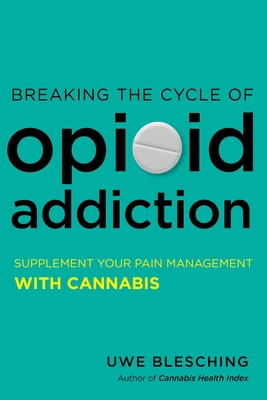 Breaking the Cycle of Opioid Addiction
Supplement Your Pain Management with Cannabis
Paperback

* Individual store prices may vary.
Description
An evidence-based guide to using cannabis to enhance pain relief safely, effectively, and economically while reducing the risks of opioid addiction

Opioid addiction has exploded to epidemic proportions in the U.S. Drug overdose is now the leading cause of accidental death. In 2012, 259 million prescriptions were written for opioids—more than enough to give every American adult their own bottle of pills. Uwe Blesching, author of The Cannabis Health Index, clearly and thoroughly lays out the overwhelming benefits of using cannabis—not only to reduce the nation's dependence on opioids—but also to manage the craving and withdrawal symptoms of opioid addiction, and especially to address the pain that leads to drug use and addiction in the first place. Citing statistics showing that states allowing legal access to cannabis have seen a 25 percent drop in opioid-related deaths, Blesching explains how precision applications of cannabis can alleviate the mental and emotional aspects of pain by modulating numerous neurotransmitters and their emotional counterparts. He presents a convincing case for the powerful benefits of cannabis in reducing the risks of addiction and overdose, cutting monetary costs, and restoring a sense of balance and control to those who struggle with pain.
Praise For Breaking the Cycle of Opioid Addiction: Supplement Your Pain Management with Cannabis…
"Blesching makes a convincing evidentiary case for the use of cannabis to sometimes replace and frequently supplement the use of opioids in the treatment of a variety of pain syndromes. Along the way, one learns a remarkable amount about history, opioid addiction, medicinal cannabis, and mind-body integrative medicine. It is a much-needed contribution in this time of grave concern regarding the epidemic of abuse, addiction, and death related to opioids. Read it and apply its lessons, if you wish to contribute to healing our society."
—David E. Presti; University of California, Berkeley, author of Foundational Concepts in Neuroscience: A Brain-Mind Odyssey

"Bringing keen insights into cannabinoid integrative health, Uwe Blesching turns attention to opioid substitution and pain management, introduces a very helpful three-pronged scheme to divide up cannabis by chemotypes, and helps the reader to sort out why to opt for one cannabis chemotype over another. This is a helpful guide for patients and their advocates as well as clinicians."
—Sunil Kumar Aggarwal, MD, PhD

"Breaking the Cycle of Opioid Addiction is a timely book in light of the opioid crisis Americans face today. It offers real clinical evidence to support cannabinoids as a safe and effective alternative to pain management. Those looking to replace their opioids can find an easy approach to incorporating cannabis into their pain management treatment plan in this well-researched and comprehensive book."
—Eloise Theisen, adult geriatric nurse practitioner and founder of Green Health Consultants and Radical Health
North Atlantic Books, 9781623171865, 240pp.
Publication Date: June 12, 2018
About the Author
UWE BLESCHING is a medical journalist and regular contributor to the cannabinoid health sciences, mind-body medicine, phytopharmacology, as well as evidence-based illness prevention and treatment protocols. In addition to his life-long passion for integrative medicine, his latest book Breaking the Cycle of Opioid Addiction: Supplement Your Pain Management with Cannabis is informed by rigorous in-depth research and twenty years experience in emergency medicine as a paramedic for the City of San Francisco. He holds a BA in humanities from the New College of California and an MA in psychology and a PhD in higher education and social change from the Western Institute for Social Research.
or
Not Currently Available for Direct Purchase