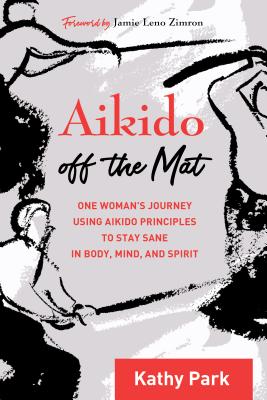 Aikido Off the Mat
One Woman's Journey Using Aikido Principles to Stay Sane in Body, Mind, and Spirit
Paperback

* Individual store prices may vary.
Description
A deeply personal and compelling memoir that illustrates how the basic principles of Aikido can help us cope with the challenges of life outside the dojo

Drawing from more than forty years of experience as an Aikido practitioner and teacher, Kathy Park explains how principles such as embodiment, grounding, centering, extension, 360-degree awareness, blending, and alignment can be applied to everyday life. Candid stories from her own life show how the purpose of practicing Aikido on the mat is to take it off the mat and into the world.
Praise For Aikido Off the Mat: One Woman's Journey Using Aikido Principles to Stay Sane in Body, Mind, and Spirit…
"Aikido Off The Mat is a thoughtful, poetic, and intimate account of one woman's journey of transformation. Part memoir, part adventure story, with a solid dose of pragmatic philosophy added, Kathy Park reveals how decades of practicing Aikido, both on and off the mat, have enriched her relationship life, her talents as a sculptor and artist, and her place of belonging in the natural world. Don't expect a 'how-to-book' of executing martial techniques but rather a generous sharing of a life fully lived with all its hard edges and well-earned joys."
—Richard Strozzi-Heckler, author of The Leadership Dojo and The Art of Somatic Coaching

"Aikido is much more than a martial art. It is an art of relationship, reconciliation, and peace. Kathy Parks's journey—with prisoners, horses, and even within her own marriage—elucidates this powerful art and inspires us all on our own journeys."
—Thomas Crum, author of The Magic of Conflict, Journey to Center, and Three Deep Breaths

"In a world 'gone mad' where many women are at war with their bodies, Kathy Park's words go deep, offering a healing tonic and helping readers come home to the power and pleasure of their physical selves."
—Melissa Soalt, MA, Black Belt Hall of Fame recipient, creator of Fierce & Female Empowerment Self Defense, and former trauma psychotherapist

Blue Snake Books, 9781623172305, 256pp.
Publication Date: August 7, 2018
About the Author
KATHY PARK holds a second-degree black belt in Aikido, practicing since 1977 and teaching off and on, formally and informally, since 1978. She has an MFA in creative writing/nonfiction from Lesley University, Cambridge, MA. She has published two other books (a memoir about her apprenticeship with a stone sculptor titled Seeing Into Stone: A Sculptor's Journey and a compilation of nonfiction, fiction and short plays titled Coyote Points the Way: Borderland Stories and Plays). She was a citizen diplomat promoting Aikido in the Soviet Union in 1989. From 1990 to 1994, she founded, administered, and taught in the Prison Integrated Health Program, an all-volunteer holistic health program for female inmates and staff at FCI Dublin in the Bay Area. She teaches at Adams State University, both on campus and through ASU Extended Studies. She is also an artist, painting in watercolor and carving wood and stone.
or
Not Currently Available for Direct Purchase