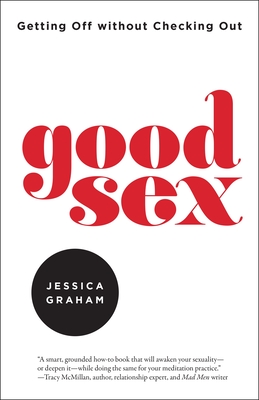 Good Sex
Getting Off without Checking Out
Paperback

* Individual store prices may vary.
Description
A fun, straightforward, and informative guide that shows you how to bring mindfulness into sex for a bigger, richer, and more present life

A deep spiritual life and an extraordinary sex life are not mutually exclusive. In this keenly personal and unflinchingly frank guide, Jessica Graham teaches readers how to find mindfulness in sex—without losing the fun and adventure.

As Graham offers simple mindfulness tools and techniques for improving your sex life and romantic relationships, she also shares her own powerful personal journey. Once checked out and sexually traumatized, Graham was able to find recovery, joy, and peace in the present moment through mindfulness practices. She weaves together her story with meditations, down-to-earth suggestions, and advice on everything from orgasms to threesomes to dealing with a low sex drive.

Not only a tool kit for creating a rich and deeply satisfying sex life, this fun, explicit, and inclusive book conveys the deeper message of how combining meditation with sex can bring about profound spiritual awakenings.
Praise For Good Sex: Getting Off without Checking Out…
"A smart, grounded how-to book that will awaken your sexuality—or deepen it—while doing the same for your meditation practice."
—Tracy McMillan, author, relationship expert, and Mad Men writer
 
 "Good Sex is a beautiful meditation on full-body-pleasure as a mindfulness practice. Author Jessica Graham is a wise woman who knows how to make love with more heart and soul than most of us. Jessica teaches us how to have not just good sex, but GREAT sex."
—Annie Sprinkle, PhD, author of The Explorer's Guide to Planet Orgasm

"According to Graham, spiritual teacher, writer, filmmaker, and actor, anyone can have good, or at least better, sex through meditation and mindfulness. To that end, the author's first book provides exercises that help readers get in touch with their bodies, focus on their minds, and communicate feelings. Graham tackles the more difficult areas of shame and insecurity and suggests ways to relieve negative feelings. As in other areas of life, finding acceptance in the moment can lead to greater patience with oneself and others. All of which influences a sexual experience. While Graham writes explicitly about the sex experience, this isn't a "how to." Instead, this work presents a spiritual path to finding authentic sexual communication with another person. Recommended."
—Library Journal
 
"Good Sex will lead you on a journey of sexual self-discovery, offering compassionate guidance through the many joys, sorrows, and surprises to be found in the process of awakening. Jessica Graham speaks with a vulnerability and self-awareness that will challenge you to radically change your thinking around sex and relationships. Here is wisdom to help you tune in . . . and get off."
—Dedeker Winston, author of The Smart Girl's Guide to Polyamory
 
"Imagine the wisdom of meditation, the sexiness of truth, and the grace of vulnerability rolled into one joy-to-read book. This book is a treasure that will open your mind, awaken your heart, and ignite your body."
—Shauna L. Shapiro, PhD, author of Mindful Discipline
 
"An engaging, sincere, and insightful exploration that reveals how one can infuse sex with that magical 'something else' that we long for. Supported by numerous helpful exercises and practices to help you get there. Definitely a good read!"
—Diana Richardson, author of The Heart of Tantric Sex; Tantric Orgasm for Women; Tantric Sex for Men; and Slow Sex
 
"I can't imagine a person more qualified to write this book. Besides being a hardcore spiritual warrior, Jessica Graham has dedicated her life to exploring and understanding sexuality in all its forms."
—Michael Taft, author of The Mindful Geek
 
"A skilled mindfulness and meditation guide, Jessica Graham takes the deeply personal and spiritual art of mindfulness and shows us how it can be applied for massive change inside and out, and most importantly that sex should not be excluded but in fact is an integral part of that journey."
—Moushumi Ghose, MA, MFT, author of Classic Sex Positions Reinvented
 
"Mindfulness during sex means much more than banishing thoughts of the day or turning off your phone. Jessica Graham leads you through learning a meditative practice that enriches the connection with your partner and enhances your own sexual experience and the intensity of your orgasms. Even if you've never meditated before—or considered it! —Graham takes you step-by-step. Her candor about her own background makes this more than a self-help guide—it's a shared journey."
—Joan Price, author of The Ultimate Guide to Sex after 50
 
"Full of handy tips for exploring your sexuality and enhancing your pleasure."
—Lorin Roche, author of The Radiance Sutras
 
"In a world that shows us distorted views of sex and distracts from inner inquiry in general, Jessica's work clearly illustrates sex is truly a mindfulness practice…. [Her] willingness to be vulnerable makes Good Sex accessible and useful."
—Nicole Daedone, author of Slow Sex
 
"Hidden within the colorful, fragrant, silky petals of physical love, lies a subtle treasure that transcends sensuality … Jessica is eminently qualified to point people to this jewel in the lotus, and Good Sex connects the dots."
—Shinzen Young, author of The Science of Enlightenment
 
"In Good Sex, Jessica Graham offers clear, compassionate, and provocative instruction for integrating mindfulness and sexuality. Good Sex offers insight on how to use the dynamic realm of sexuality as a laboratory for mindfulness. This book is deep, accessible, kind, clear, edgy, and experiential. It is meant to inspire and ignite possibility in a world that still holds the illusion of a sex-spirit divide.
—Deborah Eden Tull, Zen teacher, founder of Mindful Living Revolution, and author of Relational Mindfulness: Reclaiming Our Shared Power in an Age of Disconnect

"Mindful sex can absolutely involve handcuffs. Or candles and incense. Or even eye contact! Jessica Graham's wonderful new Good Sex is an honest, insightful guide to exploring your deepest desires through meditation and mindfulness...The language in Good Sex is salty and relatable. Graham sounds like a clear-eyed friend offering advice for the morning after. She includes simple, practical meditation guidance to get in touch with what's happening below the surface. Whether it's connecting with a partner or becoming aware of life's impermanence, Good Sex pushes for a change of perspective. The tools are simple, and designed for people at all stages of their spiritual development...Intimacy and pleasure begin with the individual. Good Sex is a wonderful guide for putting lovers in touch with their deepest desires."
—Foreword Reviews
North Atlantic Books, 9781623172343, 304pp.
Publication Date: November 7, 2017
About the Author
Jessica Graham is a spiritual teacher, actor, and filmmaker. She has been teaching meditation since 2009. She is a contributing editor of the meditation blog Deconstructing Yourself, in which her popular series "Mindful Sex" appears. She co-founded Los Angeles' The Eastside Mindfulness Collective, dedicated to exploring secular spirituality through mindful living and learning. Originally from Philadelphia, Jessica now lives in Los Angeles with her partner. Visit Jessica at yourwildawakening.com.
or
Not Currently Available for Direct Purchase