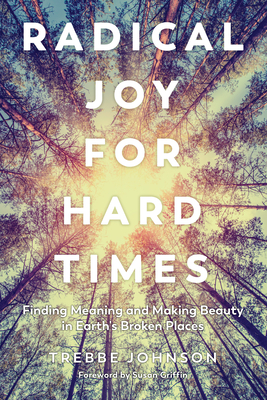 Radical Joy for Hard Times
Finding Meaning and Making Beauty in Earth's Broken Places
Paperback

* Individual store prices may vary.
Description
In a time of uncertainty and devastation--from pandemics to environmental catastrophe--a call to action for finding beauty, creating art, and healing in community.  

When a beloved place is decimated by physical damage, many may hit the donate button or call their congressperson. But award-winning author Trebbe Johnson argues that we need new methods for coping with these losses and invites readers to reconsider what constitutes "worthwhile action." She discusses real wounded places ranging from weapons-testing grounds at Eglin Air Force Base, to Appalachian mountain tops destroyed by mining. These stories, along with tools for community engagement—ceremony, vigil, apology, and the creation of art with on-site materials—show us how we can find beauty in these places and discover new sources of meaning and community.
Praise For Radical Joy for Hard Times: Finding Meaning and Making Beauty in Earth's Broken Places…
"Radical Joy for Hard Times is a journey through brokenness void of expectation. It is a demanding journey but one I recommend wholeheartedly." 
—Parabola 

"Radical Joy for Hard Timesis a must-read for those looking to take their role in repairing our world. At once, it is a manual for how we can move forward and a meditation on how best to respond. It shows us all—even in the face of substantial challenges—the true value of everyday actions."
 —Henry Timms, coauthor of New Power and cofounder of #GivingTuesday
 
"It's a great vision that Trebbe Johnson is sending out into the world, and it is very much her own. The great central truth of what she is doing is the very hard lesson for all of us in our lives, and yet it is our blessing."
 —W. S. Merwin, former poet laureate of the United States
 
"Trebbe Johnson's idea is a revolutionary one and imperative in this possibly late phase of our relationship with the only planet we have: to look directly at loss. This manifesto is a song—not a dirge, but a symphony with all the complexity and emotion our home, the ever-creative Earth, calls forth."
 —Melissa Holbrook Pierson, author of The Place You Love Is Gone

"Engaging and intense, this book demonstrates vividly how contemplative approaches to life are profoundly political. Deeply embedded in how we respond to mass extinction—which is the least euphemistic way of putting what is now happening in the biosphere—is a habitual conceptual severing of our necessarily symbiotic relationships with other lifeforms. This severing forms the very structure of how we have taught ourselves to enjoy 'landscape.' In showing us how to appreciate differently, Trebbe Johnson shows how to repair the severing, which traumatizes humans as much as it traumatizes nonhumans, step by contemplative step."
—Timothy Morton, author of Dark Ecology and Ecology Without Nature

"In hard times there is a temptation to let the problems of the world orient the direction of our lives and the shape of our activism. Through her extensive artistic activist practice, Trebbe Johnson shows us a different path: a way to turn devastation into creation. Through simple acts of beauty, she provides a map that moves us from wallowing in dystopian despair to imagining utopian joy."
—Stephen Duncombe, author of Dream: Progressive Politics in an Age of Fantasy and cofounder of the Center for Artistic Activism  

"How are we to face the ecological desecration of so many beloved places? Here at last is an ecopsychological guide bringing together many wise voices to show us a path beyond hopelessness into strength and renewal."
—Craig Chalquist, editor of Rebearths: Conversations with a World Ensouled  

"There are some people on Earth who have a radical capacity for empathy. Trebbe Johnson is one of those people and she has applied her radical empathy to the appreciation of damaged places and the need for those places to receive the gift of healing beauty. Despite this Herculean task in a wounded world, she persists and refuses to ignore the desolation and look away. Radical Joy for Hard Times is Johnson's literary gift to the reader who wants to play a part in a global community of Earth healing. Accept it, it's yours, given with love."
—Glenn Albrecht, creator of the concept of solastalgia and author of Earth Emotions
North Atlantic Books, 9781623172633, 248pp.
Publication Date: September 25, 2018
About the Author
TREBBE JOHNSON is an author and frequent speaker on the relationship between people and nature. Her previous books are The World Is a Waiting Lover and 101 Ways to Make Guerrilla Beauty, and she has won many awards, including the John Masefield Award from the Poetry Society of America and a Telly Award for a video made for the UN on the 20th anniversary of Earth Day. She has led workshops, retreats, and rites of passage programs internationally since 1995, such as a retreat in an old-growth clear-cut forest, a ceremony at Ground Zero after September 11, and a walk in weapons testing grounds at Eglin Air Force Base. In 2009, Johnson founded the non-profit organization Radical Joy for Hard Times, dedicated to finding and making beauty in wounded places. She regularly speaks at a variety of events, from the Stephens College Commencement to the Parliament of the World's Religions to the Sierra Club. Johnson is a contributing editor at Parabola Magazine and an active member of the Wilderness Guides Council, the Florence Shelly Stewardship Committee, and SCAN (Susquehanna Clean Air Network). She is married to Andrew Gardner, an artist, and lives in rural northeastern Pennsylvania.