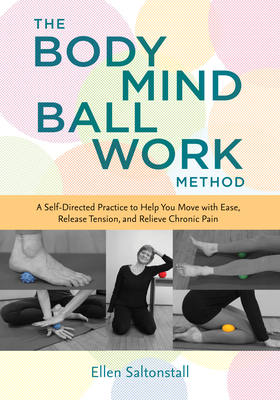 The Bodymind Ballwork Method
A Self-Directed Practice to Help You Move with Ease, Release Tension, and Relieve Chronic Pain
Paperback

* Individual store prices may vary.
Description
Release stress and tension in the body using only rubber balls with this illustrated, step-by-step guide
 
Yoga and bodywork teacher Ellen Saltonstall introduces a self-directed, gentle practice to help release tension in the body. The Bodymind Ballwork Method features the use of rubber balls in a range of sizes to support, massage, and stretch the body in specific places, with clear instructions for techniques from head to toe. An integrative body-mind practice, Bodymind Ballwork works to relieve soft tissue pain as well as emotional stress and trauma and is designed to empower readers to maintain their own health and mobility.
Praise For The Bodymind Ballwork Method: A Self-Directed Practice to Help You Move with Ease, Release Tension, and Relieve Chronic Pain…
"The Bodymind Ballwork Methodis a self-care treasure that belongs in every household! Ellen Saltonstall provides a comprehensive introduction to the connection between mind and body. . . . As an oncology massage therapist, I provide clients with self-care recommendations. This book is a valuable new tool for clients, their families, and the medical professionals who support them."
—Wendy Miner, LMT, BA, coordinator of the Integrative Medicine Service at the Memorial Sloan Kettering Cancer Center
 
"This book is a fantastic contribution to the bodymind-oriented field. It not only presents very well-described, practical self-help exercises, but also gives a profound background for them. A joy to read and apply!"
—Robert Schleip, director of the Fascia Research Group at Ulm University, Germany
 
"The Bodymind Ballwork Methodis very compatible with yoga practices, as well as with other forms of bodywork therapy. What I like most about the book is how elegantly Saltonstall explains the science behind the movements she teaches, while revealing how our unfolding consciousness on the balls is an integral part of this healing modality."
—Judith Hanson Lasater, PhD, PT, yoga teacher, and author of nine books, including Restore and Rebalance: Yoga for Deep Relaxation
 
 "Ellen Saltonstall is a teacher of integrity who puts her arms confidently around her subject and delivers a clear path for improving interoceptive awareness. A terrific adjunct to any movement practice."
—Tom Myers, author of Anatomy Trains
 
"After a lifetime exploring embodiment, I appreciate Saltonstall's enthusiastic embrace of embodied self-awareness as a key to healing. The effective and easy-to-understand chapters on awareness, stress, trauma, the nervous system, and peripheral receptors place each of the beautifully detailed and illustrated ballwork exercises in a clear conceptual and embodied context."
—Alan Fogel, professor of psychology emeritus at the University of Utah, Rosen Method Bodywork practitioner and senior teacher, and author of Body Sense: The Science and Practice of Embodied Self-Awareness
 
"Ellen Saltonstall has written a comprehensive, yet concise, guide to the wonderful world of ballwork. She covers much more than technique (though she does that too!) giving the reader a way into a deeper level of awareness and embodied knowledge."
—Carrie Owerko, senior certified teacher of Iyengar Yoga and Laban Movement analyst
 
"Nobody needs to live in chronic pain. Ellen Saltonstall is a veteran in her field and has been using ballwork long before it became popular. Her vast knowledge of anatomy and movement is compiled in this book. The reader can either dive deep into the foundations of bodymind connection and/or choose to explore the ball exercises for his or her individual needs. The rewards are great, and a feeling of empowerment and lightness arises when chronic pain disappears after doing one of her routines. Self-myofascial release allows a person to take their life back into their own hands. Whether you are a beginner or an athlete or a person in constant chronic pain this book is for you."
—Simone Lindner, Structural Integration practitioner
North Atlantic Books, 9781623172909, 184pp.
Publication Date: October 9, 2018
About the Author
Ellen Saltonstall is a certified bodywork teacher and yoga therapist with over forty years of experience. Her commitment to bodywork comes out of her early professional experience in modern dance performance and massage therapy. At the Saltonstall Studio in Manhattan, she teaches students who are physical therapists, massage therapists, acupuncturists, yoga teachers, psychotherapists, dance teachers, visual artists, writers, and attorneys. Bodymind Ballwork plays a regular part in her classes, workshops and private sessions. She has offered teacher training in Bodymind Ballwork for ten years, and teaches this method internationally.
or
Not Currently Available for Direct Purchase