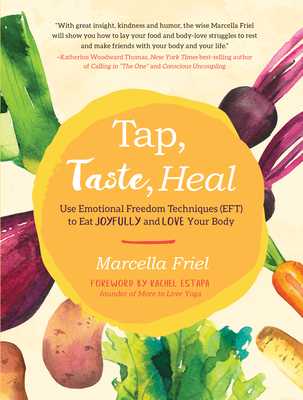 Tap, Taste, Heal
Use Emotional Freedom Techniques (EFT) to Eat Joyfully and Love Your Body
Paperback

* Individual store prices may vary.
Description
A step-by-step guide to help you stop yo-yo dieting and binge eating, overcome sugar addiction, and heal your relationship with your food and your life

For many who struggle with food, mindful eating alone is not the answer. In Tap, Taste, Heal, natural foods chef and mindful eating mentor Marcella Friel teaches you the neurological repatterning tool of Tapping (also known as Emotional Freedom Techniques or EFT) to help you resolve the traumas that have caused you to reach for those foods you hate to love to eat. Let Friel's step-by-step Tapping instructions and links to online Tapping demonstrations take you deeper than weight loss and help you accept, honor, and nourish your entire being, whatever the number on the scale.
Praise For Tap, Taste, Heal: Use Emotional Freedom Techniques (EFT) to Eat Joyfully and Love Your Body…
"With great insight, kindness and humor, the wise Marcella Friel will show you how to lay your food and body-love struggles to rest."
—Katherine Woodward Thomas, New York Times best-selling author of Calling in "The One" and Conscious Uncoupling 

"If you have ever approached the dining table with fear, thought of hunger as an enemy, or chosen food for punishment or reward, this book will help you set all that aside, find a sense of ease and balance at the table, and take delight in food once again."
—Susan Piver, author of The Four Noble Truths of Love
 
"Marcella Friel offers a brilliant addition to the field of EFT with Tap, Taste, Heal. We have over a decade of research showing how EFT reduces anxiety around food, calms emotional eating and cravings, and results in weight loss; and this step-by-step guide will allow everyone to experience those benefits from home. This is a must-read."
—Peta Stapleton, PhD, associate professor of psychology at Bond University, Australia, and author of The Science Behind Tapping

"Many thanks to Marcella for her clarity, compassion, and depth as she takes readers on a comprehensive journey to heal the root causes of body shame and relentless dieting. Marcella supports readers to remove the should's and the shame and replace them with joy and love while living life to the fullest. Let the healing begin!"
—Carol Look, founding EFT master and cocreator of the documentary film Tapping for Weight Loss
 
"As someone who works in the alternative health-care field, I know how important self-care practices are in any healing endeavor. Marcella is a consummate teacher of such practices, and Tap, Taste, Heal is a great field guide for everyone seeking a self-loving alternative to restrictive dieting and punitive exercise."
—Renee Russo, founder of the Breast Thermography Center of Sonoma County, California
 
"I recently met a client of Marcella's who couldn't stop singing her praises. After reading this book, I see why. Marcella's insight and compassion go right to the heart of the issues that people face when struggling with food and body image, and the solutions she offers are life changing."
—Karl Dawson, founding EFT master, creator of Matrix Reimprinting, and author of Matrix Reimprinting Using EFT: Rewrite Your Past, Transform Your Future
 
"If you use the kitchen only to microwave your 'meals,' let Marcella's Tapping techniques and cooking tips help you learn how to give yourself and others the daily gift of home-cooked food. Marcella has captured so beautifully what it truly means to cook, and this book might well hold the secrets to healing ourselves and our loved ones through the art of home cooking."
—Alma Schneider, founder of Take Back the Kitchen: Overcoming the Obstacles to Cooking
 
"Our beloved natural-foods-chef instructor Marcella taught our students the essence of eating for health—consciously sourced whole foods, lovingly prepared, and eaten mindfully. I'm glad to see her blended wisdom reaching a wider audience with this book."
—Ed Bauman, founder of Bauman College Holistic Nutrition and Culinary Arts
 
"Marcella is really insightful and fun. And she really knows her EFT!"
—Rob Nelson, founder of Tapping the Matrix Academy
North Atlantic Books, 9781623173098, 240pp.
Publication Date: April 16, 2019
About the Author
MARCELLA FRIEL is a natural foods chef and mindful eating mentor who helps health-conscious women love and forgive themselves, their food, and their figure. Friel's writing can be found in Elephant Journal, The Tapping Solution Blog, and elsewhere. Her online courses, "Lose Emotional & Physical Weight with Tapping" and "21 Tapping Meditations for Emotional Eating and Beyond," are top-forty best sellers on DailyOM. Known for her playful humor, laser-like insight, and deep kindness, Friel's ability to guide women through their healing process comes directly from her three decades of Buddhist meditation practice, twenty-plus years of 12-Step recovery, and nearly ten years as a client and practitioner of Tapping (also called EFT). Friel is certified in EFT through Tapping the Matrix Academy in Santa Rosa, California.