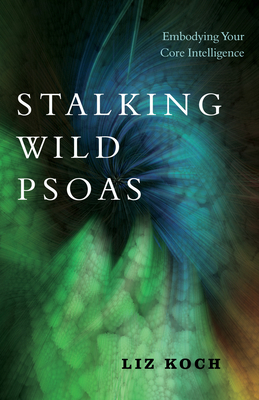 Stalking Wild Psoas
Embodying Your Core Intelligence
Paperback

* Individual store prices may vary.
Description
Weaving together biology, living systems thinking, and somatic movement, these nine short essays will inspire somatic therapists, bodyworkers, and movement educators

Liz Koch, author of Core Awareness and The Psoas Book, seeks to dissolve the objectification of "body" in order to reconceptualize human beings as biologically intelligent, self-organizing, and self-healing. Specifically addressing educators and therapists, she delves into the conceptual framework of core by decolonizing the popular mechanistic thinking of psoas as muscle, inviting the reader on a journey toward reengaging with life's creative processes. The book illuminates the limitations of the predominant paradigm of body and actively explores psoas as a vital, intelligent messenger that links us to an expansive network of profound possibilities. Employing biomorphic and embryonic paradigms, Koch redefines psoas as smart, expressive tissue that is both elemental and universal. Named after her popular exploratory workshops of the same name, Stalking Wild Psoas encourages all readers to nourish integrity and claim self-efficacy as creative and expressive individuals.
Praise For Stalking Wild Psoas: Embodying Your Core Intelligence…
"In Stalking Wild Psoas, Liz Koch cradles our collective gasp and assumes the role of a trusted guide into the fascinating poetry of embodiment."
—Bayo Akomolafe, author of These Wilds Beyond our Fences
 
"Liz Koch opens the reader to a brilliant phenomenological panorama of the human body as a shaping, a process, a Gestaltung—as the expression of our soul, intelligence, and consciousness."
—Jaap van der Wal, MD, PhD, embryologist, anatomist, and (recovering) morphologist
 
"Stalking Wild Psoas takes us on a wonderful journey into our embryological potential, the bio-intelligence of the forces of life that generate our form, our holistic fluid nature, and a healing approach that is based upon this depth of perception and understanding."
—Franklyn Sills, author and pioneer of Biodynamic Craniosacral Therapy
 
"Liz Koch is an artist of the somatic metaphor who is in it for a long and deep dive within. These essays track her journey through the illusions and delusions of the mechanical construct of the body into a holistic vision of 'the body to come.' She stalks 'wild psoas' where the perception of the 'body as lived' comes into coherence with the 'body as anatomy.' Koch's approach is resolutely holistic, philosophical, and deliciously interoceptive."
—Tom Myers, author of Anatomy Trains

"This book inspires us to sensually, and with open interest, experience the bio-intelligence of our living being. Through her articulate and passionate voice, Liz Koch weaves together art, science, inquiry, exploration, deep care, and listening with the ways she is learning from within her own body, and with the bodies of her students and clients. What emerges is a textured narrative tapestry telling the story of our biological origins, biological intelligence, and our possibilities for the future if we participate by stalking the wild psoas."
—Mary Abrams, MA, RSME, somatic educator and founder of Moving Body Resources
 
"Liz Koch captures the fundamental wholeness and innate intelligence of the body through her elegant prose in Stalking Wild Psoas. Her words convey a visual-sensorial experience, taking the reader on a journey of appreciation and discovery of the multi-dimensional fabric of being-in-body. Koch's writing clearly delineates the essential differences between a biomechanical approach to understanding our physical nature and a holistic approach, touching the mystery and beauty of all that a body possesses."
—Carol A Agneessens, MS, biodynamic cranialsacral and Rolf educator and author of The Fabric of Wholeness: Biological Intelligence and Relational Gravity
 
"Liz Koch is a crucial voice for our time—a true 'core intelligence explorer.' She has dedicated her life to sparking a desperately needed shift of awareness in our medical and movement models from a static, biomechanical approach to a fluid, biointelligent one."
—Wendy LeBlanc-Arbuckle, creator of 3Core Connections

"This wonderful book goes far beyond a simply anatomical and physiological view of the psoas to portray a deep understanding of the body arising from Liz Koch's many years of working with clients, colleagues, and herself."
John Wilks, author of Using the Bowen Technique to Address Complex and Common Conditions
 
"In Stalking Wild Psoas, Liz Koch brings forth the wealth of knowledge that she has developed by teaching and studying with somatic greats like Emilie Conrad Da'oud. I recommend this book for all who wish to develop more understanding and connection with their bodies."
—Donnalea Van Vleet Goelz, PhD, chair of the Emilie Conrad Da'oud Research Initiative
 
"Beautifully written, as if the life force itself helped organize it, this book brings a sense of relief, possibility, and hope, from the physical to the spiritual. You can feel your body resonate with the truth of it. The deep visceral knowledge of the author comes through on every page, helping us tune in to things we instinctively always knew but were cut off from. Loving and helpful, this amazing book opens new vistas of healing and the understanding of our own nature."
—Susan B. Eirich, PhD, founder of Earthfire Institute
North Atlantic Books, 9781623173159, 184pp.
Publication Date: May 7, 2019
About the Author
An international somatic educator and author, Liz Koch has thirty years of experience working with and specializing in the psoas muscle. Educating both laypersons and professionals, Liz Koch is recognized by colleagues in the movement, wellness, and fitness professions as a connoisseur of the core muscle of the human body. The author of The Psoas Book and Core Awareness: Enhancing Yoga, Pilates, Exercise and Dance, Koch is the founder of Core Awareness, a somatic approach to deepening the experience of the human core in order to improve skeletal alignment, balance, and orientation. She conducts Core Awareness workshops thoughout the United States, Canada, and the UK.