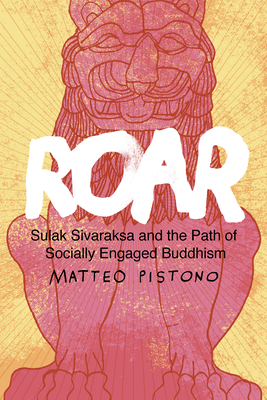 Roar
Sulak Sivaraksa and the Path of Socially Engaged Buddhism
Paperback

* Individual store prices may vary.
Description
The captivating life story of renowned Buddhist activist Sulak Sivaraksa. His Holiness the XIV Dalai Lama: "I believe [Sulak] and I share a conviction that if we are to solve human problems, economic and technological development must be accompanied by an inner spiritual growth. And if we succeed in fulfilling both these goals, we will surely create a happier and more peaceful world."

Matteo Pistono's deft prose weaves together the story of Sulak Sivaraksa's years of social-justice work and his tireless campaigns to effect change. As a seminal figure in the world of socially engaged spirituality, Sulak has given us a blueprint for peaceful, nonviolent activism in the twenty-first century. More than forty vintage photos illustrate both his life and a turbulent period in Thailand's history. 
Praise For Roar: Sulak Sivaraksa and the Path of Socially Engaged Buddhism…
"Although material advances have contributed enormously to human welfare, they cannot create lasting happiness by themselves. I believe [Sulak]and I share a conviction that if we are to solve human problems, economic and technological development must be accompanied by an inner spiritual growth. And if we succeed in fulfilling both these goals, we will surely create a happier and more peaceful world."  
—His Holiness the XIV Dalai Lama

"[Sulak]offers a clear picture of what is going on, and he does so as a participant, not just as an observer. He is a teacher and an organizer, a bodhisattva who devotes all his energies to helping others."  
—Thich Nhat Hanh, author of Living Buddha, Living Christ

"Consistently engaging, Pistono's book provides a template for Buddhist activism at a time when bold voices like Sulak's are so desperately needed."
—Buddhadharma

"This rare and powerful book conveys the powerful spirit of a true humanitarian and courageous human being, Sulak Sivaraksa. Roar is the roar of a lion of a man, whose vision of human liberation is an example for us all. Written with rugged honesty and utter clarity, this book is a great treasure that teaches us all that compassion in action is the very heart of ethics. Bravo! All who know [Sulak]have been waiting for the full story of his life and work."
—Roshi Joan Halifax, Upaya Zen Center, author of Standing at the Edge

"By the pivotal nature of his work, which bridges the artificial divides of North and South, Buddhist and non-Buddhist, self and other, bringing a healthy mix of universalism and concern for local culture, and by the exemplary courage he has manifested in 'speaking truth to power,' Sulak Sivaraksa has made, and continues to make, a major contribution to peace and justice in his native Thailand, as well as in the world as a whole." 
—Mairead Maguire, Nobel Peace Prize Laureate from Northern Ireland
 
"[Sulak] is an old friend and an inspiring, amazing figure in world Buddhism. Roaroffers a marvelous and compelling story of his courage and audacity, of [Sulak's] extraordinary place in the modern history of Thailand, and his creative, feisty, unstoppable force of compassion and wisdom."
—Jack Kornfield, author of No Time Like the Present
 
"[Sulak] is one of the heroes of our time, offering us deep wisdom and refreshingly sane alternatives to the earth-destroying religions of consumerism, greed, and exploitation." 
—Joanna Macy, author of World as Lover, World as Self

"An irrepressible campaigner for a sane and just society, [Sulak] unites the strengths of a traditional Dharmic sensibility with the critical rigor of a Western-educated intellectual. His life offers a heroic example of engaged Buddhism in practice."
—Stephen Batchelor, author of Secular Buddhism

"In the entire world I know of no one who understands the situation more clearly and acts more effectively and consistently to bring the resources of a great religious tradition to bear on the critical issues of our time than Sulak Sivaraksa. I wish I could point to equally effective Christian leaders. I cannot. But perhaps we Christians can be inspired by him and learn from him and can find the strength to act creatively."
—John B. Cobb, Jr., author of A Christian Natural Theology

"The question of alternatives to the current economic model has become extremely urgent…. Sulak Sivaraksa has been in the forefront of developing a thoroughgoing critique of consumerism."
—Walden Bello, author of Capitalism's Last Stand?
 
"Whenever I ask myself a basic question of public ethics and public action, I end up wondering what [Sulak] would think. He has that great virtue of being true to himself and to the standards which somehow link all great moral philosophies…. [Sulak] is an unstoppable force working on justice from a Buddhist point of view."
—John Ralston Saul, author of The Collapse of Globalism and the Reinvention of the World
 
 
North Atlantic Books, 9781623173326, 288pp.
Publication Date: March 5, 2019
About the Author
Matteo Pistono is a writer and meditation teacher. His other books include Meditation: Coming to Know Your Mind, Fearless in Tibet: The Life of the Mystic Tertön Sogyal, and his memoir In the Shadow of the Buddha: One Man's Journey of Discovery in Tibet. Matteo holds a master of arts degree in Indian philosophy from the School of Oriental and African Studies at the University of London. After working with the Smithsonian Institution in Washington, DC, on Tibetan cultural programs, Matteo lived and traveled throughout the Himalayas for a decade, bringing to the West graphic accounts and photos of China's human rights abuses in Tibet. His writing and photography have appeared in the Washington Post, BBC News, Men's Journal, Kyoto Journal, Buddhadharma: The Practitioner's Quarterly, Tricycle.org, and elsewhere. Matteo lives in California with his wife and dog.
or
Not Currently Available for Direct Purchase