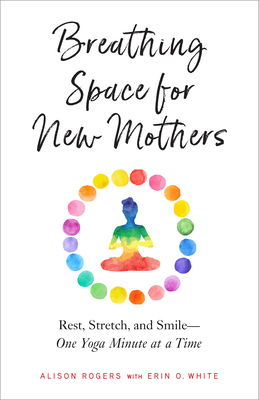 Breathing Space for New Mothers
Rest, Stretch, and Smile--One Yoga Minute at a Time
Paperback

* Individual store prices may vary.
Description
A gentle and novel guide to new motherhood—one that encourages women to take time to breathe, embrace their experiences, and be "good enough"—one yoga minute at a time

Yoga instructor Alison Rogers and coauthor Erin O. White forge a new path through contemporary motherhood with their collection of gentle suggestions for beginning and deepening a home yoga practice for new mothers. From the warm-up of first days with a newborn to the wobbly-but-standing postures of confident new motherhood, Breathing Space for New Mothers encourages women to notice and nurture their feelings and foster self-compassion to approach motherhood with curiosity instead of fear, improvisation instead of rigidity, and humor instead of worry. The authors offer mothers a singular message: your well-being matters as much as your baby's. Each chapter ends with a one-minute mindful yoga practice, which can be done in a sequence to create a relaxing and balancing support for the incredibly demanding first nine months with a baby.
Praise For Breathing Space for New Mothers: Rest, Stretch, and Smile--One Yoga Minute at a Time…
"If you've just given birth—for the first time or the eighth time—you can exhale now. Breathing Space for New Mothers is exactly what you need as you stumble into this messy, chaotic, beautiful, sleepless, joyful, and confusing time called motherhood. No judgments, no hard-and-fast prescriptions. Just compassionate wisdom and practical suggestions on how to truly care for yourself."
—LINDA SPARROWE, author of Yoga Mama and Yoga At Home
 
"This is a wonderful gift to any new mother. When we cultivate inner warmth, kindness, and health it not only helps us as mothers, but also helps everyone around us, including the new life we bring into the world. This book will help you care for your body with gentle yoga poses, and to relate to yourself with more wisdom and compassion so that your experience of motherhood is as fulfilling as possible."
—DR. KRISTIN NEFF, author of Self-Compassion and The Mindful Self-Compassion Workbook
 
"Breathing Space for New Mothers is not just a parenting guide, it's a life guide. It is about cultivating a quality of being that allows us access to our deepest wisdom and intuition as mothers."
—HALA KHOURI, MA, cofounder and director, with Seane Corn and Susan Sterling, of Off the Mat Into the World and creator of the Radiant Pregnancy yoga video program
 
"I'm so grateful to have mindfulness resources like Breathing Space for New Mothers to recommend to my patients. As a reproductive psychiatrist, I'malways looking for ways to support women in their body-mind emotions and remind us all about the healing power of breath."
—ALEXANDRA SACKS, MD, reproductive psychiatrist and author of What No One Tells You: A Guide to Your Emotions from Pregnancy to Motherhood
 
"Breathing Space for New Mothers offers new mothers a mental shift—one that creates more room to trust ourselves, look after ourselves, and be ourselves even as we settle into this new role. It's a slowing down for our racing minds and our wild expectations, and it is truly a gift."
—KJ DELL'ANTONIA, author of How to Be a Happier Parent and former editor of the New York Times "Motherlode" blog
 
North Atlantic Books, 9781623173425, 152pp.
Publication Date: August 6, 2019
About the Author
ALISON ROGERS trained as a Kripalu Yoga instructor at Kripalu Center for Yoga and earned a master's degree in counseling psychology from Harvard and a doctoral degree in Cross-Cultural Child Development from the University of Massachusetts, Amherst. After more than thirty years of clinical work as a therapist and educator, she shifted her focus to create the Yoga of Parenting workshops, a practice and philosophy that integrates principles from cutting- edge Western psychology with mindful yoga to help parents as they practice caring for their children with confidence, authenticity, and pleasure.

ERIN WHITE received her MFA in fiction writing from the University of Massachusetts. She is the author of Given Up for You: A Memoir of Love, Belonging, and Belief. Her work has appeared in the New York Times, Creative Nonfiction, the Kenyon Review, and elsewhere, including several anthologies: The Bitch is Back, the sequel to The Bitch in the House; Use Your Words: A Writing Guide for Mothers; and Oh Baby: True Stories About Conception, Adoption, Surrogacy, Labor and Love.
or
Not Currently Available for Direct Purchase