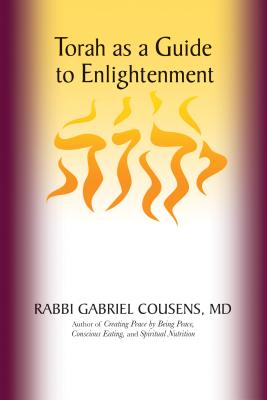 Torah as a Guide to Enlightenment
Paperback

* Individual store prices may vary.
Other Editions of This Title:
Hardcover (9/27/2011)
Description
Inspired by intense studies, meditation, and a variety of teachings from the great Torah sages, best-selling author Gabriel Cousens, MD, presents the fifty-two parashas of the Torah as a practical path to liberation. His interpretation, which focuses on enlightenment, what he feels is the original intention of the Torah, provides a multidimensional analysis and a perspective that is often missing from conventional teachings. Torah as a Guide to Enlightenment conveys liberation understandings not only to those with Jewish and Christian backgrounds, but to anyone seeking to reconnect with their spiritual roots.
Praise For Torah as a Guide to Enlightenment…
"A master of medicine, a healer of souls, an awakener of hearts, Rabbi Gabriel Cousens has freed up Torah to free up souls, flinging wide open her rusty gates to enable her wisdom to gush forth unabatedly and in fullness of intent and application. … He skillfully weaves the wisdom of the sages through the ages into a cohesive and fruitful brew of lessons that speak directly to the deepest depths of our spirits. … [His] treatise of the Torah raises the decibels of her voice so that all souls, regardless of their external identities, can hear her message and experience her magic."
—From the foreword by Rabbi Gershon Winkler
 
"Jews and Torah have a symbiotic relationship: the life of one depends on the life of the other. For far too long Torah has been on life support because the Jews have been on life support. Rabbi Gabriel Cousens is about to revive the latter by resuscitating the former. His Torah as a Guide to Enlightenment reveals a level of Torah wisdom that few contemporary Jews know exits, and when they do, there is hope that they will achieve the very enlightenment Rabbi Cousens and Torah promise them."
—Rabbi Rami Shapiro, author of Tanya, the Masterpiece of Hasidic Wisdom
 
"In my book Times for Redemption I point out how important it is for us to prepare the vessels to hold the spiritual energy needed for redemption. Torah as a Guide to Enlightenment is an inspired offering to help us prepare our vessels."
—Rabbi Matityahu Glazerson, author of Letters of Fire, Above the Zodiac, From Hinduism Back to Judaism, and Times for Redemption

"Rebbe Gabriel Cousens's deep and profound book is reopening a door to Judaism and Torah that has been closed in my heart for a long time. Through Torah as a Guide to Enlightenment I can now begin to understand the spiritual teachings of the Torah, how inspiring and beneficial they are for me as well as for the many Jewish members within our Sufi spiritual community. I appreciate the rebirth into the Jewish tradition within my heart and experience."
—Jason D. Groode, senior director of Sufis Hawaii

"Torah as a Guide to Enlightenment is a fascinating gateway into some of the most profound mysteries of creation. Rabbi Gabriel Cousens, MD, attempts to unlock the gate to give us a taste of some of the sparks of the inner Torah through modern science and Kabbalah. Thirty years ago I saw a similar work on Bereisheet called Beginning and Upheaval written by Rabbi Meir Leibush Malbim and translated by physicist Dr. Zvi Faier, a close disciple of Rabbi Dr. Chiam Zimmerman, one the great rabbis of the last generation. After seeing that work I am not at all surprised by what Rabbi Cousens is doing here. This book should be used as an eye and mind opener and we should all value what King David asked: Open my eyes so I can see the wonders of your Torah. For us there is no greater wonder than to see the integration of wisdom and Torah rolled into one."
—Rabbi Moshe Schatz, author of Maayan Moshe, Tikun Lail Shavoout of the Rabbi Shalom Sharabi, Keter Malchut on Seferot H a'omer, and Sparks of the Hidden Light

"For years, as a Jewish woman separated from my roots, I have been seeking the doorway to Enlightenment through Judaism. And here it is. Rabbi Gabriel Cousens, MD, has brought the life and soul back to one of the greatest spiritual paths in the world in a way that has dramatically and profoundly touched the essence of my soul. Torah as a Guide to Enlightenment is a God-inspired door opener into the great ancient teachings, a guide to help prepare people to receive the messianic energies of liberation that have been prophesized."
—Trudy Green, current manager of Aerosmith and previous manager of Michael Jackson, Janet Jackson, Heart, and Perry Farrell
North Atlantic Books, 9781623173531, 692pp.
Publication Date: October 2, 2018
About the Author
Rabbi Gabriel Cousens, MD, is a world-recognized medical doctor and spiritual teacher. He is the founder and director of the Tree of Life Foundation, which trains Essene priests and priestesses and coordinates international humanitarian programs benefiting disadvantaged families, children, and indigenous cultures through holistic education. At the age of forty Cousens began to study the Torah and kabbalistic texts intensely. He studied under several orthodox rabbis and, in 1996, officially began twelve years of rabbinical studies and training under Rabbi Gershon Winkler, whose father had been the chief orthodox rabbi for Copenhagen, Denmark. He received smecha in 2008.
 
Rabbi Cousens is also the founder and director of the Tree of life Rejuvenation Center, where he has developed a world-famous program to heal diabetes naturally (healing up to seventy percent of Type 2's). He has lectured on this program at many medical schools and centers around the world and provides spiritual and nutritional teaching in a wide range of countries including the United States, Israel (where he founded a Tree of life Europe/Israel center), Canada, Egypt, Morocco, Lebanon, Nicaragua, Costa Rica, Panama, Mexico, Peru, Ecuador, Brazil, Hong Kong, Australia, New Zealand, Bali, Japan, Argentina, Nigeria, Ghana, and almost every country in Europe. Cousens is the author of numerous books including There Is a Cure for Diabetes, Creating Peace by Being Peace, Spiritual Nutrition, Conscious Eating, Rainbow Green Live-Food Cuisine, and Depression-Free for Life (which contains his ninety-percent-effective program to heal depression naturally). In addition, he offers a free two-hour internet TV show called Alive with Gabriel in which he lectures and discusses spiritual, family, and relationship matters as well as spiritual nutrition issues. Rabbi Cousens lives in Patagonia, Arizona.
or
Not Currently Available for Direct Purchase