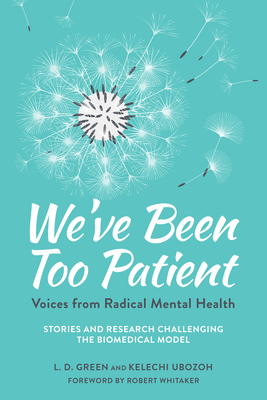 We've Been Too Patient
Voices from Radical Mental Health--Stories and Research Challenging the Biomedical Model
Paperback

* Individual store prices may vary.
Description
25 unflinching stories and essays from the front lines of the radical mental health movement
 
Overmedication, police brutality, electroconvulsive therapy, involuntary hospitalization, traumas that lead to intense altered states and suicidal thoughts: these are the struggles of those labeled "mentally ill." While much has been written about the systemic problems of our mental-health care system, this book gives voice to those with personal experience of psychiatric miscare often excluded from the discussion, like people of color and LGBTQ+ communities. It is dedicated to finding working alternatives to the "Mental Health Industrial Complex" and shifting the conversation from mental illness to mental health.
Praise For We've Been Too Patient: Voices from Radical Mental Health--Stories and Research Challenging the Biomedical Model…
"Justice is not possible unless we make space for the stories of the margins. What more powerful elucidation can there be than to cast light on the margins of the mind? We've Been Too Patient shreds stigma and replaces it with dignity, autonomy, and power. This anthology heralds the necessity of our messy radical neurodivergent brains, so that we might call forth a world where we are never again forced to be 'too patient.'" 
—Sonya Renee Taylor, activist and author of The Body is Not an Apology: The Power of Radical Self-Love
 
"Nothing beats the advocacy and ideas of someone with lived experience in a subject and this book is proof. The insights and ideas might be radical to some, but anyone who has lived experience with mental illness and/or suicide can see this is actually a long-overdue and very reasonable plea for basic human dignity, compassion, support and sense of community. This is how we should treat people who are suffering. Whether you are a loved one, someone who suffers, a politician or a mental health worker, please read it." 
—Paul Gilmartin, comedian and host of Mental Illness Happy Hour
 
"This book's message honors the diversity of each person's mind and body by moving us outside the limited scope of the biomedical model. This message needs to be spread to counter the stigma, labeling, and pathologizing entrenched in the current mental health system. I share the vision of this book: a mental health system that is not based on forced treatment as its default, where people choose services and supports because they serve their needs as defined by them. This would be a system that does not reduce people to chemical imbalances but sees them holistically with myriad needs and influences. We've Been Too Patient moves us all toward this substantially different perspective of mental health."
—Sally Zinman, pioneer of the consumer movement and executive director of the California Association of Mental Health Peer Run Organizations

"We've Been Too Patient is a must-read for all. Through mad rage, mad resistance, and mad pride, this brilliant collection creatively and provocatively challenges the structural oppression, stigma, and sanism in our everyday lives as well as within the very mental health services that are purported to support us. Not only does it showcase the narratives, research-based analyses, and knowledges of those deemed mad, it demands of the reader to fully appreciate the lived experience of capitalist psychiatric oppression and to both respect and consider nuanced understandings of radical healing potentials emanating from mad movements. This book is not only silence shattering—it moves adeptly beyond revealing the harm and shame experienced by so many of us to expose the triumphs, creativity, dignity, and self-agency attached to mutual aid and other alternative approaches to healing. In short, We've Been Too Patient is a courageous, powerful and important contribution to radical mental health and to the field of mad studies." 
—Brenda A. LeFrançois, social work professor at the Memorial University of Newfoundland and coauthor of Mad Mattersand Psychiatry Disrupted

"This powerful anthology shines a spotlight on the mental health system, highlighting serious flaws. The authors, often retraumatized by the care they received for real and perceived mental illnesses explore their journeys in rich, vivid language. Rather than accepting victim roles, the writers detail 'call-to-arms' epiphanies that allow them to embrace their experience and emerge as activists. This powerful book is a game-changer for anyone serious about looking at the mental-health system from a patient's perspective. An excellent read."    
—Nicki Breuer, owner of Odin Books, a mental health, education, and special needs bookstore 
 
"Isolation kills; community heals. Well, depending on the community. For too long those living with mental health conditions were marginalized, dismissed, and distrusted by the very communities in which they lived leading to isolation, often in the name of treatment. The power to overcome this forced isolation and faulty identification to instead construct a community built on mutual trust and support has taken enormous faith and courage. You can hear the courage in the voices found throughout this anthology. The courage they inspire is contagious and serves as a guide to building the healing communities that those living with mental health conditions need and deserve."
—Joseph Robinson, program manager of Each Mind Matters
North Atlantic Books, 9781623173616, 264pp.
Publication Date: July 9, 2019
About the Author
L. D. Green (they/them) is a queer and nonbinary writer, performer, college educator, and mental health advocate living in Richmond, California. Their work has been published on Salon, The Body is Not an Apology, Truthout, and in Sinister Wisdom, Foglifter, and elsewhere. They have been featured at dozens of reading series, slams, showcases, and workshops in schools, colleges, and open mics locally and across the country. As a playwright and writer/performer, they have had their work performed at multiple local and national theater festivals including the National Queer Arts festival as well as the San Francisco Fringe Festival. L. D. received their BA from Vassar College and their MFA in Creative Writing from Mills College, and they were a 2010 Lambda Literary Fellow in Fiction. They attended Tin House Writers' Workshop in 2012 and were a Catwalk Artist in Residence in 2013. They are a professor of English and Creative Writing at Los Medanos College in Pittsburg, California, and were an active member of the Bay Area chapter of The Icarus Project from 2009–2011. L. D. writes poetry, plays, screenplays, fiction, and nonfiction. Their chapbook of poetry and creative nonfiction is forthcoming from Nomadic Press. For more information visit, www.ldgreen.org.


KELECHI UBOZOH is a Nigerian-American writer, mental health advocate, and public speaker. She is the first undergraduate ever published in the New York Times. Her story of recovery is featured in O, The Oprah Magazine and the documentary, The S Word, which follows the lives of suicide attempt survivors (now on Amazon Prime). She has appeared on CBS This Morning with Gayle King, and has presented at Cornell and Yale. Ubozoh previously supervised mental health programs and led communication operations at a mental health nonprofit organization. Currently, she is a consultant and works with communities on system transformation. When she isn't working, she enjoys writing poetry and performing. Ubozoh's work is published in Argot Magazine, Multiplicity, Endangered Species, Enduring Values, and the forthcoming anthology Trauma, Tresses, & Truth: Untangling Our Hair Through Personal Narrative. In 2021 she was named a Mental Health Champion by the Steinberg Institute. For more information, visit kelechiubozoh.com.
 
or
Not Currently Available for Direct Purchase