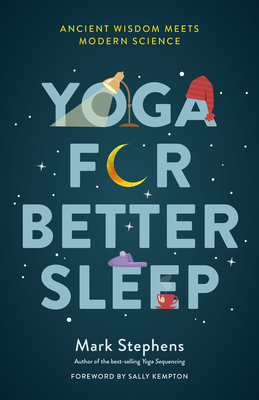 Yoga for Better Sleep
Ancient Wisdom Meets Modern Science
Paperback

* Individual store prices may vary.
Description
Fight insomnia with simple yoga poses, meditations, and breathwork that will help you sleep better, longer—from a master yoga trainer and the author of Yoga Sequencing and Teaching Yoga

Although modern science has unraveled some of the mysteries of our sleeping, dreaming, and waking states and age-old yoga practices are helping us enjoy better sleep, clearer minds, and healthier bodies, over 65 percent of U.S. adults are still sleep deprived. Sleep deprivation causes and aggravates ailments like stress, heart conditions, high blood pressure, obesity, and depression.
 
Master yoga teacher, trainer, and best-selling author Mark Stephens provides easy-to-do, effective yoga activities—including postural sequences, breathing exercises, and meditation practices—for better sleep, no matter your age. He integrates the ancient wisdom of yoga with the insights of modern neuroscience and psychology to offer practical age- and condition-specific tools and sequences for improving sleep naturally and without drugs.
Praise For Yoga for Better Sleep: Ancient Wisdom Meets Modern Science…
"Yoga for Better Sleep dives deep into the nuances of insomnia, the science behind it, the yoga theory we can use to better understand it, and the practices that can cure it. The breadth of this book offers the insomniac not only practical solutions but validation and hope!"
—Jessica Levine, former editor at Yoga Journal

"This book will make you yawn . . . and that's a good thing! . . . The poses and breathing techniques are comprehensive and helpful, and Stephens' style makes you feel like you're chatting to a friend. After reading this book, you should be able to snooze in no time."
—Seattle Book Review

"Yoga for Better Sleep offers a beacon of hope to our exhausted modern world."
—Elena Brower, best-selling author of Practice You: A Journal

"A wonderful guide for anyone. Its breadth is comprehensive and its depth is considerable."
—Bernie Clark, author of The Complete Guide to Yin Yoga and Your Body, Your Yoga
 
"Well-informed, bold, and resourceful"
—Loren Fishman, MD, author of Yoga for Arthritis and Yoga for Osteoporosis

"With an in-depth presentation of the nature of sleep, Stephens orients the avid reader to what lies behind getting, or not getting, a good night's sleep, offering yoga practices—including yoga nidra—that are an exquisite means of self-enquiry and awakening. I hope this book find its way into the hands of many."
—Richard Miller, author of Yoga Nidra and cofounder of International Association of Yoga Therapists
 
"Finally, a yogic approach to insomnia that integrates yoga and science! Mark Stephens distills the essential insights of neuroscience, psychology, and the yoga tradition to better understand the nature of sleep and how to improve sleep using yoga rather than pharmaceutical drugs and narrow behaviorist techniques. With chapters on yoga for specific conditions—including stress, anxiety, and depression—and for different ages, this book offers an invaluable resource for anyone interested in better sleep and a healthier life.
—Diana Alstad, coauthor, with Joel Kramer, of The Passionate Mind Revisited
North Atlantic Books, 9781623173630, 376pp.
Publication Date: August 13, 2019
About the Author
MARK STEPHENS is a reformed insomniac who once believed that sleeping five to six hours per night was a blessing of the gods. Now a healthy eight-hour-per-night sleeper, Stephens is the author of Teaching Yoga, Yoga Sequencing, Yoga Adjustments, and Yoga Therapy. A yoga practitioner for over twenty-five years, he lives, practices yoga, and writes in Santa Cruz, California.