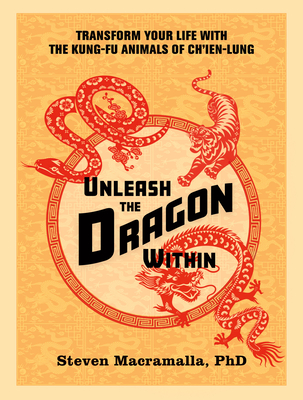 Unleash the Dragon Within
Transform Your Life With the Kung-Fu Animals of Ch'ien-Lung
Paperback

* Individual store prices may vary.
Description
Discover your Animal archetype to transform your martial arts practice and improve your physical, emotional, and sexual health

A cognitive psychologist and respected martial art instructor brings to life the Animals of Ch'ien-lung, and how to live the martial art philosophy--on and off the mat! This martial art belongs to everyone, not just for self-defense but as a force for healing. Keen on detail, big in scope, Unleash the Dragon Within shows how to tap into the Cat and Snake
aspects of your mind and body. When you combine the movement, breath and meditation of a Cat with a Snake you create the Dragon, bringing all you are to your athletic performance, spiritual practices and even your sexual relationships.
Praise For Unleash the Dragon Within: Transform Your Life With the Kung-Fu Animals of Ch'ien-Lung…
"Long-time martial arts practitioner and professor of psychology Steven Macramalla gives us an amazing window into the rich interaction of mind and body in the practice of the Six Kung-fu Animals of Ch'ien-Lung. His lively prose and vivid descriptions bring them to life on the page. I've witnessed Steven's embodiment of these archetypal Animals, and it is truly remarkable. His emphasis on the healing potential of the martial arts—as deeply creative 'Life Arts'—is most welcome in a world urgently in need of healing. A stimulating read!"
—Linda Holiday, aikido 6th dan, author of Journey to the Heart of Aikido: The Teachings of Motomichi Anno Sensei
 
"Macramalla details how to become a martial artist. He uses beautiful and exact language to walk you through his unique style and show you how it is a life art, not a hobby. Steven delivers his art with clear explanations on how exactly the movements and practices apply to everyday life. This book introduces a unique martial art and the instructions to begin living it from day one."
—Gene Smithson, certified Systema instructor and author of Shot

"Unleash the Dragon Within is an artful and intelligently written book about life, not just about martial arts. It's about the human experience and how we all can discover our best selves through discipline, focus, concentration, and determination. Macramalla sets us on that path, with storytelling that is insightful, knowledgeable, and informative."
—Homer Hans Bryant, artistic director of Chicago Multicultural Dance Center
 
"Ch'ien-lung has provided my body with a vocabulary of movement and spirit, a poetry of bows and forms. With his dual backgrounds in psychology and martial arts, Macramalla is that rare individual who can not only bridge the gap between Eastern and Western ideas, but who can write about them with delightful clarity."
—Jon Pearce, professor, Department of Computer Science, San Jose State University
 
"Unleash the Dragon Within is a beautifully written, practical book on personal development through the art of Ch'ien-lung kung-fu. Macramalla takes you on a fun and body-centered journey into your own way of being to better cope with everyday life. If you want to have better relationships, a calmer mind, a firmer grasp on your own emotional responses as well as be fitter, more flexible, and toned, you really should buy this book."
—Sarah Turner, alternative medicine researcher
 
 "Steven Macramalla bridges Eastern philosophy, martial arts, and ancient wisdom to modern life. He provides deep insight to the Western mind and awakens our inner psychology to the amazing possibilities life has to offer. He gives new insight and perspective on how to live more fully and how to ignite our human potential."
—Lee Holden, author, TV personality, producer, and qigong master
 
"Discovering and studying Ch'ien-lung changed my life drastically, in the greatest of ways. It has given me tools for every area of my life, which I still use on a daily basis. I have learned the fluidity to change perspectives in a number of important ways, and to respond to my environment creatively and openly. If you want to explore and transform your inner and outer world in the most astonishing of ways, I highly recommend this book."
—Peter Irish, six-time world hacky sack champion, award-winning juggler, and artist
 
"Steven Macramalla expounds a revolutionary new perspective on an ancient path forward by which we may better understand ourselves, others, and our relationship to our environment. This book invites us to profoundly shift the way we see our world. At the same time, it provides a practice framework that enables us to access the vitality, potency, and poignancy available to each of us through this strange and beautiful thing we call life."
—Valerie Moselle, author of Breathwork: A 3-Week Breathing Program to Gain Clarity, Calm, and Better Health
 
"The Animals of Ch'ien-lung straddle both personal-level archetypes and representations of the building blocks of nature itself—texture, weight, flow, weather patterns, and the elements of fire, water, and earth. You are deeper than your personality, deeper than archetype even, and, as an Animal, you are little more than a loosely bound-together collection of attributes."
—Emilia Sandilands, massage practitioner and movement teacher
 
"For those who are looking to embody the greater version of their self that is waiting just around the corner, I highly recommend that you read this book!"
—Sifu Kelly Ryan Lake, daoist priest, doctor of medical qigong therapy, acupuncturist, and instructor of Chinese martial arts
 
"The Ch'ien-lung Animals practice enriched my work as a young dancer and continues to do so now as an international show director. Macramalla has brought to life an exciting and unique fusion of science and art that will inspire any artist with ideas and themes for a lifetime."
—Susan Gaudreau, show director, Cirque Du Soleil Entertainment Group
Blue Snake Books, 9781623173654, 352pp.
Publication Date: August 27, 2019
About the Author
Steven Macramalla, PhD, earned his doctorate in psychology from the University of California at Santa Cruz. He was an associate researcher at NASA Ames through the San Jose State Univerisity Foundation for six years. Macramalla has been practicing Chien-Lung for twenty years, and has been a certified weight training and fitness instructor. In addition to writing article submissions for prestigious psychology journals, he has published fitness articles for Alive magazine in Canada. He currently teaches Chien-Lung in Santa Cruz, California, where he lives, in addition to leading Dragon Quest retreats in the Grand Canyon, as well as other workshops along the California coast. He has taught psychology at San Jose State University for ten years.
or
Not Currently Available for Direct Purchase