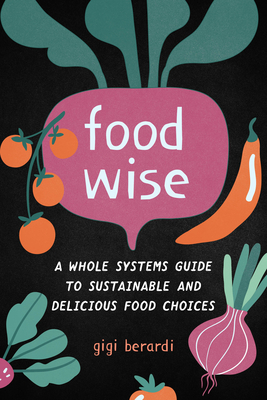 FoodWISE
A Whole Systems Guide to Sustainable and Delicious Food Choices
Paperback

* Individual store prices may vary.
Other Editions of This Title:
Digital Audiobook (3/30/2020)
Description
The definitive food lover's guide to making the right choices amidst a sea of ever-changing information

We live in a culture awash with advice on nutrition and eating. But what does it really mean to eat healthy? FoodWISE is for anyone who has felt unsure about how to make the "right" food choices. It is for food lovers who want to be more knowledgeable and connected to their food, while also creating meaningful dining experiences around the table. With more than thirty years of experience in farm and food studies, Gigi Berardi, PhD, shows readers how to make food choices and prepare meals that are WISE: Whole, Informed, Sustainable, and Experience based. She offers practical guidance for how to comb the aisles of your local food market with confidence and renewed excitement and debunks the questionable science behind popular diets and trends, sharing some counterintuitive tips that may surprise you—like the health benefits of eating saturated fat! FoodWISE will revolutionize how you think about healthy, enjoyable, and socially conscious cuisine.
Praise For FoodWISE: A Whole Systems Guide to Sustainable and Delicious Food Choices…
"FoodWISE is full of wisdom."
—Michael Pollan via Twitter

"This guide to 'sustainable and delicious food choices' points to the value of the home garden and kitchen, and questions the benefits of popular diets."
—FOODTANK.COM, highlighted in Forbes

"Against a deluge of dieting suggestions, fads, and conflicting studies on nutrition, [FoodWISE] suggests adopting a strategy in which you stop, think, and act … considering what works best in terms of both budgets and personal values.… The title acronym, WISE, stands for Whole, Informed, Sustainable, and Experienced… The book's mission is most of all one of self-discovery." 
—Foreword Reviews

"It is often asked whether we should 'eat to live' or 'live to eat.' Gigi Berardi persuades us that we can and should do both, as eating FoodWISE is good for our health, good for the animals and environment in our care, and also profoundly enjoyable. That conclusion is based both on science—remembering that food production is primarily a biological rather than a technical process—and on empathy. As Berardi demonstrates, empathy for other living beings can and should be extended to the animals and people involved in food production round the world, to other workers in the food chain, and to our families and friends sharing our food—through the deeply personal principles, stories, and recipes she shares with us in every page of this life-affirming book."
—Michael Appleby, OBE, professor, Jeanne Marchig International Centre for Animal Welfare Education, University of Edinburgh

"Often the world of food is complex and confusing, with marketing messages that mislead even engaged consumers. FoodWISE empowers interested eaters with tools to approach their food in a more thoughtful, sustainable, and healthy way, all the while illuminating some of the pitfalls of our current food system. No fad diets here—just a call back to whole foods and mindful eating."  
—Marie Burcham, JD, director of domestic policy, The Cornucopia Institute

"Food scholar Gigi Berardi wades into the troubled waters of advice about what to eat and proposes some truly wise and inspired guidance. FoodWISE offers the nuanced, honest answers you'll never get from a diet book, with a possibilist spirit reminiscent of Frances Moore Lappé."
—Liz Carlisle, author of Lentil Underground and Grain by Grain

"Gigi Berardi's FoodWISE moves beyond inflexible notions of black and white to critically—and unapologetically—examine the grey. By the end of the book, I realized that her seemingly common-sense approach had led me to a profound knowledge about how to be a self-conscious and responsible consumer." 
—Jason W. Cornell, MS, cheesemaker (affineur), and food connoisseur

"For all of us who find ourselves overwhelmed with food choices—"Which apple is most sustainable? Ethical? Affordable? Should I even be eating an apple in April?"—Berardi's FoodWISE provides a clear set of unpretentious and practical ideas to guide our eating and cooking. Interspersed with compelling case studies, personal experiences, and sound science, the book reflects an ethic of care for the people and ecological systems that coproduce our food."  
—Kate J. Darby, associate professor of environmental justice and sustainability at Western Washington University

"If you want to be an informed consumer of food, here's your definitive guide. So many answers to so many questions! Berardi gives background to the background—perspective to the perspective—providing a rare, detailed guide to the food world nexus. If you can't figure out what to eat after reading FoodWISE, you might as well just stop eating."
—Steve Ettlinger, author of Twinkie, Deconstructed

"Berardi gently and often humorously guides readers through the intricate threads of the food web from soil to eater, that is, from manure and soil to me and you. Her goal is to share her own expanding pleasure based on a lifetime of the experience: that eating is more rewarding the more we are connected to the source of our food. You and I can tug on threads of the food web if we stop, think, and act based on awareness of mostly invisible people, practices, and relationships that placed an egg or lettuce or a Twinkie before us—especially if we reacquaint ourselves with cooking and gardening. This is a guide, partly about how to choose how we engage with the food system but even more about how to think and act based on knowledge, experience, and good judgment. Although changing direction of the food system requires comprehensive social and policy changes, Berardi helps us make ourselves healthier and the food system more sustainable by aligning our choices toward emerging ways of doing food WISEly."
—Harriet Friedmann, professor emerita of sociology, Munk School of Global Affairs and Public Policy, University of Toronto

"FoodWISE asks us to stop, think, and then act when making food choices. Why? Because every bite we take has impacts on people, place, and planet. To support us approaching our food choices in this way, Gigi Berardi takes us on a journey of self-reflection around our food values and beliefs and how these influence the decisions we make every day in relation to buying, growing, cooking, and eating food. It's also a journey of learning about our food systems, their current complexities and challenges, and what we need to make them more sustainable.  Berardi grounds all this, where else but in the kitchen—placing the ability to make a difference easily within reach of the reader. This book gives us practical tools we can use every day to support FoodWISE choices right in our own kitchens." 
—C.K. Ganguly (Bablu), executive director, Timbaktu Collective, Chennekothapalli village, Anantapur District, Andhra Pradesh, India, and board member, IFOAM Organics International

"The dairy industry has changed over the fifty years since I have been in business. The little farms are not efficient, the countryside is filled with empty silos of dairy farms, no longer milking.  These small farms are being absorbed by their neighbors—no matter if they are dairy or cash crop farms.  The little farms go out of business and their larger neighbors get bigger. The changes in the upper air currents from the tropics and the arctic have led to severe flooding in the central United States—we need to understand that climate is changing. It's made the spring here in New York very wet. I believe there will be a shortage of corn for beef and poultry and hogs, and we may face food shortages and/or severe price increases. Gigi Berardi's FoodWISE touches on some environmental concerns but, at its heart, really keeps the farmer in mind. That's what we need right now. Nothing's going to change unless we appreciate farmers and support policies that aid all farmers." —Ed Gates, Seneca Valley Farms, Burdett, New York

"If you ever find yourself in solitary confinement, or the equivalent, with one book to read, make sure it's FoodWISE. Rarely is so much wisdom, common sense, and original thinking elegantly pressed between two covers in a world hungry for food and even hungrier for the full story about the staples of life."  
—Charles Geisler, emeritus professor of development sociology, Cornell University

"Why treat nature's food as just another manufactured consumer commodity and agbiz profit center? Gigi Berardi offers a bigger, richer ethic as the centerpiece of a sustainable future."
—Jim Hightower, former Texas agriculture commissioner, populist author, radio commentator, and editor of The Hightower Lowdown

"FoodWISE is an incredible body of work—it covers several aspects that I am involved with and that are close to my heart. Berardi takes a critical look at organic farming, climate change, food marketing and fads, vulnerable communities, labor, GMO, and more. Yet, Berardi's approach does not paint an apocalyptic picture of the times to come. Without glossing over the hard facts, she successfully creates a multifaceted robust framework that is absolutely logical and critical for our time. At its core, FoodWISE is a clarion call asking us to explore the omnipresent agricultural web and aid us toward an experience-based thinking relationship to food.
—Manisha `Molly' Kairaly, craft and food activist, South India

"More people are becoming aware that what we choose to eat and how it's grown, processed, or cooked has a profound impact on the health of our families and the planet. No other purchase decision we make will have a more profound impact on our present and long-term quality of life—this book really endeavors to connect the dots."
—Mark Kastel, director of the organic watchdog project at Beyond Pesticides  

"This book is a very accessible and far-ranging primer to help people think about food in a broad context. Gigi Berardi thoughtfully and skillfully explores the myriad ramifications of the decisions we make each day about what to eat, from a flexible whole foods approach to nutrition to important environmental, social, and economic implications. If you want to know more about important issues in food today, and how to make better food decisions, you'll love this book."
—Sandor Ellix Katz, author of Wild Fermentation and The Art of Fermentation 

"As a sensory scientist, it's exciting to see a food-systems book that takes the sensory experience of food seriously and reminds the reader that the way foods taste are meaningful beyond simple matters of liking and disliking."
—Jacob Lahne, assistant professor of food science and technology, Virginia Polytechnic Institute and State University

"Our small planet faces big troubles—climate chaos, hunger, obscene inequality, and much more. So, it's time to dig deep, tapping the power of hope to fortify our courage. Gigi Berardi's FoodWISE approach—focused on whole farms and foods, trustworthy information, sustainability, deep experience, and empathy—can enable us to take charge: transforming the way we use resources and eat so that we are creating solutions together. That's power!"
—Frances Moore Lappé, Small Planet Institute, author of Diet for a Small Planet, and coauthor of World Hunger: 10 Myths 

"As a traditional dairy farmer in western Washington, I am very encouraged by Berardi's efforts to get myvoice out there to the non-ag attached generation coming into society.  Although I may see things differently in some of her conclusions—based on science and dirt-under-my-nails experiences—I so appreciate her effort to get students onto realfarms where realpeople are working hard (and for little reward) to give the populace the safest and cheapest food in modern history.  This, while constantly being attacked by either regulators or ill-informed consumers.  Getting students to see the effects of broad rules and regulations in regions with many different soils, weather, crops, and practices is imperative. Why? Because the next generation of bureaucrats and regulators need to understand the effects of such rules on the farmer—and at a personal level. Berardi is always respectful and listens to our plights in agriculture."  
—Troy Lenssen, third-generation Washington state dairy farmer, Lenssen Dairy LLC

"FoodWISE by Gigi Berardi—ecologist, journalist, shepherdess, and cheesemaker—is an indispensable guide for anyone who wants to make informed choices about what to eat. The author explores food through a wide range of topics: history, agriculture, ecology, sustainability, climate change, food policy, the labor force, and cooking. In her engaging down-to-earth style, Berardi makes the latest scientific research accessible and the results may surprise you. (Yes, fat is good!) The next time you go to the grocery store, being more FoodWISE, you will follow her mantra to stop–think–then act." 
—Mother Noella Marcellino, PhD, Benedictine nun of the Abbey of Regina Laudis and Our Lady of the Rock Monastery, artisanal cheesemaker and microbiologist, and contributing author to the books Cheese and Microbes, The OxfordCompanionto Cheese, Healthy Aging, as well as Michael Pollan's book and Netflix documentary series: Cooked

"If you've ever pestered the waiter for the origins of that meat on the menu, frowned at the fine print on packaged goods, got dizzy trying to follow the debate on fats and health, or just found yourself falling a bit out of love with eating, FoodWISE is the book for you. It's restorative as it is informative, and I love Gigi Berardi's mantra: stop, think, then act." 
—Michael Moss, investigative journalist and Pulitzer Prize awardee, and author of Salt, Sugar, Fat

"Looking at problems like climate change, pollution, hunger, and obesity, it becomes obvious that our way of thinking and living is unhealthy. According to Albert Einstein, the solution needs a different way of thinking. WISE and mindful eating is a first step toward a healthy diet from a healthy, fertile soil on a healthy planet. This book is an inspiration and imparts concrete experiences." 
—Jasmin Peschke, nutrition scientist, Section for Agriculture at the Goetheanum, Dornach, Switzerland

"What should I eat? With a reasoned approach and careful research, Berardi takes us by the hand and coaches us through this most intimate conundrum. She cuts through the clever speak and ignorance, one theme or fact at a time, to offer a roadmap out of being lost in a million-choice food world. And so, this book equips us to tackle one of the most important decisions we make: what to feed ourselves." 
—Joel Salatin, Polyface Farms, Swoope, Virginia, and author of Fields of Farmers, Your Successful Farm Business and a dozen other books on profitable, small-scale farming

"FoodWISE is a passionate, extremely well-informed argument that we should be much more thoughtful about what we eat, for our own good and for the good of our planet. It is full of practical suggestions, including recipes. Reading Gigi Berardi's book will change your approach to shopping, cooking, and eating."
—Barry Schwartz, professor emeritus of psychology at Swarthmore College; visiting professor at Haas School of Business, University of California, Berkeley; author of The Paradox of Choice;and coauthor of Practical Wisdom

"FoodWISE is a scintillating, readable foray into what it means to eat mindfully, based on thorough scientific research, holistic thinking, and personal experience. Gigi Berardi's wide-ranging exploration of the effects of our food choices on personal health, agricultural sustainability, and climate change is deeply appealing to a biodynamic farmer who has produced most of his own food for more than half a century." 
—Henning Sehmsdorf, PhD, S&S Homestead Farm, Lopez Island, Washington, and coauthor of Toward Sustainable Agriculture Systems in the 21st Century

"With a refreshing frankness mixed with clear compassion, Berardi navigates the many complexities of food in FoodWISE. Starting with the farmers who produce food to the environmental and social considerations of producing and consuming it, to a basic scientific description of food, to ways to participate in a new relationship with it following the FoodWISE principles, nothing is left out of this compelling approach to eating. Using an accessible writing style, Berardi synthesizes a large body of work with her well referenced narrative that is sure to please and inform both an interested public and the eager scholar alike."
—Ruth Sofield, professor of environmental toxicology and chemistry, Western Washington University

"Berardi does an amazing job breaking down our food ecosystem and explaining what we are actually putting in our bodies. Anyone genuinely interested in eating healthy and being educated needs FoodWISE."
—Ethan Stowell, founder and CEO of Ethan Stowell restaurants, and author of Ethan Stowell's New Italian Kitchen

"As a recent graduate in nutrition and dietetics, I left the US some decades ago to discover Italy and a whole new way of looking at food and eating. At the same time in the US, the "no fat" and "microwave- everything" culture was taking off, and the consequences did not take long to manifest themselves. So many years later, I hope that now FoodWISE will help readers to reevaluate what they eat, where their food comes from, how it is produced, and how they prepare it. Certainly, knowing what we are eating and how it is produced is the way to good health, sustainability, and love for the planet."   
—Ann Vaughan-Martini, emerita professor of food and wine microbiology, Università degli Study, Perugia, Italy  

"Gigi Berardi takes her classroom passion for teaching about food and sustainability and transforms it into an accessible message for anyone who loves food! Taking it beyond simply where our food comes from, Berardi enlightens all on how food connects us with the world around us."  
—Grace Wang, PhD, academic program director, sustainability, Western Washington University

"Today, on a planet that is devastated by humans, there is no real pleasure without sustainability and awareness. Through her book, Gigi Berardi shows you that a sustainable life is strictly connected to a tasteful existence. Good, clean, fair and healthy food is the key."
—Carlo Petrini, founder of the worldwide Slow Food movement, and author of Slow Food Nation and Slow Food Revolution

"FoodWISE is the harvest of a lifelong passion for food and farming. It is a cookbook at its best—providing the intellectual, emotional, factual, and scientific ingredients and sharing ways of how to mix them into a coherent whole. [FoodWISE] encourages us to let go of old recipes and considerations so as to create new ones."
—Johannes Wirz, PhD, codirector of the Research Institute at the Goetheanum, Section for Natural Sciences, Dornach, Switzerland, and board member and research director of Mellifera e.V. Biene-Mensch-Natur, Rosenfeld, Germany
 
 
 
 
North Atlantic Books, 9781623173913, 256pp.
Publication Date: January 14, 2020
About the Author
GIGI BERARDI is a professor at Western Washington University in Bellingham, Washington. In addition to teaching food and geography classes in the U.S., Mexico, and Europe, she currently homesteads 25 acres with her family in the San Juan Islands in Washington, where she milks sheep and makes cheese. She maintains a popular food blog (resilientfarmsnourishingfoods.blogspot.com) and has written numerous articles for both newspapers and scientific journals. A self-proclaimed "foodie," Gigi Berardi has over 30 years experience in food and farm studies. She received her BA in biology with high honors from John Muir College, University of California San Diego and degrees (MS, PhD) from Cornell University in Natural Resources and Resources, Policy, and Planning. Berardi was a Fulbright scholar, and her articles and reviews have appeared in newspapers such as the Los Angeles Times, the Anchorage Daily News, The Olympian, The Bellingham Herald, and scientific journals such as BioScience, Human Organization, and Ethics, Place, and Environment. Her public radio features (for KSKA, Anchorage) have been recognized by the Society of Professional Journalists. She is an elected member of the American Society of Journalists and Authors.
or
Not Currently Available for Direct Purchase