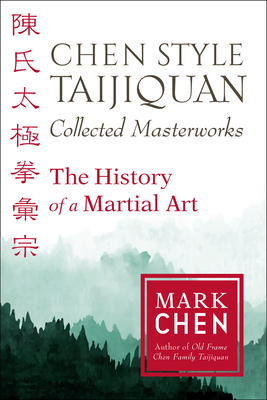 Chen Style Taijiquan Collected Masterworks
The History of a Martial Art
Paperback

* Individual store prices may vary.
Description
The first-ever English translation of the most important masterworks of Chen Style Taiji, as originally published by the renowned grandmaster Chen Zhaopi

Chen Zhaopi (1893-1972) is universally recognized as a preeminant grandmaster of Chen Style taijiquan, an ancient martial art that is the foundation of all taijiquan schools. During his lifetime, Chen was lineage successor and teacher to Chen Village's current generation of senior masters, including Chen Xiaowang, Wang Xi'an, Chen Zhenglei, Zhu Tiancai, and the late Chen Qingzhou. This book is the first-ever English translation of key selections from his seminal 1935 publication, Chen Style Taijiquan Collected Masterworks. Gathered together are taijiquan's most important texts dating back to its earliest period of development. These include the writings of its putative creator, Chen Wangting, and its reorganizer, Chen Changxing, and the biographies of eminent family members such as Chen Zhongshen. Author and translator Mark Chen's commentary provides readers with the most complete picture of taijiquan's origins, evolution, and theory to date. Also included is a step-by-step, pictorial exposition of Chen taijiquan's "old frame" first form, demonstrated by Chen Zhaopi himself.
Praise For Chen Style Taijiquan Collected Masterworks: The History of a Martial Art…
"A precious presentation of taijiquan's essential theory and practice as found in original documents—clarified and enriched by a uniquely qualified author."
—Michael DeMarco, publisher of Via Media Publishing and the Journal of Asian Martial Arts and instructor at Winged Lion School of Tai Chi

"There are very few good English translations of Chinese martial arts manuals. Mark Chen's Chen Style Taijiquan Collected Masterworks makes a substantial contribution to the literature on Chinese martial arts in general, and Taiji studies in particular. Both historians and practitioners will gain immensely from consulting his translation and explanatory notes.  
—Peter Lorge, Vanderbilt University
Blue Snake Books, 9781623173937, 256pp.
Publication Date: September 10, 2019
About the Author
Mark Chen is a twentieth-generation lineage holder in Chen Family Taijiquan, and a formal, rumen disciple of 19th-generation grandmaster Chen Qingzhou of Xulü Village, Henan Province, China. Mark has been teaching Taijiquan for well over twenty years. He holds an instructor's credential (quan shi rank) from the certification board of the Wen Xian International Taijiquan Conference, the official accreditation body for Chen Family Taijiquan instructors in China. He is also a certified senior instructor in the Chen Qingzhou Martial Arts Association (accredited under China's Ministry of Education) and the public relations director for the National Neigong Research Society (NNRS). Mark began Shaolin training in 1973 under the renowned master Guo Lianyin (1895-1984), who was considered by many to have been one of the greatest martial artists of the twentieth century. In 1979 he progressed to Yang Style Taijiquan under Master Bill Gee, and in 1996 began studies in Chen style Taijiquan with Master Zhang Xuexin of San Francisco (preferring the more vigorous, martial orientation of the Chen system). The following year, he met Grandmaster Chen Qingzhou (1934-2015), a disciple of the great 18th-generation grandmaster Chen Zhaopi (1893-1972). Mark became a student of Grandmaster Chen at that time, and was granted disciple status in 1999. Mark is the author of Old Frame Chen Family Taijiquan, published by North Atlantic Books.
or
Not Currently Available for Direct Purchase