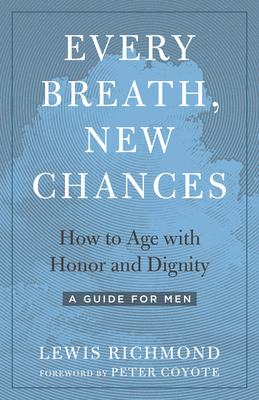 Every Breath, New Chances
How to Age with Honor and Dignity--A Guide for Men
Paperback

* Individual store prices may vary.
Other Editions of This Title:
Digital Audiobook (11/2/2020)
Description
Tools and anecdotes to reframe aging from the bestselling author of Work as a Spiritual Practice and Aging as a Spiritual Practice.

Aging is a journey: a decades-long adventure of new opportunities and surprises. For many men, the decline in virility and power that accompanies age can be a tough pill to swallow. When these fall away, how do we make sense of who we are? What does it mean to be a man?

Drawing from research, interviews, and personal stories, Every Breath, New Chances shows readers how to turn toward the changes associated with aging and to reevaluate losses and transitions as new avenues for joy, self-discovery, renewal, and growth. Delving into topics such as divorce, single living, retirement, and encore careers, each chapter includes a contemplative practice called Deep Mind Reflection to help readers navigate the fears and aspirations that come along with changes in relationships and work. This book addresses the more challenging realities associated with illness, substance abuse, and mortality, while empowering readers to compassionately embrace next steps and spiritual preparations for their final decades of life. This book does not proffer tools for staving off an inevitable part of life; rather, it offers frameworks and strategies for peacefully embracing it.
Praise For Every Breath, New Chances: How to Age with Honor and Dignity--A Guide for Men…
PRAISE FOR EVERY BREATH, NEW CHANCES 

"Make no mistake, this book is not just for men! Every Breath, New Chances is a wise and compassionate companion in the journey of aging. Richmond shares his own experiences of aging and provides Deep Mind Reflection exercises to explore inner feelings and other aspects of aging. He encourages the reader to meet these challenges as a rich opportunity for personal growth and development. For women, Richmond's insights are not only helpful for better understanding those in their life who are facing the fact that they no longer possess the virility, power, and control they once had, but also for understanding the feminine path of aging. This is a must-companion along the way."
—DIANE ESHIN RIZZETTO, author of Waking Up to What You Do

"This is a book you can trust to guide you as you age! Every Breath, New Chances is rooted in real wisdom and full of heart. It deepens many aspects of growing older and being a man without being too simple or too loud. Richmond really wants you to get more out of life. I'm about to turn eighty, and I feel better for having read it."
—THOMAS MOORE, author of Care of the Soul

"To process the mental and emotional challenges he faced growing older, Lewis Richmond says he wrote the book he needed. That sound writing advice has produced a one-of-a-kind toolkit with insights and practices that show others how to bring alive (and thus gain life-changing wisdom from) the book's profound core message: 'vulnerability is strength.'"
—PAULA SPENCER SCOTT, author of Surviving Alzheimer's

"As my entire generation moves toward its end, I can't think of a more helpful, necessary book. Lewis Richmond offers a calm and systematic framework and practice to help you get the most out of your life right now! Why miss a second of it? Why not learn to love our growing old? This book will help you."
—PETER COYOTE, actor, writer, Zen priest, and author of Sleeping Where I Fall

"Every Breath, New Chances is the first of its kind—an incredibly valuable book on male aging covering all the salient points. I highly recommend it, both for men and the women who care about them."
—LAMA PALDEN DROLMA, author of Love on Every Breath

North Atlantic Books, 9781623174071, 192pp.
Publication Date: November 3, 2020
About the Author
LEWIS RICHMOND has been a meditation teacher, musician, and software entrepreneur. He is the author of four previous books, including the national best-seller, Work as a Spiritual Practice: A Practical Buddhist Approach to Inner Growth and Satisfaction on the Job and the more recent award-winning Aging as a Spiritual Practice: A Contemplative Guide to Growing Older and Wiser. In addition to these books, Richmond's essays have appeared in such magazines as Tricycle, The Buddhadharma, Turning Wheel, and Shambhala Sun. While in retirement, he remains a musician and composer, and an editor and mentor to other authors.

To connect with Lewis Richmond, go to www.LewisRichmond.com.