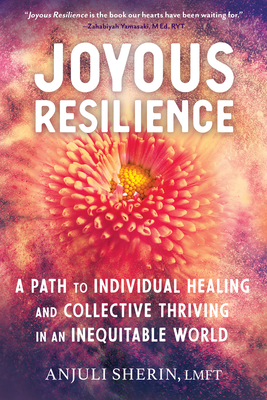 Joyous Resilience
A Path to Individual Healing and Collective Thriving in an Inequitable World
Paperback

* Individual store prices may vary.
Other Editions of This Title:
Digital Audiobook (3/22/2021)
Description
An intersectional guide to building resilience and reclaiming joy

With so much information available on how to build resilience--from meditation, exercise, and time in nature, to the latest neuroscience-backed studies--have you ever wondered what's holding you back? If you commit to self-care but find yourself exhausted, unhappy, or anxious, do you wonder what's missing?

The fact is, we are all navigating an exhausting, disconnecting, do-more-buy-more culture that disproportionately harms those with marginalized identities and leads us to believe that our thriving depends solely on individual effort. Mainstream wellness culture doesn't account for the ways that social oppression and economic injustice intersect to make resilience diffi cult for many of us to access in the first place. So, where do we begin?

In this warm and accessible guide, Pakistani American therapist Anjuli Sherin provides a healing path to make thriving possible for everyone. Through compelling client stories and reflective exercises, she offers a culturally informed, body -centered model that shows us how cultivating self-nurturance, healthy boundaries, pleasure, and a soulful connection to the natural world can give us the generative energy needed to heal individual and collective trauma and shape our world from an inner magic called joyous resilience.
Praise For Joyous Resilience: A Path to Individual Healing and Collective Thriving in an Inequitable World…
"Joyous Resilience is the book our hearts have been waiting for. In the midst of these unprecedented times, I know we are all searching for joy, hope, inspiration, and ways to nurture ourselves amidst our activism. Sherin's lens is culturally affirming, profound, inspiring, and engages us all in what it means to be alive and thrive and find strength in our vulnerability. The tools she provides are groundbreaking, heart-centered, nuanced, and grounded in anti-oppression frameworks. As a woman of color and trauma educator, I have been searching for a comprehensive resource of this nature that honors the lived experience of so many communities who are often left out of the conversation. This book is filling a much-needed gap in service delivery and will change the way mental health professionals approach their work, as well as how clients approach their healing. I am in complete awe of this work of art."
—ZAHABIYAH YAMASAKI, M Ed, RYT

"Joyous Resilience is perfectly right-sized for this historical moment. In a rigorous yet heartfelt voice, Sherin identifies the wounds we carry, how they can be healed, and the doorways they are for living a life of joy and affirmation. This is not an academic overture, but a book written with the deep experience and wisdom of a somatic healer across an inclusive intersectionality."
—RICHARD STROZZI-HECKLER, PhD, author of The Leadership Dojo

"Joyous Resilience is a poignant and profound anthem to survivors—a reminder that we all carry the light of resilience inside of our bodies and hearts. Through an intersectional lens that considers the impact of race, power, and privilege on the color and texture of our wounds, the practices offered . . . serve as a map, guiding us to access our innate power to heal, so that we can reclaim the joy that is our birthright."
—AMY PAULSON, global trauma healing advocate and founder and CEO of Gratitude Alliance

"This book offers a powerful vision for individual and collective healing rooted in resilience. Through helpful practices and illuminating case studies, Anjuli Sherin combines insights from her years of clinical experience and theoretical study to help each of us joyfully thrive. It's a powerful offering for the world at this time. "
—DAVID TRELEAVEN, PhD, author of Trauma-Sensitive Mindfulness

"This book is a healing journey—for the reader and even for the author who speaks, listens, and learns along with us. The practices introduced can help mitigate the roots and residue of historic and ongoing trauma, especially trauma that results from inter-generational, cumulative, and collective traumas. Healing from trauma need not be a solitary journey. In fact, we heal best and deeper when we are in connection, when we are in relationship, and when we are in community. If we open our hearts and our minds, together, we can cultivate and create a joyously resilient world."
—LAKIBA PITTMAN, Lakiba Pittman, senior adjunct professor, Menlo College, and senior instructor of compassion cultivation training at The Center for Compassion and Altruism Research and Education, Stanford University
North Atlantic Books, 9781623174231, 384pp.
Publication Date: January 26, 2021
About the Author
ANJULI SHERIN is a licensed marriage and family therapist specializing in trauma recovery, resilience building, and cultivating joy. She has fifteen years of practice with immigrant, South Asian, Middle Eastern, Muslim, and LGBTQI populations. Sherin received her B.A. in sociology and anthropology from Mary Washington University and her M.A. from CIIS. Sherin also trained and mentored with leading figures in trauma recovery and energy psychology, including Richard Strozzi-Heckler, Staci Haines, and Vianna Stibal. In addition to awards for academic excellence and community service, Sherin received the 2007 Emerging Leader Award from the E-women Network and has been featured in O Magazine as a finalist for the O Magazine/White House Leadership Project.