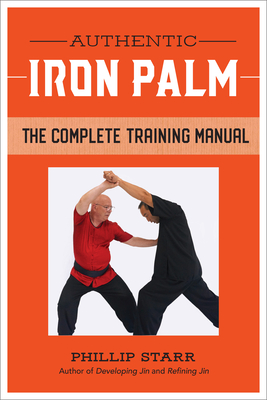 Authentic Iron Palm
The Complete Training Manual
Paperback

* Individual store prices may vary.
Description
A comprehensive guide to Iron Palm--an advanced training course for developing a strong striking hand and delivering powerful blows

Iron Palm is a set of martial art conditioning skills--dating back to the Shaolin Temple of fifth-century China--whose purpose is to strengthen the hand while empowering the fighter to strike with force and precision. Training is focused and incremental, requiring the guidance of an experienced master. In Authentic Iron Palm, author, instructor, and five-time US National Chinese martial arts Champion Phillip Starr provides the definitive guide to Iron Palm. He meticulously outlines the three sequential steps of training: hardening limbs, developing technique, and engaging Qigong for coordinating breath and mind. The end result is a more powerful and precise strike that can impact the target's viscera (with no trace on the outer body). Lavishly illustrated with more than 200 images, this book is ideal for experienced practitioners of gong-fu, karate, and taekwondo.
Praise For Authentic Iron Palm: The Complete Training Manual…
"Any serious student of Chinese Martial Arts should engage in the practice of Iron Palm, a frequently neglected, widely misunderstood, and often mysticized practice. Sifu Phillip Starr's incredible lifetime commitment to Chinese martial arts combined with his rare knowledge and teaching ability has perfectly positioned him to write this book. I wholeheartedly recommend it!"
—Chris Lomas, Chinese martial arts teacher and 2019 Champion of Catch Wrestling World Championship Super Heavyweight

"Shifu Phillip Starr's no-nonsense approach of conversational language coupled with his experience of Iron Palm gives us a text that is informed, motivating, and accessible. Authentic Iron Palm is an excellent primer for the beginning student and a quality reference for the advanced practitioner."
—Damon Honeycutt, MFA, Chinese martial arts instructor and transdisciplinary performer
Blue Snake Books, 9781623174347, 112pp.
Publication Date: March 10, 2020
About the Author
Phillip "Pete" Starr began his training in the martial arts in 1956, beginning with judo. Within a year, he received instruction in traditional kung fu in the basement of a small Chinese grocery store. He continued his training, also earning black-belt grades in two styles of Japanese karate (third dan in Kyokushin, first dan in Shito-ryu). His primary kung fu teacher was W. C. Chen, a direct disciple of one of China's best-known masters, Zhang Zhaodong. From Master Chen, Starr learned taijiquan (tai-chi chuan), xingyiquan, baguazhang, and a form of shaolinquan. He began teaching Chinese martial arts in 1967 at Parsons College in Fairfield, Iowa. After spending several years in law enforcement, he opened his first full-time martial arts school in Ottumwa, Iowa. He entered competition and earned the title of U.S. National Champion five times, the last time when he was sixty-three years old. He was named to the National Rules Committee of the United States Karate Association and became the kung fu chairman. Later, he was named to the list of the Rocky Mountain top ten competitors. Starr went on to train in Arnis, becoming a certified instructor under Tuhon Leo Gaje and Jeet Kune Do.
or
Not Currently Available for Direct Purchase