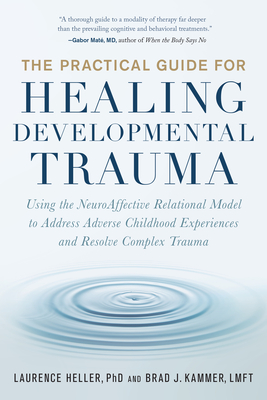 The Practical Guide for Healing Developmental Trauma
Using the NeuroAffective Relational Model to Address Adverse Childhood Experiences and Resolve Complex Trauma
Paperback

* Individual store prices may vary.
Description
A clinician's guidebook for treating developmental trauma--Apply the NeuroAffective Relational Model (NARM) to help clients overcome complex post-traumatic stress disorder (C-PTSD), recover from adverse childhood experiences (ACEs), and map post-traumatic growth.

The Practical Guide for Healing Developmental Trauma introduces a cutting-edge therapeutic model for addressing attachment, relational, and developmental trauma in a clinical setting. NARM is an integrated mind-body framework that identifies and treats the complex ways childhood trauma can manifest in interpersonal difficulties, maladaptive patterns, identity issues, and disrupted affect regulation.

Integrating the latest research on adverse childhood experiences, or ACEs, it arms psychologists, psychiatrists, social workers, and trauma-informed therapists with the skills and tools they need to help clients break free from the lasting effects of childhood trauma. The Guide is a go-to tool that explains:




• The four pillars of the NARM clinical model
• Cultural and transgenerational trauma
• Shock vs. developmental trauma
• Complex post-traumatic stress disorder
• How to differentiate NARM from other therapeutic modalities
• NARM's organizing principles, and how to integrate the program into your clinical practice
North Atlantic Books, 9781623174538, 304pp.
Publication Date: July 12, 2022
About the Author
LAURENCE HELLER, PhD, holds a doctorate in clinical psychology. He was in private practice for 40 years. He developed the NeuroAffective Relational Model (NARM©). His book Healing Developmental Trauma has been published in 14 languages and his model is taught throughout the world. He is the Founder/Director of the NARM Training Institute and teaches regularly in the US and Europe.

BRAD KAMMER, LMFT, LPCC, is a senior trainer and training director at the NARM Training Institute. He began his career as a humanitarian aid worker in Asia, which introduced him to personal and collective trauma. He is passionate about helping resolve the widespread impact of Complex Trauma. His work is based on the integration of somatic psychology, interpersonal neurobiology, and wisdom from spiritual traditions and traditional cultures. He is a somatic-oriented psychotherapist in private practice, professor, producer of the Transforming Trauma podcast, trauma consultant, and international trainer on trauma-informed care.