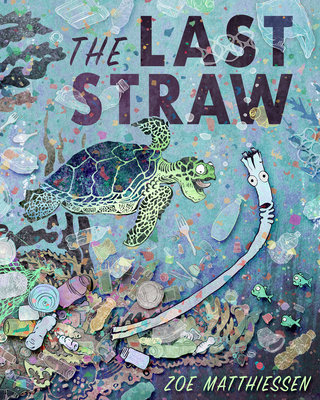 The Last Straw
Hardcover

* Individual store prices may vary.
Description
Meet Sippy, the world's last plastic straw

Sippy, a plastic straw who was used once and then discarded, worries what will happen to him when he realizes he can't be recycled. As he flies, floats, and flutters around the planet, he meets animals who are struggling with the plastic problem. He chats with a raccoon with a six-pack ring around his neck, a cardinal whose nest is made entirely of junk, turtles who confuse grocery bags with food, a hermit crab forced to live in a plastic cap, and a startled duck who runs around with a chip bag on her head. Finally, Sippy is swallowed by a hungry whale who is dining on ocean trash! Just when all hope seems lost, he skyrockets to freedom and calls out "Together we can fix this! Let's clean our world--let's try!"

Parents and teachers of children 7 to 10 years old can use Sippy's colorful adventure--based on real examples of animals in our environment--to raise awareness about the impacts of plastics on nature and to teach children about alternatives to single-use plastics.
Praise For The Last Straw…
"A powerful lesson wrapped in endless charm, Zoe Matthiessen's The Last Straw is beautifully conceived, written, and illustrated. You can read it to rapt children or read it alone in your den. It's that good, that important."
—RON HAUGE, Emmy-winning television writer for The Simpsons and Seinfeld

"BRAVO for Sippy, the straw who rails against the very real evils of plastic pollution in this irresistible picture book! Zoe Matthiessen's appealing art, funny rhymes, and essential message are all right on target. The Last Straw will inspire even the littlest of readers to help stem the tide of plastic trash and save the lives of the millions of animals literally caught up in our toxic mess."
—SY MONTGOMERY, naturalist and author of The Soul of an Octopus: A Surprising Exploration into the Wonder of Consciousness, finalist for the 2015 National Book Award

"The Last Straw is a lovely book—a sweet eco-tale rendered in obsessive, passionate detail. It could signal a new genre of kids books, the environmental fairy tale."
—BARRY BLITT, illustrator and recipient of the 2020 Pulitzer Prize

"This book is a triumph—a luminous, witty story that is easy to grasp and discuss with our kids and everyone else. A brave, brainy, strong moral statement and stunningly beautiful! An instant classic."
—STEVE BRODNER, independent illustrator, journalist, and educator

"For several years now I've been a fan of Zoe Matthiessen's environmental drawings and hermastery of pen and ink. I hope this book motivates others to care for our planet a little bit more."
—TIM O'BRIEN, illustrator, educator, and president of the Society of Illustrators

"I recommend The Last Straw to people of all ages. Through her illustration and verse, Matthiessen gets us to look directly at what we're doing when we throw away plastic, through the endearing character of Sippy the plastic straw and all the animals we encounter. Please read this book, give a copy to someone you know, and take a cue from Sippy on the last page, 'What can you and your family do to use less plastic?' There are some great tips there which are not difficult to implement."
—Brad Mehldau, jazz pianist, composer, and arranger

"Kids—or really anybody—interested in the environment will enjoy The Last Straw's witty words and luscious art. Zoe Matthiessen is a top talent, truly one-of-a kind." 
—Michael Gerber, editor & publisher of The American Bystander
North Atlantic Books, 9781623174637, 32pp.
Publication Date: January 5, 2021
About the Author
ZOE MATTHIESSEN is a self-taught artist who has received awards from the Society of Illustrators and American Illustration. Deeply frustrated by the impact of corporate and political chaos upon our environment and society, she dips her pen to address topics that impact us all such as plastic pollution, environmental deregulation, corporate greed, deforestation, and corrupt politicians. She contributes regularly to The American Bystander and to The Nation.

Recent exhibitions include "Seeing Nature Through Art" at the Yale Peabody Museum of Natural History (Oct-26 2019-June 30 2020), solo shows at The New Haven Lawn Club (April 30-June 30 2019), and Endicott College (Oct 2018-Jan 2019) and inclusion in the "Art As Witness: Political Graphics" exhibit at SVA Chelsea Gallery, in NYC.
or
Not Currently Available for Direct Purchase