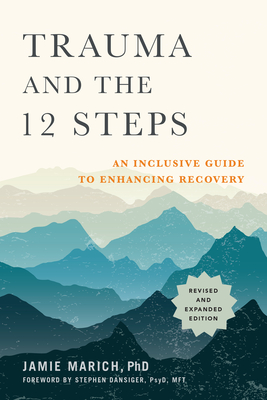 Trauma and the 12 Steps, Revised and Expanded
An Inclusive Guide to Enhancing Recovery
Paperback

* Individual store prices may vary.
Description
An inclusive, research-based guide to working the 12 steps: a trauma-informed approach for clinicians, sponsors, and those in recovery.

Step 1: You admit that you're powerless over your addiction. Now what?

12-step programs like Alcoholics Anonymous (AA) and Narcotics Anonymous (NA) have helped countless people on the path to recovery. But many still feel that 12-step programs aren't for them: that the spiritual emphasis is too narrow, the modality too old-school, the setting too triggering, or the space too exclusive. Some struggle with an addict label that can eclipse the histories, traumas, and experiences that feed into addiction, or dismisses the effects of adverse experiences like trauma in the first place. Advances in addiction medicine, trauma, neuropsychiatry, social theory, and overall strides in inclusivity need to be integrated into modern-day 12-step programs to reflect the latest research and what it means to live with an addiction today.

Dr. Jamie Marich, an addiction and trauma clinician in recovery herself, builds necessary bridges between the 12-step's core foundations and up-to-date developments in trauma-informed care. Foregrounding the intersections of addiction, trauma, identity, and systems of oppression, Marich's approach treats the whole person--not just the addiction--to foster healing, transformation, and growth.

Written for clinicians, therapists, sponsors, and those in recovery, Marich provides an extensive toolkit of trauma-informed skills that:
• Explains how trauma impacts addiction, recovery, and relapse
• Celebrates communities who may feel excluded from the program, like atheists, agnostics, and LGBTQ+ folks
• Welcomes outside help from the fields of trauma, dissociation, mindfulness, and addiction research
• Explains the differences between being trauma-informed and trauma-sensitive; and
• Discusses spiritual abuse as a legitimate form of trauma that can profoundly impede spirituality-based approaches to healing.<
Praise For Trauma and the 12 Steps, Revised and Expanded: An Inclusive Guide to Enhancing Recovery…
"Jamie Marich offers a compendium of practices that make using the twelve steps more
effective in sustaining recovery. There are suggestions for including expressive arts,
yoga breathing, meditation, prayer, and ceremony into the recovery plan. This book
belongs in the hands of everyone who serves those suffering from addiction."
—Amy Weintraub, E-RYT-500, founder of LifeForce Yoga and author of Yoga for Depression

"In this revised edition of Trauma and the 12 Steps, Marich updates and expands on
her previous message on the importance of acknowledging the co-occurrence of problems
with addictions with a history of trauma. This is a book that I will continue to wholeheartedly recommend!"
—Christine A. Courtois, PhD, ABPP, author of Healing the Incest Wound

"What I love most about this book is that it is built around a well-thought-out
solution—one that is accessible and straightforward guided by years of collective
wisdom and experience, and most especially pain—pain that is transformed into a
whole new way of living."
—Dan Griffin, MA, author of A Man's Way through the Twelve Steps
North Atlantic Books, 9781623174682, 288pp.
Publication Date: July 7, 2020
About the Author
JAMIE MARICH, Ph.D., LPCC-S, LICDC-CS, travels internationally speaking on EMDR therapy, trauma, addiction, expressive arts, and mindfulness while maintaining a private practice in Warren, OH. She is the developer of the Dancing Mindfulness practice and co-creator of the Yoga Unchained approach to trauma-informed yoga. Marich is the author of seven books, including the popular EMDR Made Simple and EMDR Therapy and Mindfulness for Trauma Focused Care, written in collaboration with Dr. Stephen Dansiger. Her newest title, Process Not Perfection: Expressive Arts Solutions for Trauma Recovery, released in April 2019.