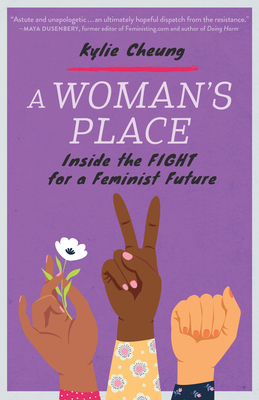 A Woman's Place
Inside the Fight for a Feminist Future
Paperback

* Individual store prices may vary.
Other Editions of This Title:
Digital Audiobook (11/2/2020)
Description
A fearless primer on the feminism we need now: tactics for advancing reproductive justice, promoting intersectionality, and pushing back against patriarchal systems of oppression

Too loud. Too shrill. Too far. Too much. Despite the systematic chipping away at our voices, autonomy, and rights, women who demand more--or even just enough--continue to be pushed aside, talked over, and dismissed. From unbridled online abuse to the unspoken societal rules that dictate who can express anger, when you're a feminist the personal is political...and it's time we all embrace feminism as a matter of survival.

Cultural critic and Gen-Z feminist Kylie Cheung lays bare the state of affairs for women in the twenty-first century. She discusses the challenges of our time, from misogyny to gaslighting, racism, and rampant attacks on reproductive healthcare. She also explores the empowering strides of #MeToo, unprecedented youth mobilization, and increasing recognition of the power and necessity of intersectional movements. Cheung weaves biting cultural commentary with personal narrative, sharing stories of feminist awakening, online harassment, and the effects of sexual assault, racism, fetishization, and misogyny within relationships. She speaks candidly to a new generation of feminists seeking real, unfiltered experiences and guidance as they navigate the sexist realities of our unjust world. Cheung's manifesto is a tour-de-force of fourth-wave feminism, a call to arms that speaks truth to power as we engage in the fight of and for our lives.
Praise For A Woman's Place: Inside the Fight for a Feminist Future…
"Journalist Cheung debuts with a sharp and reflective examination of the state of fourth-wave feminism . . . [She] skillfully communicates the urgency of these issues, and demands respect for her Gen-Z cohorts from an older generation of feminists. This galvanizing call to arms will resonate with young activists."
—Publishers Weekly

"Astute and unapologetic, A Woman's Place is an ultimately hopeful dispatch from the resistance in the Trump era. Cheung shows us how young feminists have—and will continue to—carry on the fight for justice."
—Maya Dusenbery, former editor of Feministing.com and author of Doing Harm

"The Gen-Z daughter of Asian-American immigrant parents in California suburbia, Cheung offers sharp analysis of how our overlapping identities inform the experience of this political moment and all it entails: the fight to save Roe v. Wade, post-#MeToo backlash, and the interconnected struggles of marginalized populations. Through it all, she shows that traversing a path forward still matters, despite the jarring back-and-forths between small victories and defeats. In A Woman's Place, Cheung reveals herself as one of today's most exciting new voices for a generation of emerging feminist thinkers."
—Kelli María Korducki, books editor at Forge by Medium and author of Hard to Do
 
"Kylie Cheung is one of the most talented feminist writers of her generation. Cheung educates her readers on the erased histories and nuanced intricacies of today's feminist issues in an approachable way, truly ensuring feminism is for everyone. A Woman's Place is a thoughtful memoir of a young feminist exploring the systemic misogyny, racism, xenophobia, and classism surrounding her and taking the reader on a journey toward understanding intersectionality, challenging white supremacy, and fighting for a vision of a feminist future grounded in reproductive justice."
—Renee Bracey Sherman, reproductive justice activist and founder of We Testify
 
"Cheung's book captures the journey of a feminist awakening in a particular, and particularly fraught, moment in time. Her clear-eyed writing is both introspective and outward looking. With impassioned, intelligent young thinkers like her leading the next iteration of the feminist movement, we are in capable hands."
—Lindsay Miller, news and culture director at PopSugar
 
"With every new 'wave' of feminism, comes the inherent criticism that some are doing it wrong. Every generation of feminists has faced accusations of being 'too radical, too angry, too sensitive, too loud, too feminine, not feminine enough,' and the old standby of being 'hysterical' about freedoms that so many believe we no longer need to fight for. In this informative, personal account of how feminism shaped her generation, Kylie Cheung shows how this ever-evolving
political ideology is as necessary as ever, and that in many ways, the fight has only just begun."
—Heather Wood Rudulph, managing editor of Dame magazine

"Written with authority and passion, A Woman's Place is a packed tour through what it means to be a feminist and a rallying cry for women of all ethnicities."
—Tanisha Rule, Foreword Reviews
North Atlantic Books, 9781623174842, 336pp.
Publication Date: July 21, 2020
About the Author
KYLIE CHEUNG is the author of one other book of essays about feminism and politics, The Gaslit Diaries. She is a graduate of the University of Southern California, where she studied political science and gender studies, and has published writing about women's rights and reproductive justice in Salon.com, Teen Vogue, AlterNet, Bustle, Feministing, the Mary Sue, Dame magazine, PopSugar, Brit + Co, and others. She is a California native living in Washington, DC, where she writes about and advocates for reproductive justice.
or
Not Currently Available for Direct Purchase