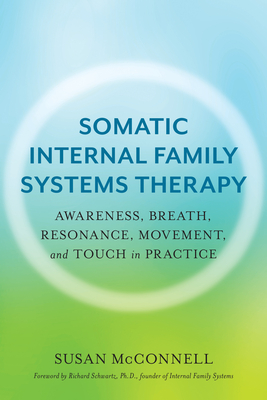 Somatic Internal Family Systems Therapy
Awareness, Breath, Resonance, Movement, and Touch in Practice
Paperback

* Individual store prices may vary.
Description
Applying somatic principles to the Internal Family Systems model

Somatic Internal Family Systems Therapy introduces a new therapeutic modality that blends principles of somatic therapy--like movement, touch, and breathwork--with the traditional tools of the Internal Family Systems framework. Broadening the benefits and applications of the IFS model, author Susan McConnell introduces 5 core practices that mental health professionals can apply to their practice: somatic awareness, conscious breathing, radical resonance, mindful movement, and attuned touch. Clinical applications include the treatment of depression, trauma, anxiety, eating disorders, chronic illness, and attachment disorders.

Within the IFS framework, clients will learn to identify their "inner worlds"--the discrete subpersonalities within each of us that hold emotions, perceptions, and belief systems, and that affect our behavior and emotional wellness. Body-based somatic tools are incorporated into therapy as patients learn to recognize different facets of their internal family and reconcile the needs of subpersonalities--like their inner child or internal manager--to bring more harmony to their physical and emotional well-being.
Praise For Somatic Internal Family Systems Therapy: Awareness, Breath, Resonance, Movement, and Touch in Practice…
"Susan McConnell brilliantly weaves together science, clinical stories, and experiential practices to bring Somatic IFS to life for her reader. The deep wisdom she embodies from years of studying the bodymind is felt in each of the five practices that are the foundation of Somatic IFS and in her clear yet lyrical explanation of the body systems that inform each practice. McConnell is an expert guide to learning to listen to somatic stories and finding the way to Embodied Self."
—Deb Dana, LCSW, author of The Polyvagal Theory in Therapy

"Susan McConnell writes from her heart and her embodied experience, as a counselor and an explorer in the somatic world. This book is an expression of her whole life and career, and yet the ideas are kept alive and honest through the immediacy of her practices—in psychotherapy, in somatics, and in spirituality. I hope that this book is read widely both in and beyond the IFS community."
—Susan Aposhyan, LPC, author of Body-Mind Psychotherapy
North Atlantic Books, 9781623174880, 320pp.
Publication Date: September 22, 2020
About the Author
SUSAN MCCONNELL, senior trainer for the Center for Self Leadership, has taught Internal Family Systems (IFS) in the U.S. and internationally since 1997. Somatic IFS, which McConnell developed in 2004, is a synthesis of her forty years of study, teaching, and clinical practice with bodywork, psychotherapy, and spiritual practices. McConnell holds a Master's Degree with an emphasis on Somatic Psychology, and is a Certified Internal Family Systems Therapist and a Certified Hakomi Therapist. She was also instrumental in curriculum development for IFS trainings and, as a Hakomi faculty member, for a training for bodyworkers using the Hakomi Method to explore through touch the way mind, body, heart, and spirit weave together to form the client's experiential world. McConnell has had a private practice since 1983 in Chicago, where she offers bodymind integration and consultation.