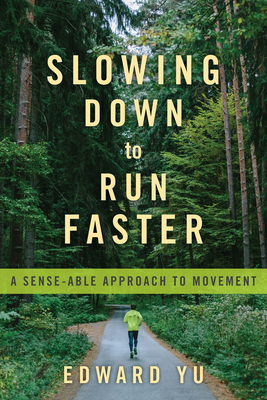 Slowing Down to Run Faster
A Sense-able Approach to Movement
Paperback

* Individual store prices may vary.
Description
A trainer and former triathlete shows you how to achieve the results you want with a new multidisciplinary approach

Why does trying harder sometimes become an exercise in futility? Why does following "expert advice" often lead to little or no improvement? What if there were an efficient way of learning that could be applied to every area of human experience? Drawing from the principles of Bagua, Taichi, and Feldenkrais, Edward Yu presents an innovative approach to running: power, speed, and agility are more related to your ability to sense your own body than to willpower or raw talent. Centering the art of running as an explorative, creative, and somatic-based practice, Yu shows us how to run faster by learning to become more sensible--that is, more sense-able--through the playful and systematic exploration of movement.
Praise For Slowing Down to Run Faster: A Sense-able Approach to Movement…
"Rarely have I seen a book on running, in particular on running mechanics, actually hit the mark and make an impact on my coaching. Yu's sense-able approach connects the dots for so much of what I have seen over the years when working with elite athletes. Improving running form is not a one-step or one-method process. It is a coming-to-terms with who we are as humans first and athletes second. This book rekindles our desires to explore, to play, and to expand our sense of self. Never have we needed this mind-body connection as much as we do now. The art of running should bring us joy, not injury. Slowing Down to Run Faster is here to show us the way."
—Terrence Mahon, head coach and founder of the Golden Coast Track Club, and Adidas Endurance Coach

"Edward Yu has done something quite remarkable by showing us how we can use the Feldenkrais Method to run better. If you do the exercises in this book slowly and with awareness, you will indeed run faster with less effort. More importantly, however, you will learn how your running can teach you about yourself and how you live. This, in turn, can transform your running from mind-numbing exercise into a practice that is healthy for body, mind, and perhaps even soul."
—John Tarr, music teacher and Feldenkrais Assistant Trainer
North Atlantic Books, 9781623174903, 360pp.
Publication Date: June 30, 2020
About the Author
EDWARD YU is a rehab specialist and former triathlete currently specializing in Bagua, Taichi, fitness training, and injury prevention. He has worked with members of the US Olympic Track Team and the Portuguese National Ballet. Yu's interest in how people learn and process information has led him to mix the disparate fields of sports, martial arts, dance, cognitive science, cybernetics, information theory, psychology, and political economy into both his teaching and writing. Learn more at slowingdown faster.com.