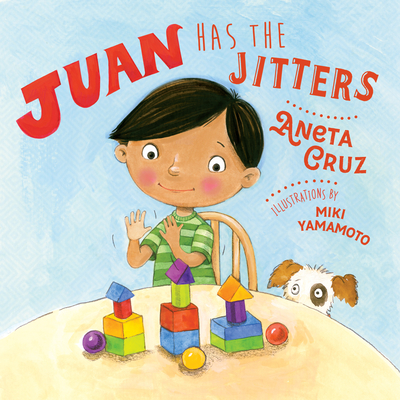 Juan Has the Jitters
Hardcover

* Individual store prices may vary.
Description
A story about inclusion, diversity, and the power of math to help one boy with autism thrive among his peers.

Juan claps his hands to get his Jitters out. They make his tummy swoosh and swirl. His Jitters happen when there are too many people, too much noise, or too many changes to his day. Juan doesn't like surprises.

Tomorrow there is an athletic event planned at school, which makes Juan very nervous. But his teacher has the perfect solution: math--Juan's favorite subject! Counting, sorting, and matching help Juan calm his Jitters. By making math part of the day's athletic games, and by appointing Juan the official judge, his teacher can make sure that Juan will have fun and feel included. The class is calling it the Mathletic Games!

Parents of children 4 to 8 years-old can use this book to help teach kids about neurodiversity, inclusion, and the beauty in what makes every one of us unique. Teachers will find the book meets several Common Core Standards for pre-K through third grade in reading and math, and nurtures multiple domains of scholastic development.
Praise For Juan Has the Jitters…
"Juan has the Jitters is a sweet story about the power of kindness and inclusion to help a child with autism feel a sense of belonging with his class. All children should feel part of a classroom community and this book does a beautiful job showing that all children belong and have a special strength to share with others."
—Joanna Rowland, author of Stay Through the Storm, The Memory Box, and Always Mom, Forever Dad

"We all have different likes and ways of coping with stress. This story shows how a little creativity can transform school experiences to be more welcoming and fun for all."
—Kourtney LaFavre, author of If Sun Could Speak

"A sweet, insightful story that will encourage kids to appreciate and celebrate the things that make each of us unique."
—Jarrett Lerner, author of the EngiNerds and the Geeger the Robot series

"An exuberant celebration of how supportive and empowering a classroom community can be! The playful language helps readers understand how Juan feels when he gets the Jitters, as well as how he soothes himself. . . . The bright illustrations of the diverse class adds to the playful, upbeat tone of the story."
—Keely Parrack, author of Morning, Sunshine!

"A big-hearted picture book full of kindness, friendship, and important lessons."
—Lisa Schmid, author of Ollie Oxley and the Ghost

"A heartwarming story about a boy who has an autism diagnosis, his worries about an upcoming schedule change, his self-soothing practice of clapping, and acceptance amongst his teacher and peers. . . . This story, with its colorful illustrations and relatable characters, captures the true spirit of inclusion."
—Annemarie Riley Guertin, author of How the Finch Got His Colors and Thundermaestro

"The colorful and playful art will appeal to kids. Teachers and parents will enjoy this great resource. Clap your hands for Juan Has the Jitters!"
—Linda Joy Singleton, author of A Cat Is Better, Lucy Loves Goosey, and Crane and Crane
North Atlantic Books, 9781623174941, 32pp.
Publication Date: October 6, 2020
About the Author
ANETA CRUZ is a pre-K teacher and children's book author. She holds a credential in early childhood special education, a BA in English literature, and an MFA in creative writing. When she's not reading, writing, or eating Nutella by the spoonful, she teaches her class of preschoolers how to love books (and other things) as much as she does. She divides her time between the Czech Republic and Southern California, where she lives with her husband, two children, and Poe, the cutest ugly dog in the world.

MIKI YAMAMOTO has been drawing since a very early age, Most of her childhood was spent in her room sketching, coloring, and painting to entertain herself. She studied illustration at Cal State University, Long Beach and has worked for Hallmark Cards, Disney, and Amscan Party. Miki has won numerous awards as a children's book illustrator. She resides in Southern California with her wigglebutt Aussie, Bella.