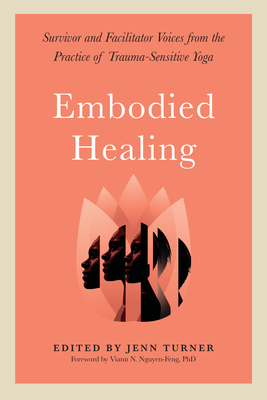 Embodied Healing
Survivor and Facilitator Voices from the Practice of Trauma-Sensitive Yoga
Paperback

* Individual store prices may vary.
Description
First-hand essays of embodied healing from the Center for Trauma and Embodiment at Justice Resource Institute: challenges, triumphs, and healing strategies for trauma-sensitive therapists and yoga teachers.

This collection of essays explores the applications of TCTSY--Trauma Center Trauma Sensitive Yoga--as a powerful evidence-based modality to help clients heal in the aftermath of trauma. Written by a range of contributors including yoga facilitators, survivors, and therapists, the first-hand accounts in Healing with Trauma-Sensitive Yoga examine real-life situations and provide guidance on how to act, react, and respond to trauma on the mat. Each essay centers the voices, wisdom, and experiences of survivors and practitioners who work directly with trauma-sensitive embodiment therapies.

From navigating issues of touch and consent to avoiding triggers, practitioners and readers will learn how to support survivors of trauma as they reintegrate their bodies and reclaim their lives. Organized into sections based on principles of trauma-sensitive yoga--experiencing the present moment, making choices, taking effective action, and creating rhythms--the 12 essays are for yoga teachers, therapists, survivors, and mental health professionals and trauma healers.
Praise For Embodied Healing: Survivor and Facilitator Voices from the Practice of Trauma-Sensitive Yoga…
"Our world is saturated with trauma. Often this trauma remains unspoken and unacknowledged. Those of us who can notice and articulate this trauma still struggle to experience a sense of space and choice as we attempt to experience liberation from it. Embodied Healing offers this liberatory healing from an authentic place of compassion and gentleness rooted in the many years of tried and true Trauma Center Trauma-Sensitive Yoga research and pedagogy. This is a book that accompanies you on the journey back to balance, wholeness, and agency." 
—Lama Rod Owens, author of Love and Rage

"Time and again, Jenn Turner has offered thoughtful perspectives that land in a deeply meaningful and practical way. This book is no exception. Through this compilation of diverse voices, from case examples to personal experiences, the reader is able to experience, explore, and integrate themes of TCTSY. Anyone interested in body-forward approaches to healing trauma will benefit from reading these collected works. A wonderful addition to the literature on trauma treatment."
—Jennifer West, PhD, trauma specialist and author of "Moving to Heal"

"Jenn Turner's understanding of trauma, and the centrality of the role of survivors embodying their own liberation, is a compassionate and complete thread through this book. Each essay takes us into a facet of the many faces of healing in all its forms and possibilities. A powerful and timely read that will expand the notion of trauma, healing, and recovery." 
—Susanna Barkataki, speaker, trainer, yoga culture advocate and author of Embrace Yoga's Roots

"Psychotherapist Turner collects 20 revealing essays about trauma-centered trauma-sensitive yoga (TCTSY) in this discerning anthology."
—Publishers Weekly

"Using yoga and the power of movement as a much-needed counterpoint to talk-therapy in the treatment of trauma, TCTSY is beautifully captured in this engaging project."
—Matt Sutherland, Foreword Reviews
North Atlantic Books, 9781623175344, 368pp.
Publication Date: November 10, 2020
About the Author
JENNIFER TURNER has been working in the field of trauma and yoga for over 15 years. She is a co-founder of the Center for Trauma and Embodiment at Justice Resource Institute (JRI) where she currently serves as Director of Training. In her role, she leads a global network of leaders in the field of embodiment and trauma. She leads trainings to other mental healthcare providers and embodiment practitioners throughout the US. Turner also has a private psychotherapy practice in Boston where she works to support survivors of trauma to reclaim and reintegrate their lives and bodies in the aftermath of trauma.