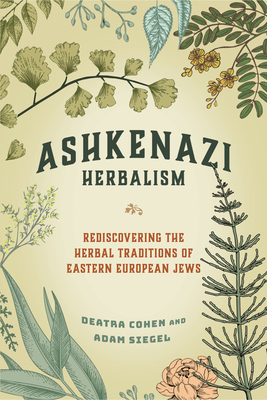 Ashkenazi Herbalism
Rediscovering the Herbal Traditions of Eastern European Jews
Paperback

* Individual store prices may vary.
Description
The definitive guide to the medicinal plant knowledge of Ashkenazi herbal healers--from the Middle Ages to the 20th century.

Until now, the herbal traditions of the Ashkenazi people have remained unexplored and shrouded in mystery. Ashkenazi Herbalism rediscovers the forgotten legacy of the Jewish medicinal plant healers who thrived in Eastern Europe's Pale of Settlement, from their beginnings in the Middle Ages through the modern era.

Including the first materia medica of 26 plants and herbs essential to Ashkenazi folk medicine, Ashkenazi Herbalism sheds light on the preparations, medicinal profiles, and applications of a rich but previously unknown herbal tradition--one hidden by language barriers, obscured by cultural misunderstandings, and nearly lost to history. Written for new and established practitioners, it offers illustrations, provides information on comparative medicinal practices, and illuminates the important historical and cultural contexts that gave rise to Eastern European Jewish herbalism.

Part I introduces a brief history of the Ashkenazim and provides an overview of traditional medicine among Eastern European Jews. Part II offers a comparative overview of healing customs among Jews of the Pale of Settlement, their many native plants, and the remedies applied by local healers to treat a range of illnesses. This materia medica names each plant in Yiddish, English, Latin, and other relevant languages, and the book also details a brief history of medicine; the roles of the ba'alei shem, feldshers, opshprekherins, midwives, and brewers; and the remedy books used by Jewish healers.
Praise For Ashkenazi Herbalism: Rediscovering the Herbal Traditions of Eastern European Jews…
"A significant contribution to Jewish studies—Cohen and Siegel have successfully resolved the mystery of Ashkenazi herbal traditions."
—Marek Tuszewicki, deputy director of the Institute of Jewish Studies at Jagiellonian University in Kraków and author of A Frog Under the Tongue

"Meticulously researched, absorbing, and poignant, Ashkenazi Herbalism is an important addition to the canon of herbal literature, bequeathing to us a tradition of herbal practice that, but for [Cohen's and Siegel's] efforts, would have remained lost to the world."
—Judith Berger, writer, herbalist, and author of Herbal Rituals

"A brilliant work that captures an important but long-ignored facet of traditional herbal healing practices."
—Rosemary Gladstar, herbalist and author of Rosemary Gladstar's Medicinal Herbs and Rosemary Gladstar's Herbal Recipes for Vibrant Health

"A delightfully written and highly original work that sheds new light on a woefully understudied aspect of Eastern European Jewish folk culture. The common stereotype of shtetl life is that Jews were cut off from the natural environment that surrounded them. Cohen's and Siegel's pioneering book reveals, by contrast, some of the ways in which Ashkenazi Jews in the Pale of Settlement and neighboring regions were deeply embedded in their local ecologies and possessed a rich heritage of herbal practices and knowledge."
—Nathaniel Deutsch, professor of history at the University of California, Santa Cruz and author of The Jewish Dark Continent

"Reading Ashkenazi Herbalism is like finding a family heirloom you thought had been lost forever. . . . This book, full of rigorously researched ethnobotany and shtetl magic, is an answered prayer for those of us who have longed to reconnect with Ashkenazi folk healing traditions."
—Dori Midnight, community healer, herbalist, and educator who incorporates traditional healing practices and social justice in her work

"Ashkenazi Herbalism explores the local and exotic plants Eastern European Jews used as medicine. After a thorough discussion of Jewish medical practitioners, especially female folk healers, it draws on a wide range of sources to look at how plants—alphabetically from aloe to nutmeg to violets—were used in the Russian Jewish Pale of Settlement compared to other times and places."
—Gabriella Safran, Eva Chernov Lokey Professor in Jewish Studies at Stanford University and author of Wandering Soul

"Ashkenazi Herbalism fascinates the reader with its deep detective work and thorough research of a healing tradition that was mostly lost by the horror and genocide of the Second World War, which destroyed Jewish communities and culture throughout Europe. . . . Thankfully, the authors have captured the Ashkenazi healing traditions that were practiced by itinerant Kabbalists, feldshers, and midwives so that these precious remnants of knowledge are not forgotten. Whether you are an avid herbalist, history buff, or plant lover, you'll find something in this book to satisfy your soul. What a gift to us all."
—Phyllis D. Light, MA, herbalist and author of Southern Folk Medicine

"[Cohen's] deep dive into the past to bring forth the plant knowledge once practiced by the Ashkanazi people is a great contribution to future generations."
—Pam Fischer, executive director of the Berkeley Herbal Center
North Atlantic Books, 9781623175443, 352pp.
Publication Date: April 6, 2021
About the Author
DEATRA COHEN is a former reference librarian, is a clinical herbalist who trained with the Berkeley (formerly Ohlone) Herbal Center, belongs to a Western Clinical Herbal collective, and is a Master Gardener at the University of California. In her research, Cohen became frustrated with the lack of practical information available to Jews of Ashkenazi descent, and related to Eastern European traditions in general. Ashkenazi Herbalism was written to reconcile this lack, and the first work in any language to document the herbal practices of Ashkenazi Jews.

ADAM SIEGEL is a research librarian at University of California, Davis, and a historian of Central and Eastern Europe, studying issues around cultural contact and plant knowledge in the region. Siegel is a literary translator who has translated works from Russian, Czech, German, Croatian, Serbian, French, Italian, Swedish, and Norwegian, and was awarded a National Endowment for the Arts Literary Translation Fellowship in 2014. Siegel conducted the non-English research for this work, reviewing literature and scholarship in Yiddish, Ukrainian, Russian, German, Polish, and Hebrew.