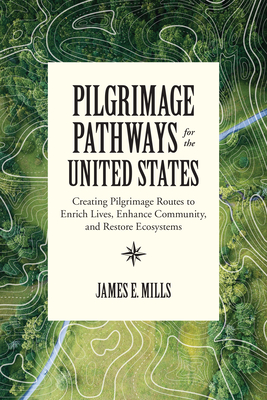 Pilgrimage Pathways for the United States
Creating Pilgrimage Routes to Enrich Lives, Enhance Community, and Restore Ecosystems
Paperback

* Individual store prices may vary.
Description
An inspirational argument for the creation of a new pilgrimage tradition in the United States.

Pilgrimage is a sacred tradition that has existed around the world for centuries. Every year, more than one hundred million devotees from different cultures and faiths embark on journeys to such holy sites as Santiago de Compostela, Mecca, and Banaras. For some, making a pilgrimage is a spiritual act, while for others it is a secular experience of personal restoration. And yet there has never existed a tradition of pilgrimage within the United States.

Cultural geographer James E. Mills makes a compelling case for the creation of a network of American pilgrimage routes to heal societal divisions and foster a new ethos of humanitarianism and environmentalism. He also addresses practical considerations for the development, ownership, and administration of future routes. Pilgrimage Pathways for the United States is for anyone considering a pilgrimage and for those of us who are interested in connecting and protecting our natural world, including environmentalists, interfaith clergy, political leaders, community developers, and activists.
Praise For Pilgrimage Pathways for the United States: Creating Pilgrimage Routes to Enrich Lives, Enhance Community, and Restore Ecosystems…
"This is a creative and powerful book. It describes a practical way to fulfill the
promise of Interfaith America and protect our sacred planet all at once."
—EBOO PATEL, founder of the Interfaith Youth Core and author of Acts of Faith

"A pilgrimage is a journey devoted as much to getting there as to arriving. Mills
shows how we Americans can incorporate new concepts of pilgrimage into our
own lives and in the process nourish not only ourselves but our society, our
environment, and our sense of history."
—TREBBE JOHNSON, author of Radical Joy for Hard Times

"America's fast roads, 'No Trespassing' signs,' and urban sprawl have sucked
the soul out of the land and confined our journeys to suburban cul-de-sacs.
Mills's vision is what we need to make our journeys meaningful, our populace
peripatetic, and our landscape reenchanted."
—KEN ILGUNAS, author of This Land Is Your Land
North Atlantic Books, 9781623175498, 160pp.
Publication Date: February 9, 2021
About the Author
JAMES MILLS is a professor at SUNY Oneonta, where he served as the director of the Environmental Sciences Program for eight years and helped create a new major in environmental sustainability. He currently teaches regional courses on Asia, the Geography of Culture and Environment, and a course entitled Religion, Spirit, and Environment. Mills received an undergraduate degree in natural resource management from the University of Wisconsin, Madison, and a doctorate in geography from the University of Minnesota, Twin Cities. Over the course of his personal and academic career, Mills has visited pilgrimage destinations across East and Southeast Asia, the Middle East, Europe, and the United States.