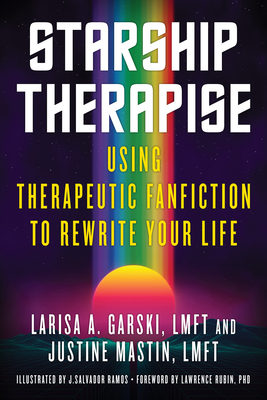 Starship Therapise
Using Therapeutic Fanfiction to Rewrite Your Life
Paperback

* Individual store prices may vary.
Description
Harnessing the power of fandom--from Game of Thrones to The Legend of Zelda--to conquer anxiety, heal from depression, and reclaim balance in mental and emotional health.

Modern mythologies are everywhere--from the Avengers of the Marvel Cinematic Universe to the dragons of Game of Thrones. Where once geek culture was niche and hidden, fandom characters and stories have blasted their way into our cineplexes, bookstores, and streaming systems. They help us make sense of our daily lives--and they can also help us heal. Mental health therapists and Starship Therapise podcast hosts Larisa A. Garski and Justine Mastin offer a self-help guide to the mental health galaxy for those who have been left out in more traditional therapy spaces: geeks, nerds, gamers, cosplayers, introverts, and all of their friends.

Starship Therapise explores the ways in which narratives and play inform the shape of our lives, inviting readers to embrace radical self-care with lessons from Westworld's Maeve and Dolores, explore anxiety with Miyazaki, and understand narrative therapy with Arya Stark. Spanning fandom from Star Wars to Harry Potter, The Legend of Zelda to Steven Universe, and everywhere in between, Starship Therapise is an invitation to explore mental health and emotional wellness without conforming to mainstream social constructions.

Insights from comics like Uncanny X-Men, Black Panther, Akira, Bitch Planet, The Wicked + Divine, and Batman offer avenues to growth and self-discovery alongside explorations of the triumphs and trials of heroes, heroines, and beloved characters from Star Wars, Wuthering Heights, The Lord of the Rings, The Broken Earth trilogy, Mass Effect, Fortnite, Minecraft, Buffy the Vampire Slayer, and Star Trek. Each chapter closes with a hands-on mindfulness, meditation, or yoga exercise to inspire reflection, growth, and the mind-body-fandom connection.
North Atlantic Books, 9781623175641, 256pp.
Publication Date: May 4, 2021
About the Author
JUSTINE MASTIN, LMFT, E-RYT 200, YACEP is the owner/founder of Blue Box Counseling in Minneapolis, MN. Mastin specializes in working with clients who self-identify as being outside the mainstream--such as those in the geek, secular, and LGBTQIA+ communities. Mastin is the creator of YogaQuest, an organization that blends geek narratives with yoga and mindfulness to reach this underserved population. Mastin also serves on the board of the Minnesota Association of Marriage and Family Therapy. She proudly takes a holistic approach to healing: mind, body, and fandom.

LARISA A. GARSKI, MA, LMFT, is a psychotherapist and the clinical director at Empowered Therapy in Chicago, IL. She specializes in working with women, families, and young adults who identify as outside the mainstream--such as those in the geek and LGBTQIA+ communities.