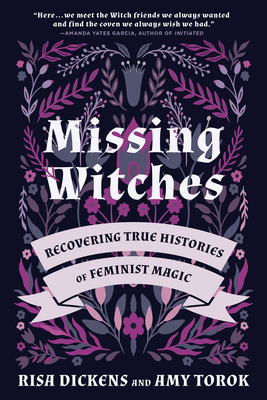 Missing Witches
Recovering True Histories of Feminist Magic
Paperback

* Individual store prices may vary.
Other Editions of This Title:
Digital Audiobook (7/19/2021)
Description
A guide to invocations, rituals, and histories at the intersection of magic and feminism, as informed by history's witches--and the sociopolitical culture that gave rise to them.

When you start looking for witches, you find them everywhere. As seekers and practitioners reclaim and restore magic to its rightful place among powerful forces for social, personal, and political transformation, more people than ever are claiming the identity of "Witch." But our knowledge of witchcraft and magic has been marred by erasure, sensationalism, and sterilization, the true stories of history's witches left untold.

Through meditations, stories, and practices, authors Risa Dickens and Amy Torok offer an intersectional, contemporary lens for uncovering and reconnecting with feminist witch history. Sharing traditions from all over the world--from Harlem to Haiti, Oaxaca to Mesopotamia--Missing Witches introduces readers to figures like Monica Sjoo, HP Blavatsky, Maria Sabina, and Enheduanna, shedding light on their work and the cultural and sociopolitical contexts that shaped it. Structured around the 8 sabbats of the Wheel of the Year, each chapter includes illustrations by Amy Torok, as well as invocations, rituals, and offerings that incorporate the authors' own wisdom, histories, and journeys of trauma, loss, and empowerment. Missing Witches offers an inside look at the vital stories of women who have practiced--and lived--magic.
Praise For Missing Witches: Recovering True Histories of Feminist Magic…
"Here … we meet the Witch friends we always wanted and find the coven we always wish we had."
—Amanda Yates Garcia, author of Initiated

"Amy and Risa are the Witches I was missing! Join them and discover powerfully creative yet complicated Witches, whose storied tales were almost lost to time."
—Jinkx Monsoon, drag artist and winner of RuPaul's Drag Race

"I have been wishing for a book such as this for ages, and I'm so grateful that Risa Dickens and Amy Torok are the ones to have conjured it. Through their signature brew of scholarship, sensitivity, and bright spirit, these bewitching writers have crafted a tome that honors many brave and brilliant feminine magic-makers. I'm in awe of the trailblazing Witches who are in Missing Witches—as I am of the ones who wrote it."
—Pam Grossman, author of Waking the Witch and host of The Witch Wave podcast
North Atlantic Books, 9781623175726, 312pp.
Publication Date: March 23, 2021
About the Author
Risa Dickens and Amy Torok started the Missing Witches podcast in September 2018. Both have a background in creative community building, and ran two different, interdisciplinary monthly arts performance showcases for years in the same town before beginning the podcast.

Dickens has an undergraduate degree in English Literature and a masters in Communications Studies, where she wrote about the communications history of open source. She helped found Worn Fashion Journal and in that capacity wrote feminist fashion history for a couple of years. Since then she has worked in community building in tech for over 15 years.

Torok has a B.A. in English Literature and a post-graduate diploma in Journalism. She is also an accomplished visual artist and musician, adept at all forms of story-telling.