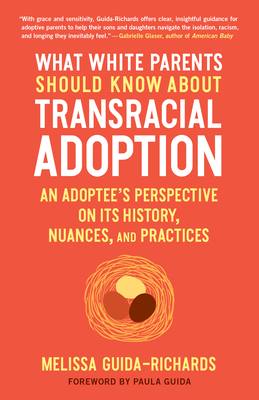 What White Parents Should Know about Transracial Adoption
An Adoptee's Perspective on Its History, Nuances, and Practices
Paperback

* Individual store prices may vary.
Other Editions of This Title:
Digital Audiobook (1/3/2022)
Description
The White Fragility for transracial adoption--practical tools for nurturing identity, unlearning white saviorism, and fixing the mistakes you don't even know you're making.
If you're the white parent of a transracially or internationally adopted child, you may have been told that if you try your best and work your hardest, good intentions and a whole lot of love will be enough to give your child the security, attachment, and nurturing family life they need to thrive.
The only problem? It's not true.
What White Parents Should Know About Transracial Adoption
breaks down the dynamics that frequently fly under the radar of the whitewashed, happily-ever-after adoption stories we hear so often.
Written by Melissa Guida-Richards--a transracial, transnational, and late-discovery adoptee--this book unpacks the mistakes you don't even know you're making and gives you the real-life tools to be the best parent you can be, to the child you love more than anything.
From original research, personal stories, and interviews with parents and adoptees, you'll learn:
What parents wish they'd known before they adopted--and what kids wish their adoptive parents had done differently
What white privilege, white saviorism, and toxic positivity are...and how they show up, even when you don't mean it
How your child might feel and experience the world differently than you
All about microaggressions, labeling, and implicit bias
How to help your child connect with their cultural heritage through language, food, music, and clothing
The 5 stages of grief for adoptive parents
How to start tough conversations, work with defensiveness, and process guilt
Praise For What White Parents Should Know about Transracial Adoption: An Adoptee's Perspective on Its History, Nuances, and Practices…
"A powerful, worthwhile addition to the growing body of work on race and parenting."
—Publishers Weekly, starred review

"Melissa Guida-Richards lays bare a painful truth: That loss is central to adoption. For those who are adopted transracially and transnationally, the disappearance of culture, familiarity, and language carry added complexity. With grace and sensitivity, Guida-Richards offers clear, insightful guidance for adoptive parents to help their sons and daughters navigate the isolation, racism, and longing they inevitably feel."
—Gabrielle Glaser, author of American Baby

"Melissa Guida-Richards offers a generous summary of the multifaceted and often-controversial practice of transracial adoption. Part confession, part guide, and part intellectual invitation, Guida-Richards offers expertise with patience and wit. This is a book of experiential knowledge from a transracially adopted person who has thought deeply about the subject. A book that is a true gift to those with enough courage to face it and themselves."
—Jenny Heijun Wills, author of Older Sister. Not Necessarily Related.

"Guida-Richards provides a powerful and honest look at some of the most important topics in transracial adoption—topics that have historically all too often been avoided in conversations not only between adoptive parents, but between adoptive parents and their transracially adopted child: white saviorism, white privilege, racial identity, and much more. This should be on the mandatory reading and education list for ALL prospective adoptive parents."
—Christine Heimann, founder of Adoptee Bridge, a nonprofit providing post-adoption support for transracial adoptees and their families

"I'm an adoptive parent, I consult hopeful adoptive parents in their adoption journey, and I'm an avid adoption book enthusiast. This book is the most comprehensive, relevant, and recommended book to anyone connected and wanting to do better in adoption."
—Paige Knipfer, owner of Love Grown Adoption Consulting

"What White Parents Should Know about Transracial Adoption tackles the most necessary yet overlooked intricacies of adoption, refusing to gloss over the realities that children of color face. Guida-Richards has delivered a culturally relevant must-read for parents to advance their anti-racism education and to become strong advocates for their children."
—Kira Omans, actor, model, advocate, and transracial adoptee
North Atlantic Books, 9781623175825, 256pp.
Publication Date: October 5, 2021
About the Author
MELISSA GUIDA-RICHARDS is an author, adoptee, and advocate based in Pennsylvania. She was adopted in 1993 from Colombia to a family in the USA. Her viral essay, "My Adoptive Parents Hid My Racial Identity From Me for 19 Years," was published in Huffington Post in April 2019. She soon launched the Adoptee Thoughts Instagram and Podcast to help elevate adoptee voices and educate adoptive parents on the nuances and complexity of adoption.

Guida-Richards graduated from SUNY Fredonia in 2015 and published her first book Bedtime, The Ultimate Battle in January 2020. Her work has appeared in Huffington Post, Zora by Medium, ElectricLit, and more. She has been on podcasts such as NPR's Code Switch, BBC Radio 4, The Adoption and Fostering Podcast, and Do the Work, and has appeared on panels such as We the Experts: Adoptee Speaker Series. Guida-Richards is also a contributing editor at The Everymom.