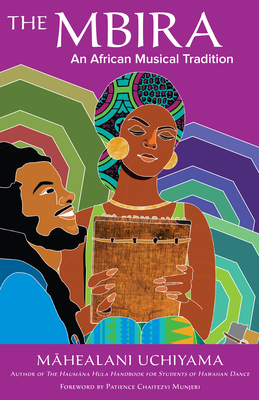 The Mbira
An African Musical Tradition
Paperback

* Individual store prices may vary.
Description
An introductory guide to the mbira: the spiritual traditions, historical perspectives, and practical applications of a sacred Zimbabwean instrument. In an overview of the history, spiritual significance, and cultural origins of the mbira, teacher and student Māhealani Uchiyama offers readers a foundation for understanding the roles, function, and spiritual resonance of a sacred Shona instrument. The mbira--made of a wooden soundboard and hammered metal keys--is both instrument and practice. It can be played solo or accompanied by singing, percussion, or other mbiras, and is a foundational part of Zimbabwean musical culture. As a spiritual practice, it brings worlds together: it connects the world of healing with the world of entertainment, and bridges the world of the ancestors and the world of the living. With 32 black and white images and a comprehensive glossary of terms, Uchiyama helps readers understand: - The mbira code of conduct, how the mbira is played, and an overview of the lamellophone instrument family
- The spiritual, historical, and cultural significance of the mbira within Zimbabwe, and its role in interconnection, community, and connection to Spirit
- Cultural appropriation and commodification, and how to mindfully approach and respectfully learn from a culture that's not your own
- How the mbira can be a connection point for readers who have been forcibly severed from their ancestral cultures, and help them reconnect to African roots, wisdom, worldview, spirituality, and ancestors.
North Atlantic Books, 9781623176495, 128pp.
Publication Date: September 14, 2021
About the Author
MAHEALANI UCHIYAMA is an award-winning dancer, musician, composer, choreographer, recording artist, teacher, and author. An advocate for cross-cultural understanding, she is the founder and artistic director of the Mahea Uchiyama Center for International Dance (MUCID) and director of the Polynesian dance company Hālau KaUaTuahine, with whom she has toured internationally. Uchiyama's unique perspective on the mbira is informed by her status as an initiated priestess of Ifa, a spiritual tradition of West Africa. Having studied Shona music for over a decade, both locally and in Zimbabwe, her work with the mbira has been recognized by the City of Oaklandʻs Cultural Funding Program, which sponsored her to teach the music and tradition of the mbira to Oakland residents. She is the former President of the Board of Directors of World Arts West and the current Co-Artistic Director of the San Francisco Ethnic Dance Festival, as well as, Vice President of MBIRA the Non Profit. She is the author of Haumāna Hula Handbook for Students of Hawaiian Dance.