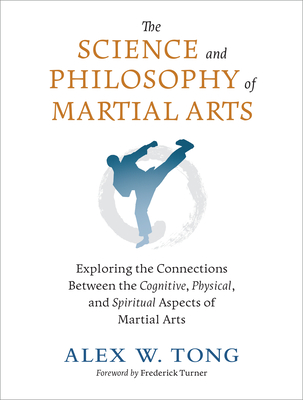 The Science and Philosophy of Martial Arts
Exploring the Connections Between the Cognitive, Physical, and Spiritual Aspects of Martial Arts
Paperback

* Individual store prices may vary.
Description
Through the lenses of Shotokan Karate and biomedicine, sensei and biomedical scientist Alex W. Tong shows readers how body, mind, and spirit can be developed through martial arts practice.

Through the practice of martial arts, a person can realize their full potential--not only in body, but in mind and spirit. The Science and Philosophy of Martial Arts shows readers how. Author, sensei, and biomedical scientist Alex W. Tong delves into the physical, mental, and spiritual components of martial arts and integrates contemporary sports psychology, kinesiology, and neuroscience into a nuanced and illuminating understanding of what martial arts practice can be.

Structured into three sections, Tong discusses:
• The Mind: The dao of martial arts, mental tranquility, contemporary neuroscience, and warming up the brain
• The Body: Posture and stance, breathing in martial arts, and the physics of mastery and effort
• The Spirit: Soul, spirit, and moving zen; nature and manifestations of the spirit

Each section includes observations on martial arts origins, physiology, and tangible results on martial arts training. Blending traditional and contemporary approaches, knowledge, and research, The Science and Philosophy of Martial Arts builds a vision of practice that elevates physical performance, awareness, decisiveness, and strength of spirit.
Praise For The Science and Philosophy of Martial Arts: Exploring the Connections Between the Cognitive, Physical, and Spiritual Aspects of Martial Arts…
"The author, Sensei Alex Tong, takes us back in time to the earliest forms of martial arts—from China, Okinawa, and to Japan—along with the history of the founders, pronunciation of the various forms, and how they evolved through the ages to become known as karate-do.... Whether one is a non-practitioner, beginner, or an advanced student of the martial arts, there is ample information for all to digest and analyze, and I highly recommend this book to anyone who wants to expand their knowledge of martial arts and what effects it has on the mental development of the martial mind."
—Richard Kageyama, 7th Dan, Shotokan Karate-do, chief instructor at Monterey Park Karate Club 

"In a time when understanding and training martial arts is reduced to cage fights, Sensei Alex Tong's book offers a nice cocktail of history, philosophy, physiology, science, and personal experience through which readers gain the essence and value of martial arts.... He reveals, in a rich and concise way, how Traditional Karate is an all-encompassing art—mind, body, spirit—that is rooted in deep cultural mores and in a lifelong journey of learning that doesn't stop once you learn how to 'karate chop' a person. Every martial arts practitioner, especially those in Traditional Karate, will find something in this book that resonates and elevates his/her curiosity and journey toward a deeper 'way of life.'" 
—Soolmaz Abooali, PhD, World Champion (Women Kata and Kumite'), World Traditional Karate Federation 

"Sensei Tong has compiled a detailed and comprehensive book that will contribute broadly as well as deeply to the understanding and practice of Traditional Karate practitioners. This book is of special value to instructors who can reference its historical and technical information to students, while also deepening their own insights against the backdrop of science, culture, and physiology. Sensei Tong's book is grounded in facts and evidence which increase its credibility and also serve to prove the value of Traditional Karate, its technical path, and methods of training. I highly recommend this book to instructors, students, and anyone interested in martial arts."
—M. Tabassi, 9th Dan, Traditional Karate, chief instructor at Japan Shotokan Karate Association International
Blue Snake Books, 9781623176655, 368pp.
Publication Date: February 15, 2022
About the Author
ALEX W. TONG, PhD grew up in Hong Kong, immersed in the city-state's heritage of Chinese and European cultures. He started formal karate training while an undergraduate at the University of Oregon. A career opportunity brought him to Texas, where he founded the Japan Karate Association of Dallas while leading a highly productive cancer immunology research program at the Baylor Sammons Cancer Center. JKA Dallas celebrates its 40th anniversary in 2022, having graduated 30 black belts and produced many world-class competitors. Tong has practiced Nishiyama Shotokan Karate for 50 years. He holds the rank of hachidan (eighth-degree black belt). Tong is the current President of the American Amateur Karate Federation, the oldest national governing organization for karate competition in the United States.