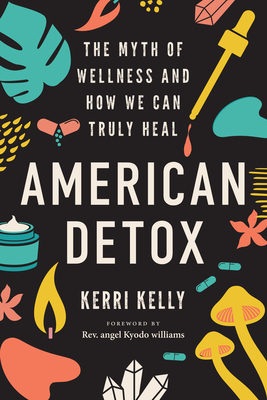 American Detox
The Myth of Wellness and How We Can Truly Heal
Paperback

* Individual store prices may vary.
Other Editions of This Title:
Digital Audiobook (6/6/2022)
Description
"An intimate, honest, accountable, and thorough invitation into healing" -- adrienne maree brown, author of Pleasure Activism

"This book is a powerhouse." -- Ashley Judd

The myth of wellness is a lie. And until we learn to confront and dismantle its toxic systems, we can't ever be well.


Better, stronger, healthier, whole--the wellness industry promises us that with enough intention, investment, and positive thinking, we'll unlock our best selves and find meaning and purpose in a chaotic and confusing world.

The problem? It's a lie.

The industry soars upwards of $650 billion a year, but we're still isolated, insecure, and inequitable. "Wellness" isn't making us well; it's making us worse.

It diverts our attention and holds us back from asking the questions that do help us heal: Who gets to be well in America? Who's harmed--and who's left out? And what's the real-life cost of our obsession with self-improvement?

To be truly well, we don't need juice fasts or yoga fads. We need to detox from a culture rooted in perfectionism, white supremacy, and individualism--and move toward a model that embodies mutual responsibility and extends beyond self-help to collective care.

In American Detox, organizer, yoga activist, wellness disruptor, and CTZNWELL founder Kerri Kelly sounds the wake-up call. It's time to commit to the radical work of unlearning the toxic messages we've been fed--to resist, disrupt, and dream better futures of what wellness really means.
Praise For American Detox: The Myth of Wellness and How We Can Truly Heal…
"An intimate, honest, accountable, and thorough invitation into healing."
—adrienne maree brown, author of Pleasure Activism

"American Detox is not only a wake-up call but a call to remember that if some of us aren't well, none of us are well."
—MICHELLE C. JOHNSON, author of Finding Refuge

"Urgent and unflinching."
—NICOLE CARDOZA, founder of Reclamation Ventures, author, and magician

"This book is a powerhouse."
—ASHLEY JUDD, American actress and political activist

"A brilliant call for the reimagining of what it means to be well in our world."
—TARA BRACH, author of Trusting the Gold

"American Detox [reminds] us that we cannot purchase our way into well-being. It is built of the materials of interconnectedness and belonging, and without them we can't manifest the highest form of wellness which is humanity's wholeness."
—SONYA RENEE TAYLOR, author of the New York Times best seller, The Body Is Not an Apology

"Kerri Kelly is radically committed to our well-being by teaching us how to 'be well'—within ourselves and with one another."
—LAYLA F. SAAD, New York Times best-selling author of Me and White Supremacy

"American Detox is a blueprint for collective wellness, from an activist and healer who walks the walk with integrity, grace, and a revolutionary love."
—VALARIE KAUR, Sikh activist and best-selling author of See No Stranger

"This book offers the reframe that is needed in a culture desperately seeking wellness and perfection while being bankrupt of the remembrance of our inherent wholeness."
—TRACEE STANLEY, best-selling author of Radiant Rest

"Kerri, with her trademark dedication to fierce and honest self-examination, holds both herself and the culture of wellness accountable for the social dis-ease that continues to segregate health among its diverse citizenry."
—SEANE CORN, author of Revolution of the Soul

"This book is a valiant, brave, and timely compass and tool that we need right now as so many navigate the often wild, predatory, and ailing space of the so-called wellness industry."
— OCTAVIA RAHEEM, founder of Starshine & Clay, a meditation and yoga studio for Black women and women of color, and author of Pause, Rest, Be

"... a call-to-action to improve the wellness of our communities and the world at large, too."
—SAH D'SIMONE, spiritual revolutionary and best-selling author of 5-Minute Daily Meditations




North Atlantic Books, 9781623177249, 320pp.
Publication Date: June 7, 2022
About the Author
KERRI KELLY is the founder of CTZNWELL, a movement that is democratizing wellbeing for all. A descendant of generations of firemen and first responders, Kelly has dedicated her life to kicking down doors and fighting for justice. She's been teaching yoga for over 20 years and is known for making waves in the wellness industry by challenging norms, disrupting systems and mobilizing people to act. A community organizer and wellness activist, Kelly is recognized across communities for her inspired work to bridge transformational practice with social justice. Kelly is a powerful facilitator, TED speaker and is the host of the prominent podcast CTZN. You can learn more about her work at kerrikelly.co and ctznwell.org.