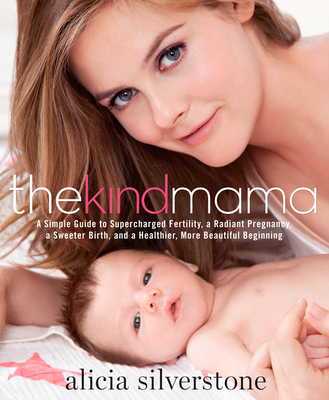 The Kind Mama
A Simple Guide to Supercharged Fertility, a Radiant Pregnancy, a Sweeter Birth, and a Healthier, More Beautiful Beginning
Paperback

* Individual store prices may vary.
Description
When did making babies get to be so hard? Infertility is on the rise globally, affecting as many as one in six couples. But instead of considering diet and lifestyle factors, doctors pump their patients full of expensive and invasive fertility treatments. Once pregnant, women just accept that carrying a baby will be the gassy, swollen, irritable, sleepless nightmare that has become the new normal—and then assume that new motherhood will be just as challenging, from breastfeeding woes to screaming fits.

It doesn't have to be that way. In The Kind Mama, Alicia Silverstone has created a comprehensive and practical guide empowering women to take charge of their fertility, pregnancy, and first 6 months with baby. Drawing on her own experience, as well as that of obstetricians, midwives, nutritionists, holistic health counselors, and others, Silverstone offers advice on getting one's "baby house" in order through nutrient-rocking foods that heal and nourish, and, once pregnant, gentle ways to boost comfort, energy, and health during each trimester. She helps readers navigate everything from prenatal testing and birth plans to successful breastfeeding and creating a supportive "baby nest." The result is an authoritative, one-stop guide that empowers women to trust their instincts during this vital milestone, while helping them embark on a healthy and more vibrant path to motherhood.
Praise For The Kind Mama: A Simple Guide to Supercharged Fertility, a Radiant Pregnancy, a Sweeter Birth, and a Healthier, More Beautiful Beginning…
"The Kind Mama gives you the solid information you need for raising a healthy baby. Medically sound and engagingly written, this book will be on your bedside table as a trusted guide." —Neal D. Barnard, MD, Adjunct Associate Professor of Medicine, George

"I LOVE this book! It's chock-full of invaluable information for mamas, along with the most beautiful images. Kudos to Alicia Silverstone for sharing your story and the personal choices you've made for your family thus far. So Inspiring!" —Ricki Lake, producer of The Business of Being Born

"A unique and positive statement about how wonderfully well pre-birth, pregnancy, birth, and child raising can be experienced. Not only do you need this book, but I needed this book." —From the foreword by Jay Gordon, MD, FAAP
Rodale Books, 9781623360405, 368pp.
Publication Date: April 15, 2014
About the Author
Alicia Silverstone is the bestselling author of The Kind Diet and founder of The Kind Life website. Best known for her generation-defining turn in Clueless, she continues to work steadily in film, television, and theater. A dynamic and well-connected fixture in the acting, political, and scientific communities, she is a dedicated activist on behalf of humans, our planet and animals. She lives in Los Angeles with her husband and their son, Bear Blu.
or
Not Currently Available for Direct Purchase