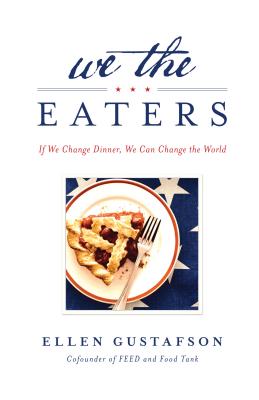 We the Eaters (Hardcover)
If We Change Dinner, We Can Change the World
Rodale Books, 9781623360535, 256pp.
Publication Date: May 20, 2014
Other Editions of This Title:
MP3 CD (5/3/2016)
* Individual store prices may vary.
Description
The implausible truth: Over one billion people in the world are hungry and over one billion are overweight. Far from complete opposites, hunger and obesity are in fact different manifestations of the same problem: It's increasingly difficult to find and eat nutritious food. By examining the global industrial food system using the deceptively simple template of a classic American dinner, We the Eaters not only outlines the root causes of this bizarre and troubling dichotomy but also provides a blueprint of actionable solutions—solutions that could start with changing out just a single item on your plate.

From your burger to your soda, Gustafson unpacks how even the hyperlocal can cause worldwide ripples. For instance: American agricultural policy promoting corn and soybeans in beef farming means we feed more to cows than to hungry people. This is compounded by the environmental cost of factory livestock farming, rising obesity rates, and the false economics of unhealthfully high meat consumption.

The answer? Eat a hamburger—just make it a smaller, sustainably raised, grass-fed one.
Gustafson—a young entrepreneur, foreign policy expert, and food policy advocate—delivers a wake-up call that will inspire even the most passive reader to take action. We can love our food and our country while being better stewards of our system and our health. We the Eaters is othing short of a manifesto: If we change dinner, we really can change the world.
About the Author
Ellen Gustafson is a sustainable food systems activist and social entrepreneur. She is the cofounder of Food Tank: The Food Think Tank and lectures around the world on global food issues. The cofounder of FEED Projects and the FEED Foundation, which have provided more than 60 million school meals to children in need, Gustafson has also worked at the U.N. World Food Program, ABC News, and the Council on Foreign Relations.
Praise For We the Eaters: If We Change Dinner, We Can Change the World…
"We the Eaters is more than an eye-opening primer on how we consume in the 21st century. Encompassing the full scope of transformation from farm to fork, it's a manifesto for how we should act and unafraid of the radical change we need to get us to a sustainable future." —Raj Patel, author of Stuffed and Starved

"This book is a major lesson on the global food system and how 'we the eaters' plan an essential role in it. You will learn from Ellen Gustafson and feel empowered to change the world simply by being conscious of what you're eating." —Sophia Bush, actress and activist

"A magnificent analysis of what has happened to our food and how it is impacting the health of our loved ones. We the Eaters is a data-driven wake-up call to the current state of our food system and how the most patriotic thing that we could be doing is to build a better one." —Robyn O'Brien, author of The Unhealthy Truth and founder of AllergyKids

"A very smart look at a very complicated and very important issue. No one I know connects the dots to tell this story better than Ellen Gustafson. If you want to know how the power of food can change the world, you must read this book." —Jose Andres, chef and restaurateur, Think Food Group
or
Not Currently Available for Direct Purchase