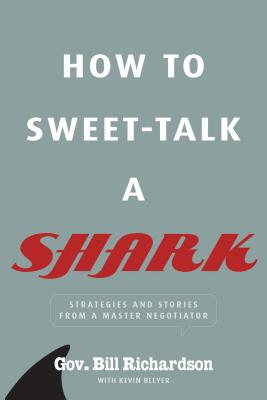 How to Sweet-Talk a Shark (Hardcover)
Strategies and Stories from a Master Negotiator
Rodale Books, 9781623360573, 238pp.
Publication Date: October 15, 2013
* Individual store prices may vary.
or
Not Currently Available for Direct Purchase
Description
Sharks are not evil. But they're single-minded and very, very hungry. On land, they take the form of bosses, businesspeople, colleagues, family, and sociopathic neighbors. In the world of former governor of New Mexico and US ambassador to the United Nations Bill Richardson, they have taken the form of the most powerful people in the world. He's engaged in high-stakes, face-to-face negotiations with Castro, Saddam, the Taliban, two generations of North Korean leadership, and many more of the world's most infamous dictators and done it so well he was known as the "Undersecretary of Thugs" while with the Clinton administration. Now the 5-time Nobel Peace Prize nominee tells these stories from Washington, DC, to the Middle East to Pyongyang in all their intense and sometimes absurd glory.
"How to Sweet-Talk a Shark" is a rare, candid, and entertaining glimpse into an insider's world of high-stakes negotiation showing Richardson's successes "and "failures in some of the world's least friendly places. Meanwhile, readers get frank lessons in the art of negotiation: how to prepare, how to size up your opponent, how to understand the nature of power in a standoff, how to give up only what is necessary while getting what you want, and many other strategies Richardson has mastered through at-the-table experience and from working with other master negotiators like Presidents Obama and Clinton, and Nelson Mandela. These are takeaways that anyone can use to negotiate with the power brokers, dealmakers, and, yes, the hungry sharks in their own lives.
About the Author
Bill Richardson is a two-term governor of New Mexico, former US ambassador to the UN, and former secretary of the Department of Energy. He spent 15 years in Congress and has successfully won the release of hostages, American servicemen, and prisoners in North Korea, Iraq, Cuba, and Sudan.Kevin Bleyer was an Emmy Award-winning writer for The Daily Show with Jon Stewart and author of Me the People: One Man's Quest to Rewrite the Constitution of the United States of America.
Praise For How to Sweet-Talk a Shark: Strategies and Stories from a Master Negotiator…
"I've seen Bill Richardson in action, and he has a remarkable instinct for getting deals done. He's also a great storyteller. How to Sweet-Talk a Shark should become a classic."—Eric Schmidt, executive chairman of Google
"As a fellow Governor—and from nearly 40 years in Hollywood—I know how hard negotiating can be. If Bill Richardson offers to share his strategies, don't pass up that deal."—Arnold Schwartzenegger"I have known Bill Richardson for over thirty years and he is a superb negotiator because of his Latin roots and his respect for other cultures' languages and customs. Whether in business negotiations or politics it critical to understand these differences. His book is an example of how to negotiate with sensitivity and humor."—Carlos Slim"The true value in what Bill Richardson knows about negotiating is that he learned it all in the world's craziest places, up against the world's most unpredictable people. Grab a chair and soak it all in."—Sean Hannity"New to the genre and of great interest, a new book
How to Sweet-Talk a Shark: Strategies and Stories from a Master Negotiator
by former governor of New Mexico and U.S. ambassador to the United Nations, Bill Richardson." – NEW YORK LAW JOURNAL"Few people can even get a sit down with folks like Saddam, Fidel, North Korea, and Chavez, yet Bill Richardson has gotten positive results from all of them. Enjoy the tales and tactics from a great negotiator."—Chris Matthews"Governor Richardson is a sensible negotiator who always brings human rights to the forefront of negotiations. I have known him for many years, and throughout our friendship he's been able to assist our path towards reform through diplomacy."—Aung San Suu Kyi, Nobel Peace Prize winner and Myanmar parliamentarian"Bill Richardson describes, in a fascinating way, how to focus not on the hurdles along the path but on the path itself.
How to Sweet-Talk a Shark
is worth reading from beginning to end."—Oscar Arias Sanchez, Nobel Peace Prize winner and former president of Costa Rica"What's most fascinating in Bill Richardson's book is the environment of familiarity that he always manages to inspire even when negotiating with the cruelest of dictators."—Felipe Gonzalez, former prime minister of Spain "I've known Bill Richardson for a long time. He seems born to navigate the give and take of high stakes negotiations.
How to Sweet Talk a Shark
tells it like it is."—Jimmy Carter
"Great book just published."—Politicalwire
"Now that the federal budget melodrama is in intermission, it would be a good time for leaders on the Hill and in the White House to read Bill Richardson's take on making a deal all sides can live with."—The Washington Post
"The book is a fun read and it's a great cover."—THOMAS ROBERTS (MSNBC)
"Must read"—BRIAN KILMEADE (FOX & FRIENDS)
Advertisement