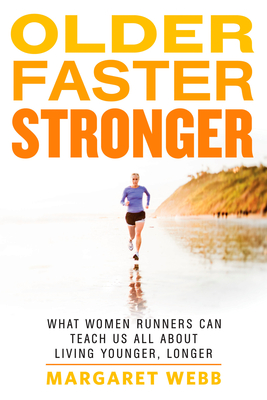 Older, Faster, Stronger
What Women Runners Can Teach Us All About Living Younger, Longer
Paperback

* Individual store prices may vary.
Description
One part personal quest to discover running greatness after age 50, one part investigation into what the women's running boom can teach athletes about becoming fitter, stronger, and faster as we age, Older, Faster, Stronger is an engrossing narrative sure to inspire women of all ages. A former overweight smoker turned marathoner, Margaret Webb runs with elite older women, follows a high-performance training plan devised by experts, and examines research that shows how endurance training can stall aging. She then tests herself against the world's best older runners at the world masters games in Torino, Italy.

Millions of women have taken up running in recent decades—the first generation of women to train in great numbers. Women are qualifying for the Olympic marathon in their 50s, running 100-mile ultra marathons in their 60s, completing Ironmans in their 80s, competing for world masters records in their 90s. What are the secrets of these ageless wonders? How do they get stronger and faster long after their "athletic prime"? Is there an evolutionary reason women can maintain endurance into advanced years? Webb immerses herself in these questions as she as she trains to see just how fast she can get after 50.
Praise For Older, Faster, Stronger: What Women Runners Can Teach Us All About Living Younger, Longer…
"Where does the running life take you? In this compulsively readable and inspiring account of her own journey to get stronger, faster and happier after 50, Margaret Webb throws herself headlong into adventure, taking us on marvelous runs with trailblazing pioneers of women's running and deep into the science of how to live strong into our 80s and 90s. Older Faster Stronger is like that motivating running buddy you want by your side, for the long run of your life." —Kathrine Switzer, first woman to officially run the Boston Marathon and author of Marathon Woman

"Facing 50, Margaret Webb wondered if she could get younger--or at least leaner, fitter, stronger, and healthier. She succeeded, thanks to a fierce will and visits with some of North America's top exercise scientists and runners. Her tale is absorbing, and the lessons she learned are useful to us all." —Amby Burfoot, editor-at-large, Runner's World
Rodale Books, 9781623361693, 304pp.
Publication Date: October 7, 2014
About the Author
Margaret Webb is a long-distance runner, a volunteer running coach for underprivileged kids, and an author. Her features have been published in magazines and newspapers such as Sports Illustrated Women and the Globe and Mail.
or
Not Currently Available for Direct Purchase