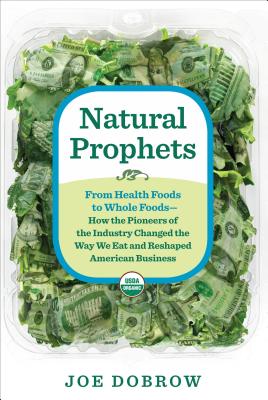 Natural Prophets (Hardcover)
From Health Foods to Whole Foods--How the Pioneers of the Industry Changed the Way We Eat and Reshaped American Busine
Rodale Books, 9781623361792, 304pp.
Publication Date: February 18, 2014
* Individual store prices may vary.
or
Not Currently Available for Direct Purchase
Description
From a handful of idealistic farmers and local co-ops in the 1960s to the domination of juggernauts like Whole Foods, the wild success of the natural and organic foods industry proves that principled business is not just possible, but profitable. With nearly unfettered double-digit annual growth, the development of this now-$88 billion industry is one of the most remarkable untold stories in American business history. Trailblazers like Mo Siegel of Celestial Seasonings, Gary Hirshberg of Stonyfield Farms, and John Mackey of Whole Foods openly challenged the interests of Big American Agribusiness, transformed food manufacturing and retailing, and re-wrote the playbook for small entrepreneurs.
Dobrow, a 20-year veteran of the natural foods industry who had a front row seat (and backstage pass) to much of the upheaval and expansion he describes, characterizes the radical vision of these "natural prophets" as one part anti-industrial activism, one part bold opportunism, and one part new-era marketing genius. The triple bottom line--people, planet, profit--emerged as a major new lodestone for successful, values-based business practices.
Natural Prophets is a fascinating narrative account of these upstart Davids--their failures and their unprecedented successes--that distills lessons about management, marketing, and entrepreneurial growth, and offers a lively, urgent profile of an industry that continues to change the way we eat, the way we live, and the way we think about ourselves.
About the Author
Joe Dobrow is a marketer, management scholar, historian, and journalist with two decades of experience as a top executive with some of the most prominent natural foods retailers in the U.S., including Whole Foods and Sprouts Farmers Market. A graduate of Brown and the Yale School of Management, Dobrow is the recipient of numerous awards, including Advertising Age's Eco-Marketer of the Year (2007) and the Hub Prize for Retail Excellence (2011, 2012). He lives near Phoenix, Arizona, and in the Washington D.C. area.
Praise For Natural Prophets: From Health Foods to Whole Foods--How the Pioneers of the Industry Changed the Way We Eat and Reshaped American Busine…
"Joe Dobrow's account of the birth and boom of America's natural/organic food industry is not merely about a spectacular business phenomenon. It is a very human story that introduces us to the minds and hearts of entrepreneurs who created gastronomic empires out of high-flown ideals. Their improbable rise to fortune and fame, keenly framed in the context of the late 20th century's cultural upheavals, is history at its most compelling."—Michael and Jane Stern, authors of Roadfood, NY Times bestselling Elvis World and The Encyclopedia of Bad Taste, and weekly contributors to public radio's "The Splendid Table"
"In a lifetime of reviewing books about American Western and 20th century social history, Joe Dobrow's
Natural Prophets
is one of the most important, original, revealing and significant books I have ever read….The author deserves high praise and recognition for providing all Americans with a fuller understanding of the reforms achieved by the whole foods industry that helped shape and affect every aspect of our lives today."—Howard R. Lamar, former President of Yale University and Sterling Professor Emeritus of History"At last we have the story of how the natural products business evolved from a scattered bunch of mostly struggling producers and retailers into the major industry it is today. But this is not a dull business narrative. It is about idealistic people who believed they could change the world, how those people met sometimes through luck and circumstance, how they created a shared vision, then through hard work have indeed—even while competing--changed and are still changing the world. Dobrow is a masterful narrator, and even if you know nothing about natural products, even if you know nothing about business, you will be drawn into the lives and stories of the disparate group of people who created from scratch an industry that changed the way Americans eat."—James A. Autry, author,
The Servant Leader
and
Choosing Gratitude 365 Days a Year,
and former president of Meredith Corporation's magazine publishing group"
Natural Prophets
is a beautifully written, factually rich account how a handful of fascinating people built the natural foods industry, and how that industry influenced other businesses into believing that missions and causes really do matter. It's an intriguing read for anyone who grew up in the 60s and 70s and then lived through the business transformations of the 80s and 90s. And it's a must read for anyone with an interest in natural foods or triple-bottom-line entrepreneurship--including today's business students who dream of becoming tomorrow's conscientious leaders."—Carol Cone, cause marketing pioneer and Global Practice Chair, Business & Social Purpose at Edelman"Like all good Bible stories, Joe Dobrow's history of the Natural Foods movement starts in the darkness and moves to the light. It makes the connection between what we take in, and the quality of what comes out. Thanks Joe, I feel better already."—Paco Underhill, author of
Why We Buy
and
What Women Want
and founding president of Envirosell
"While primarily focused on companies and their founders, Dobrow succeeds in relating changes in the natural foods industry with concurrent social and dietary movements. His surprisingly interesting, well-written, and well-researched chronology offers a social and corporate history spotlighting large U.S. natural food stores and manufacturers."—Library Journal
"A lively, informative look at the transformative potential of a mission-driven niche industry."—Kirkus Reviews
Advertisement