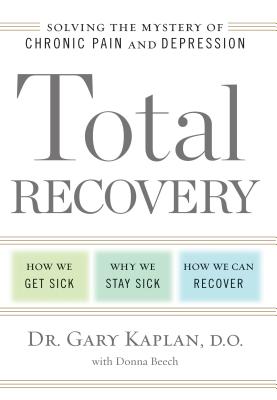 Total Recovery
Solving the Mystery of Chronic Pain and Depression
Hardcover

* Individual store prices may vary.
Other Editions of This Title:
Digital Audiobook (5/5/2014)
Paperback (5/19/2015)
Description
About 100 million Americans live with some form of chronic pain—more than the combined number who suffer from diabetes, heart disease, and cancer. But chronic pain has always been a mystery. It often returns at the slightest provocation, even when doctors can't find anything wrong. Oddly enough, whether the pain is physical or emotional, traumatic or slight, our brains register all pain as the same thing, and these signals can keep firing in the nervous system for months, even years.

In Total Recovery, Dr. Gary Kaplan argues that we've been thinking about disease all wrong. Drawing on dramatic patient stories and cutting-edge research, the book reveals that chronic physical and emotional pain are two sides of the same coin. New discoveries show that disease is not the result of a single event but an accumulation of traumas. Every injury, every infection, every toxin, and every emotional blow generates the same reaction: inflammation, activated by tiny cells in the brain, called microglia. Turned on too often from too many assaults, it can have a devastating cumulative effect.

Conventional treatment for these conditions is focused on symptoms, not causes, and can leave patients locked into a lifetime of pain and suffering. Dr. Kaplan's unified theory of chronic pain and depression helps us understand not only the cause of these conditions but also the issues we must address to create a pathway to healing. With this revolutionary new framework in place, we have been given the keys to recover.
Praise For Total Recovery: Solving the Mystery of Chronic Pain and Depression…
"With cutting edge science and clinical expertise, Gary Kaplan has identified the source of the inflammation that keeps patients in an endless cycle of pain and depression. He offers profound insight into the way our life experiences have a cumulative effect on our health. I highly recommend this book to anyone who has suffered without relief or wants a deeper insight into how our bodies work." —Mark Hyman, MD, author of the #1 New York Times bestseller, The Blood Sugar Solution, and chairman, the Institute for Functional Medicine

"In Total Recovery, Gary Kaplan offers a potentially game-changing insight: the neurological key to the inflammation that keeps patients in an endless cycle of pain and depression. If you have suffered for years without relief, this remarkable book may change your life." —Andrew Weil, MD, founder and director of the Arizona Center for Integrative Medicine at the University of Arizona Health Sciences Center, and author of True Food

"This fascinating book reads like a detective novel, but it's not fiction. Gary Kaplan is a thoughtful integrative doctor willing to spend hours--even years--getting to the bottom of his patients' chronic pain and illness. What he has learned could help you." —Arthur Agatston, M.D., Medical Director of Wellness and Prevention for Baptist Health South Florida and author of The South Beach Diet

"Dr. Kaplan's book draws on his decades of research and clinical practice offering us paradigm-shifting insights into the causes of chronic pain. I highly recommend this book to the millions of people who live with pain and are seeking new answers." —Brian Berman, MD. Professor of Family and Community Medicine and Director of the Center for Integrative Medicine, University of Maryland School of Medicine

"This book reads like a riveting detective story, in which case study after case study leads to one of the most compelling findings in recent medical history. By unveiling and responding to the real culprit in chronic pain, Dr. Kaplan's Total Recovery represents a paradigm shift in understanding illness and the path to optimal health." —Tara Brach, Ph.D, author of Radical Acceptance and True Refuge

"Gary Kaplan is the Sherlock Holmes of chronic pain. In Total Recovery, he describes how to uncover the underlying causes of chronic pain and, how by correcting them, seemingly hopeless patients can move toward health. It is a 'must read' at every pain center, by every pain physician and for every patient with chronic pain." —Wayne B. Jonas, MD, President and CEO, Samueli Institute, Former Director (1995-1999), Office of Alternative Medicine, National Institutes of Health

"Dr. Gary Kaplan is so good at seeing the whole person--looking for clues among seemingly disconnected events, as well as health issues that are frequently ignored in conventional Western medical practice. His highlighting of the role of the brain's microglia in predisposing patients' bodies and emotions to over-react to seeming small new traumas is fascinating. This is an excellent work for healthcare providers and patients alike." —Woodson Merrell, MD, Chairman, Department of Integrative Medicine, Mt Sinai Beth Israel Medical Center

"Despite 42 years of holistic success in managing chronic pain and depression, conventional medicine remains in the Dark Ages in relation to this major problem! What the patient needs is a 'Real Doctor,' exemplified here in Dr. Kaplan's essential book for patients and physicians. Read and heed his outstanding advice." —C. Norman Shealy, M.D., Ph.D. Author of Healing Bliss: Major Discoveries Along the Holistic Path
Rodale Books, 9781623362751, 272pp.
Publication Date: May 6, 2014
About the Author
Dr. Gary Kaplan, DO, is a pioneer of integrative medicine and one of just 19 physicians board-certified in both family medicine and pain medicine and practices in McLean, VA. A clinical associate professor at Georgetown University and director of the Kaplan Center for Integrative Medicine, he has also served as a consultant to the NIH. He has been featured on Fox News, Good Morning America, NBC News, and NPR, as well as in the Washington Post, the New York Times, and the Wall Street Journal. He lives in Fall's Church, VA. Donna Beech is a New York Times bestselling and award-winning collaborator whose work includes The Ghosts in the Wires, The Heartmath Solution, and The Everyday Advocate.
or
Not Currently Available for Direct Purchase