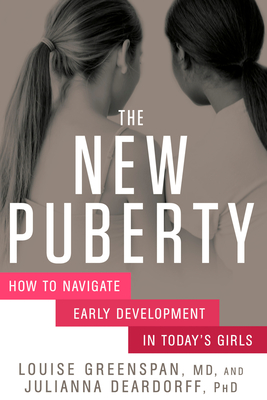 The New Puberty
How to Navigate Early Development in Today's Girls
Hardcover

* Individual store prices may vary.
Other Editions of This Title:
Paperback (10/20/2015)
Description
What happens when a girl has the brain of an 8-year-old and the body of a 13-year-old?

A sea change is underway among many of today's girls: They are developing faster and entering puberty earlier than ever before. Just a generation ago, fewer than 5 percent of girls started puberty before the age of 8; today that percentage has more than doubled. Early puberty is not just a matter of physical transformation—it's deeply psychological too, with effects that can put a girl at higher risk for behavioral problems as well as long-term health challenges such as obesity, depression, eating disorders, and even cancer.
Why is this happening, and what does it mean for our girls' futures? What can we do to help lead them through this major transition to live happy and healthy lives?
In their groundbreaking book, The New Puberty, Louise Greenspan, MD, and Julianna Deardorff, PhD—two leading experts on the root causes and potential consequences of early puberty in girls—have written a reassuring and empowering guide that will forever change the way we view puberty and parent the next generation.
Drawing on original cutting-edge research and years of clinical experience, Drs. Greenspan and Deardorff explain why girls are developing earlier and identify both established and surprising triggers—from excess body fat and hormone-mimicking chemicals to emotional stressors in a girl's home and family life. They offer highly practical strategies that can help prevent and manage early puberty, including how to limit exposures to certain ingredients in personal care and household products, which foods to eat and which to avoid, and ways to improve a child's sleep routine to promote healthy biology. Moreover, the authors—both mothers of young girls—offer parents, teachers, coaches, and caretakers guidance to initiate and continue the conversation about puberty in an age-appropriate way in order to support girls as they navigate this complex stage of their lives.
Impeccably researched, engaging, and urgently needed, The New Puberty provides a roadmap to help young girls move forward with confidence, ensuring their future well-being.
Praise For The New Puberty: How to Navigate Early Development in Today's Girls…
"The New Puberty is a truly important book. Without jumping to conclusions, this book shows concern without alarm, discusses the scientific factors that could be triggering it,and most important details the psychological consequences that girls might go through, and the support they need." —Po Bronson, co-author of NurtureShock

"The New Puberty is a treasure trove of information. In it, the authors take a deep dive into the psychology and biology of teen girls. It is destined to become a classic for parents and educators." —Louann Brizendine, MD, author of The Female Brain and founder/director of the Women's and Teen Girl's Mood and Hormone Clinic, UCSF

"Filled with surprising and fascinating research, as well as practical and empowering strategies, The New Puberty is a book every parent and health practitioner needs to read." —David Kessler, author of the New York Times bestselling The End of Overeating and former commissioner of the US Food and Drug Administration

"Increasingly parents are asking why their children are heading into puberty at a much younger age than they ever did. Combining their backgrounds as both scientists and parents, Greenspan and Deardorff give them all of the answers they are looking for. The New Puberty explains why our changing world has affected our kids' bodies--then guides parents on what they can do. Anyone who has a young girl will want to read this book!" —Cara Natterson, MD, pediatrician and New York Times bestselling author of The Care and Keeping of You 2
Rodale Books, 9781623363420, 272pp.
Publication Date: September 9, 2014
About the Author
Louise Greenspan, MD, a board-certified endocrinologist focusing on puberty and an international leader in the field, works at Kaiser Permanente and is on faculty at UCSF.

Julianna Deardorff, PhD, is a clinical psychologist with a specialty in adolescence, and is on faculty at UC Berkeley. The authors' pioneering work on a recent early puberty study won them the 2013 Community Breast Cancer Research Award. They have contributed to Time magazine, Science, New York Times Magazine, and NPR. Both have young daughters and live in the San Francisco Bay Area.
Coverage from NPR
or
Not Currently Available for Direct Purchase