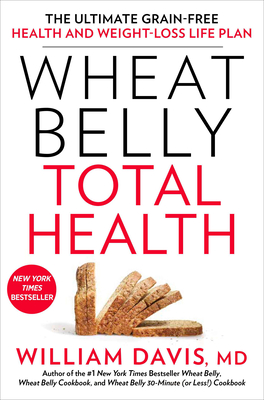 Wheat Belly Total Health (Hardcover)
The Ultimate Grain-Free Health and Weight-Loss Life Plan
Rodale Books, 9781623364083, 398pp.
Publication Date: September 16, 2014
Description
Wheat Belly Total Health answers the question, "What's next in the battle against wheat?" In his follow-up to the mega bestseller, Wheat Belly, Dr. Davis helps his readers take command over their life and health in the aftermath of wheat. There are many strategies that will help heal the damage caused by years of a wheat-filled diet. And many of these lessons have been learned in the years since the original Wheat Belly was released, lessons played out on the broad public stage of over one million readers, all participating in this grand adventure.
Reordering your life after wheat is about learning how to regain full metabolic, gastrointestinal, thyroid, cardiovascular, hormonal, sleep, neurological, bone, and joint health. Understanding the strategies and putting them to use can take health several steps higher, even if the reader has already had a major health success without wheat. In addition to achieving better health in many different areas, life performance also improves in virtually all settings. In the life after wheat, you'll feel unrestrained, unimpaired, and unstoppable
About the Author
WILLIAM DAVIS, MD, is a cardiologist who believes that health should be in the hands of the public and advocates unique, insightful, and cutting-edge strategies to help individuals discover self-empowering and effective health practices. Dr. Davis is the medical director for Track Your Plaque, an online heart disease prevention program, and writes frequently for national publications. His blog, wheatbellyblog.com, has been visited by millions of people and his New York Times bestselling book, Wheat Belly, has sold more than 1.5 million copies in North America. Dr. Davis has also shared his passion for wheat-free living on national television shows including The Dr. Oz Show and CBS This Morning. He lives in Wisconsin.
Advertisement