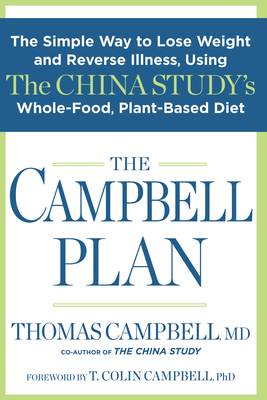 The Campbell Plan
The Simple Way to Lose Weight and Reverse Illness, Using The China Study's Whole-Food, Plant-Based Diet
Hardcover

* Individual store prices may vary.
Other Editions of This Title:
MP3 CD (5/5/2015)
Compact Disc (5/5/2015)
Description
In 2005, T. Colin Campbell, PhD, and Thomas Campbell, MD, co-authored The China Study. In it, they detailed the groundbreaking research results showing that a whole-food, plant-based diet has the potential to prevent and reverse many chronic diseases. The China Study became a worldwide phenomenon, selling more than a million copies and inspiring countless readers to reinvigorate their health by making better food choices.
Now The Campbell Plan, by Thomas Campbell, MD, goes beyond the why and shows you how to make the transition--and enjoy the journey--with practical guidance and a simple plan to make a whole-food, plant-based lifestyle easy and sustainable.

The Campbell Plan is full of cutting-edge nutritional research that fans of The China Study have come to expect. Dr. Campbell addresses the most contentious questions: Is soy healthy? Should you eat gluten? Do you need to eat organic? Should you eat fish? Is GMO dangerous? How should you feed your kids?

Just as important, you will learn the behavioral principles to succeed in your journey, as well as what to stock in the kitchen, how to read labels and shop, and how to navigate social and eating-out situations. Included are more than 55 delicious and easy recipes from favorite recipe sources and a 2-week menu plan.

Whether you wish to lose weight, reverse disease, or just have the best health of your lives, The Campbell Plan provides the step-by-step guidance to achieve their goals. This combination of practical tools, along with the research-based evidence of The China Study, will change people's lives for generations to come.
Praise For The Campbell Plan: The Simple Way to Lose Weight and Reverse Illness, Using The China Study's Whole-Food, Plant-Based Diet…
"Thomas Campbell, MD, leads a new generation of physicians turning the world back to dietary sanity with plant-based nutrition. Read The Campbell Plan for super health and life-long weight loss." —John McDougall, MD, author, researcher, and founder of the McDougall Program

"Dr. Tom Campbell solidifies his stature as a leader in ending chronic illness with clarity and convincing science in his new book, The Campbell Plan." —Caldwell B. Esselstyn, Jr., M.D., author of Prevent and Reverse Heart Disease

"The Campbell Plan is a well-crafted, easy-to-understand guide to making the whole-food, plant-based diet a way of life." —Brian Wendel, founder and president of Forks Over Knives

"Tom Campbell, MD, is on a mission to shift the culture away from obesity and all its attendant ills, and he has the hard science to back up his very specific step-by-step plan. This book just may be the spark of light you need to find your way back to health, and with your health, your family and community will also be affected in myriad positive ways. Get ready for a transformation, because something very exciting is brewing within these pages." —Kathy Freston, New York Times bestselling author of The Lean, Veganist, and Quantum Wellness

"I was thrilled to hear that Dr. Thomas Campbell decided to expand upon The China Study with The Campbell Plan. Dr. Campbell not only utilizes his medical experience coupled with nutritional studies to further explain the benefits of a plant-based diet on all aspects of our health in The Campbell Plan, but also shows how to easily transition to a plant-based lifestyle. I urge anyone interested in their health to read this book because it will change how you see diet and nutrition in your everyday life." —Gary Player, golf icon

"Rare is the physician with the humility and the wisdom to tell us the truth -- that the lifestyle choices we make are more consequential for long term health than any pill or procedure Western medicine can provide. But Thomas Campbell, M.D., does exactly that, and what's more, goes on to explain, in a clear and deeply human way, precisely what the diet and lifestyle choices are that have been proven to lead to the healthiest possible outcomes. This excellent book has my highest recommendation." —John Robbins, author of Diet For A New America, The Food Revolution, and president of The Food Revolution Network

"This easy-to-read book offers practical information and tips, including recipes, on healthy eating that prevents and treats chronic disease. Dr. Tom Campbell navigates the reader through the confusing landscape of nutrition, helps to interpret the science, and addresses the areas where the science has yet to catch up." —Liana Lianov, MD, MPH, Past President, ACLM

"The Campbell Plan is a terrific adjunct to The China Study and will ensure that your path towards better health is not only easy but truly enjoyable!" —Alona Pulde, MD and Matthew Lederman, MD, authors of The Forks Over Knives Plan and founders of Transition To Health Center

"Dr. Tom Campbell expertly and creatively blends evidence-based recommendations and practical information in The Campbell Plan. I urge you to read this book to put the remarkable benefits of building your meals from fruits, vegetables, grains, and legumes into action. Your body (and doctor) will applaud you." —Amy Joy Lanou, PhD, Chair and Associate Professor, Department of Health and Wellness, University of North Carolina Asheville

"With this most worthy companion book to The China Study, Dr. Thomas Campbell is once again a superb guide on our journey to optimum health. What will strike the reader most is Dr. Campbell's admirable balance between confidence and humility. When he's not yet sure, he tells us why. When he is sure, he not only explains why, but shows us how. Don't miss it." —Douglas J. Lisle, Ph.D., co-Author of The Pleasure Trap

"I was thrilled to read Dr. Tom Campbell's new book, The Campbell Plan, which transforms the scientific insights of his previous groundbreaking book, The China Study, into an easy to understand and apply approach to getting and staying healthy! This book will be mandatory reading for all of our patients." —Alan Goldhamer, director, TrueNorth Health Center

"Reading The Campbell Plan puts you in the presence of a caring, experienced family physician who powerfully reveals the Standard American Diet as the chief culprit in our major disease epidemics: obesity, diabetes, high blood pressure, heart attack and stroke, and many cancers and autoimmune diseases. This is one "doctor's appointment" you will enjoy - and benefit from all your life. Highly recommended!" —Michael Klaper, M.D., staff physician, TrueNorth Health Center, Santa Monica, CA

"As the evidence on smoking and health became clear in the 1960's, doctors led the way by quitting smoking in record numbers. Over time it's become a standard of care to advise smokers to quit. As the evidence on a whole-food plant-based diet accumulates, more and more doctors and health-care providers will improve their diets and help their patients to do so as well. This book is a breath of fresh air." —Gary A. Giovino, PhD, MS, Professor and Chair, Department of Community Health and Health Behavior, University at Buffalo, SUNY

"This book is a wonderful and helpful sequel to The China Study. Tom Campbell summarizes the research demonstrating the health benefits of a whole-food, plant-based diet (why we should change our diet) and then provides very practical advice on how to adopt such a diet, even including menu plans, recipes and shopping list. I highly recommend The Campbell Plan to health professions, patients and the general public." —Thomas L. Campbell, MD, Chair, Department of Family Medicine University of Rochester School of Medicine (no relation to the author)
Rodale Books, 9781623364106, 304pp.
Publication Date: March 24, 2015
About the Author
Thomas Campbell, MD, is an instructor of clinical family medicine at the University of Rochester School of Medicine and Dentistry. He coauthored The China Study, which sold more than a million copies and inspired the 2011 documentary Forks over Knives. He also is director of the T. Colin Campbell Center for Nutrition Studies, a nonprofit organization in Ithaca, New York, which promotes optimal nutrition through science-based education, advocacy, and research in partnership with eCornell, Cornell University's online course provider. He lives in Rochester, NY.
or
Not Currently Available for Direct Purchase