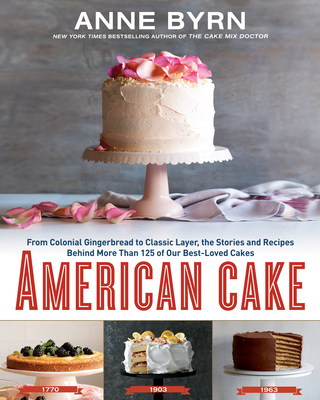 American Cake
From Colonial Gingerbread to Classic Layer, the Stories and Recipes Behind More Than 125 of Our Best-Loved Cakes: A Baking Book
Hardcover

* Individual store prices may vary.
Description
Taste your way through America with more than 125 recipes for our favorite historical cakes and frostings.

Cakes in America aren't just about sugar, flour, and frosting. They have a deep, rich history that developed as our country grew. Cakes, more so than other desserts, are synonymous with celebration and coming together for happy times. They're an icon of American culture, reflecting heritage, region, season, occasion, and era. And they always have been, throughout history.

In American Cake, Anne Byrn, creator of the New York Times bestselling series The Cake Mix Doctor, takes you on a journey through America's past to present with more than 125 authentic recipes for our best-loved and beautiful cakes and frostings. Tracing cakes chronologically from the dark, moist gingerbread of New England to the elegant pound cake, the hardscrabble Appalachian stack cake, war cakes, deep-South caramel, Hawaiian Chantilly, and the modern California cakes of orange and olive oil, Byrn shares recipes, stories, and a behind-the-scenes look into what cakes we were baking back in time. From the well-known Angel Food, Red Velvet, Pineapple Upside-Down, Gooey Butter, and Brownie to the lesser-known Burnt Leather, Wacky Cake, Lazy Daisy, and Cold Oven Pound Cake, this is a cookbook for the cook, the traveler, or anyone who loves a good story. And all recipes have been adapted to the modern kitchen.
Praise For American Cake: From Colonial Gingerbread to Classic Layer, the Stories and Recipes Behind More Than 125 of Our Best-Loved Cakes: A Baking Book…
"If you like cakes, you're not alone. For 250 years, Americans have been making whatever cake they could with whatever they could find. Anne Byrn's impressive, big-hearted, historical tribute to the genre is a must-have for its dizzying diversity. (You surely haven't heard of Oregon prune cake, Texas sheath cake or Scripture Cake, have you?) You can trace America's gastronomic evolution and geographic expansion from cornmeal and molasses to Hershey bars and pineapples. Both the cakes and their stories are obscure, unexpected, delightful and worth getting to know, one sweet slice of history at a time."
— T. Susan Chang, NPR Kitchen Window

"Readers will find decade-defining information, such as the popularity of using baby food fruit purees in baking in the 1970s, and sidebars on prominent baking figures who have made their marks in kitchens across the country, including Betty Crocker and Martha Stewart. These well researched and written pages go far beyond the average baking guide."
—Publisher's Weekly

"Fascinating, delightfully original, American Cake [is] author Anne Byrn's can't-stop-reading history lesson that's masquerading as a cookbook. One that's bound to be a prizewinner."
—Rick Nelson, Star Tribune

"Byrn digs deep into America's archives, including everyday recipe boxes, to find the history behind some of the country's most popular cakes."
—Addie Broyles, Austin American-Statesman
Rodale Books, 9781623365431, 352pp.
Publication Date: September 6, 2016
About the Author
Anne Byrn is the bestselling author of the Cake Mix Doctor and Dinner Doctor cookbook series. Formerly a food editor at The Atlanta Journal-Constitution and a graduate of the La Verenne École de Cuisine in Paris, Byrn lives with her family in Nashville, Tennessee.