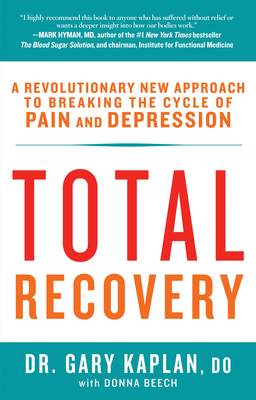 Total Recovery (Paperback)
Breaking the Cycle of Chronic Pain and Depression
Rodale Books, 9781623365615, 272pp.
Publication Date: May 19, 2015
Other Editions of This Title:
Digital Audiobook (5/5/2014)
Hardcover (5/6/2014)
CD-Audio (5/6/2014)
* Individual store prices may vary.
Description
Why can't I get better?
Did my doctors miss something?
How can I recover?

According to Dr. Gary Kaplan, conventional thinking about the nature of chronic pain and depression is essentially flawed. Although physicians continue to diagnose conditions like migraines, fibromyalgia, chronic fatigue, chronic back pain, depression, anxiety, and PTSD, a growing body of research shows that these are in fact symptoms of something else—a deep-rooted inflammation in the brain. This inflammation can affect the nervous system for months-even years-to devastating effect.

In Total Recovery, Dr. Kaplan demonstrates that it is possible to quiet the inflammatory state at the root of chronic pain and depression, and lays out a revolutionary new medical approach to ending your suffering and reclaiming your health.
About the Author
Gary Kaplan, D.O. is a clinical associate professor at Georgetown University, director of the Kaplan Center for Integrative Medicine, and author of Total Recovery: A Revolutionary New Approach to Breaking the Cycle of Pain and Depression (Rodale, 2014). Founder of the Foundation for Total Recovery, his work has been featured in TIME magazine, the Wall Street Journal, Fox News 5, ABC's Good Morning America, CNN News, and NPR's Diane Rehm Show. He writes a regular column for MindBodyGreen and US News and World Report, and can also be found on Facebook and Twitter. For more information, visit http://www.kaplanclinic.com.
Praise For Total Recovery: Breaking the Cycle of Chronic Pain and Depression…
"With cutting edge science and clinical expertise, Gary Kaplan has identified the source of the inflammation that keeps patients in an endless cycle of pain and depression. He offers profound insight into the way our life experiences have a cumulative effect on our health. I highly recommend this book to anyone who has suffered without relief or wants a deeper insight into how our bodies work." —Mark Hyman, M.D., author of the #1 New York Times bestseller, The Blood Sugar Solution, and chairman, the Institute for Functional Medicine

"In Total Recovery, Gary Kaplan offers a potentially game-changing insight: the neurological key to the inflammation that keeps patients in a perpetual cycle of pain and depression. If you have suffered for years without relief, this remarkable book may change your life." —Andrew Weil, M.D., founder and director of the Arizona Center for Integrative Medicine at the University of Arizona Health Sciences Center, and author of True Food

"This fascinating book reads like a detective novel, but it's not fiction. Gary Kaplan is a thoughtful integrative doctor willing to spend hours-even years-getting to the bottom of his patients' chronic pain and illness. What he has learned could help you." —Arthur Agatston, M.D., Medical Director of Wellness and Prevention for Baptist Health South Florida and author of The South Beach Diet

"Dr. Kaplan's book draws on his decades of research and clinical practice offering us paradigm-shifting insights into the causes of chronic pain. I highly recommend this book to the millions of people who live with pain and are seeking new answers." —Brian Berman, M.D., Professor of Family and Community Medicine and Director of the Center for Integrative Medicine, University of Maryland School of Medicine

"This book reads like a riveting detective story, in which case study after case study leads to one of the most compelling findings in recent medical history. By unveiling and responding to the real culprit in chronic pain, Dr. Kaplan's Total Recovery represents a radical shift in understanding illness and the path to optimal health." —Tara Brach, Ph.D., author of Radical Acceptance and True Refuge

"Gary Kaplan is the Sherlock Holmes of chronic pain. In Total Recovery, he describes how to uncover the underlying causes of chronic pain and, how by correcting them, seemingly hopeless patients can move toward health. It is a "must read" at every pain center, by every pain physician and for every patient with chronic pain." —Wayne B. Jonas, M.D., President and CEO, Samueli Institute, Former Director (1995-1999), Office of Alternative Medicine, National Institutes of Health

"Dr. Gary Kaplan is so good at seeing the whole person-looking for clues among seemingly disconnected events, as well as health issues that are frequently ignored in conventional Western medical practice. His highlighting of the role of the brain's microglia in predisposing patients' bodies and emotions to over-react to seeming small new traumas is fascinating. This is an excellent work for healthcare providers and patients alike." —Woodson Merrell, M.D., Chairman, Department of Integrative Medicine, Mt Sinai Beth Israel Medical Center

"Despite 42 years of holistic success in managing chronic pain and depression, conventional medicine remains in the Dark Ages in relation to this major problem! What the patient needs is a "Real Doctor," exemplified here in Dr. Kaplan's essential book for patients and physicians. Read and heed his outstanding advice." —C. Norman Shealy, M.D., Ph.D., President, Holos Energy Medicine Education, Professor Emeritus of Energy Medicine, President Emeritus, Holos University Graduate Seminary