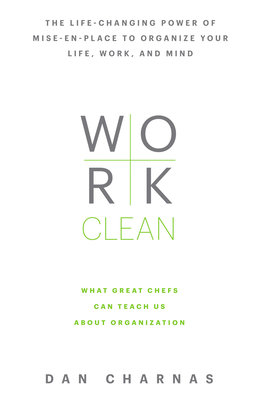 Work Clean
The life-changing power of mise-en-place to organize your life, work, and mind
Hardcover

* Individual store prices may vary.
Other Editions of This Title:
Digital Audiobook (5/2/2016)
Description
The first organizational book inspired by the culinary world, taking mise-en-place outside the kitchen.

Every day, chefs across the globe churn out enormous amounts of high-quality work with efficiency using a system called mise-en-place—a French culinary term that means "putting in place" and signifies an entire lifestyle of readiness and engagement. In Work Clean, Dan Charnas reveals how to apply mise-en-place outside the kitchen, in any kind of work.

Culled from dozens of interviews with culinary professionals and executives, including world-renowned chefs like Thomas Keller and Alfred Portale, this essential guide offers a simple system to focus your actions and accomplish your work. Charnas spells out the 10 major principles of mise-en-place for chefs and non chefs alike: (1) planning is prime; (2) arranging spaces and perfecting movements; (3) cleaning as you go; (4) making first moves; (5) finishing actions; (6) slowing down to speed up; (7) call and callback; (8) open ears and eyes; (9) inspect and correct; (10) total utilization.

This journey into the world of chefs and cooks shows you how each principle works in the kitchen, office, home, and virtually any other setting.
Praise For Work Clean: The life-changing power of mise-en-place to organize your life, work, and mind…
"Finally abook that shows the rest of the world that a chef's meticulous need for order isn't about obsession--it's a way to set them up for success."
--Chef Marcus Samuelsson

"A distinctive and fascinating read! Work Clean shares the skills used by chefs to help you manage your time and resources to effectively get the most out of life."
--Chef Alfred Portale

"The concept of mise-en-place can seem stoic or robotic even, but Dan Charnas has revealed otherwise in Work Clean. It is a means to completing successfully what is right in front of us - whether in or out of the kitchen - through consideration and action."
--Chef Sam Henderson

"Systems and organization have always been a key to my success in the food service industry. Work Clean uses excellent examples to explain the necessity of structure as the foundation for not only restaurants but everyday life as well."
--Chef Marc Djozlija

"Dan Charnas writes informatively about the sometimes unglamorous, yet undeniably crucial role of organization in our kitchens and our lives, with clever wit and eloquence. Work Clean should be required reading for all aspiring chefs."--Chef Rob Halpern

"In Work Clean, Dan Charnas outlines a valuable parallel between the systems used to organize a busy kitchen and the ways we organize our everyday lives. As a chef, I know all too well the importance of preparation, planning, and working clean. Charnas describes how applying these principles of mise-en-place to tasks outside of the kitchen can improve efficiency and quality of work, and ultimately, quality of life."
—Chef Eric Ripert
Rodale Books, 9781623365929, 304pp.
Publication Date: May 3, 2016
About the Author
Dan Charnas is an award-winning culture, lifestyle, and business writer. Recipient of the 2007 Pulitzer Fellowship for Arts Journalism, his first book, The Big Payback: The History of the Business of Hip-Hop, was called "a classic of music-business dirt digging as well as a kind of pulp epic" by Rolling Stone. He lives in New York City.