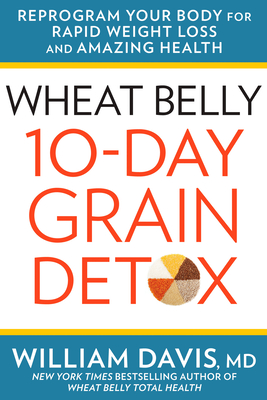 Wheat Belly 10-Day Grain Detox
Reprogram Your Body for Rapid Weight Loss and Amazing Health
Hardcover

* Individual store prices may vary.
Description
Through the New York Times bestseller Wheat Belly, millions of people learned how to reverse years of chronic health problems by removing wheat from their daily diets.

Now, Dr. William Davis has created an easy and accessible 10-day detox program. Wheat Belly 10-Day Grain Detox supplies you with carefully designed meal plans and delicious recipes to fully eliminate wheat and related grains in the shortest time possible. Perfect for those who may have fallen off the gluten-free wagon or for newcomers who need a jump-start to weight loss, this new addition to the Wheat Belly phenomenon guides you through the complete detox experience.

In addition to the brand-new quick-start program, Dr. Davis teaches you how to recognize and reduce wheat-withdrawal symptoms, how to avoid common landmines that can sabotage success, and how to use nutritional supplements to further advance weight loss and health benefits. Wheat Belly 10-Day Grain Detox also includes inspiring testimonials from people who have completed the program (and have now made gluten-free eating a way of life), as well as exciting new recipes to help get your entire family on board.
Rodale Books, 9781623366360, 288pp.
Publication Date: November 10, 2015
About the Author
William Davis, MD, is a New York Times bestselling author and a cardiologist who advocates unique, insightful, and cutting-edge strategies to help individuals discover the health hidden within them. His blog wheatbellyblog has been visited by millions of people. Dr. Davis has also shared his passion for wheat-free living on national television shows including The Dr. Oz Show and CBS This Morning. His Wheat Belly Total Health program became a public television special. He lives in Wisconsin.